You are here
Hunger still blights the lives of Sudan's children
By AFP - Feb 26,2023 - Last updated at Feb 26,2023
Children are pictured at the Kalma camp for the displaced just outside Nyala, the provincial capital of South Darfur state, on November 20, 2022 (AFP photo)
KALMA, Sudan — In Sudan's sprawling Kalma camp for the displaced, Ansaf Omar lives with the gut-wrenching guilt of losing her toddler to a food crisis that has hit millions of people nationwide.
"I am severely malnourished so I couldn't breastfeed him," said Omar, 34, a month after her one-and-half-year-old child died in Kalma camp just outside Nyala, the provincial capital of South Darfur state.
"I took him everywhere — hospitals, treatment centres, but he died in the end," she said.
Desperate mothers like Omar battle daily around Kalma to feed their frail and hungry children, many of whom are severely malnourished.
Sudan is one of the world's poorest countries, with one-third of the population — at least 15 million people — facing a growing hunger crisis, according to United Nations figures.
Nearly 3 million of Sudan's children under the age of five are acutely malnourished, the UN says.
"Over 100,000 children in Sudan are at risk of dying of malnutrition if left untreated," said Leni Kinzli, head of communications in the country for the World Food Programme (WFP).
Nationwide, one-third of children under five are "too short for their age", and nearly half of Sudan's 189 localities have a "stunting prevalence more significant than 40 per cent", according to the Alight aid group.
It said that at least 63 children were reported to have died from causes related to malnutrition at Alight facilities in and around Kalma in 2022.
Sudan grappled with chronic hardships under the regime of Omar Al Bashir, who was ousted in 2019. His three-decade rule was marked by internal conflicts, government mismanagement and punishing international sanctions.
Bouts of violence
The restive Darfur region was the scene of a bitter civil war that broke out in 2003, pitting ethnic African minority rebels against Bashir's Arab-dominated government in Khartoum.
Economic troubles deepened following the COVID-19 pandemic and a 2021 military coup which derailed a post-Bashir transition and triggered cuts to crucial international aid.
Some 65 per cent of Sudan's people live under the poverty line, according to a 2020 UN report.
Food insecurity is not new to the residents of Kalma, Darfur's largest camp and home to some 120,000 people displaced since the 2003 conflict erupted in the country's arid western region.
But residents say conditions have worsened as economic hardships kept rising and sporadic bouts of deadly violence continued.
Alight's nutrition centres in Kalma saw a "dramatic increase on admissions to and demand on its emergency nutrition services" in 2022, according to the group's country director, Heidi Diedrich.
"Kalma stabilisation centre newly admitted 863 children in 2022, an increase of 71 per cent from 2021," according to Alight.
"The number of deaths at the stabilisation centre increased by 231 per cent in 2022, all children aged six months and above."
Outside one nutrition centre in Kalma, 38-year-old Hawa Suleiman cradled her sleeping infant, hoping to find food for the child.
"We have nothing at home. We sometimes go to sleep hungry," she said.
Lack of funding
In recent years the WFP has halved food rations for internally displaced people in Kalma "due to funding constraints", said Kinzli.
The lack of funding — in part due to global economic decline following COVID-19 and the Ukraine crisis — coupled with rising humanitarian needs puts the WFP in "an impossible situation where we have to choose who receives support and who does not — it's heartbreaking".
The UN has reported a 35 per cent deficiency in the production of sorghum — a staple food in Sudan — during the 2021-2022 harvest season.
Nouralsham Ibrahim, 30, says she could no longer rely on aid to feed her five children.
"We try to make some money working the fields outside the camp, but it barely covers one day," she said.
"Even the bread is too expensive."
For others like Omar, venturing out of the camp in the troubled Darfur region, where ethnic violence still breaks out sporadically, is risky and rarely worth it.
"We are not left in peace when we get out to work," said the woman who makes just 500 Sudanese pounds ($0.85) a day when she works in the fields.
"Women and girls get raped... and men get killed."
The Darfur conflict — which left 300,000 people killed and 2.5 million displaced — may have largely subsided but ethnic violence can still break out over access to water, land or cattle.
In 2022, clashes killed nearly 1,000 people in the country, including in the Darfur region, according to the UN.
"We are very tired," said Ibrahim. "We scramble here and there to get food but we need help."
Related Articles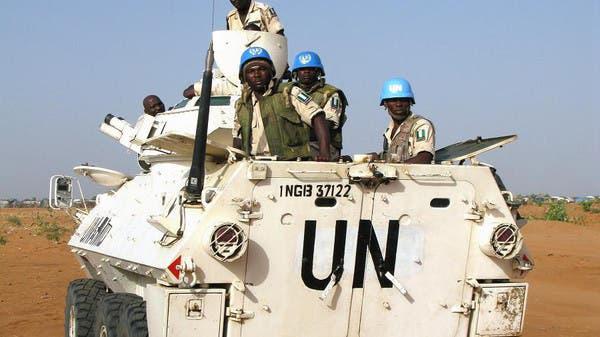 Dec 23,2020
UNITED NATIONS, United States — The United Nations Security Council has agreed to end the UN and African Union's long-running peacekeeping m
Oct 14,2019
KHARTOUM — Hundreds of supporters of a key rebel leader from Darfur protested Monday against peace talks being held in Juba between Khartoum
Feb 16,2020
NYALA, Sudan — In Sudan's sprawling Camp Kalma, people who fled the Darfur conflict are overjoyed at a pledge by the country's new authoriti