You are here
Iconic Gulf singer Abu Bakr Salem of Yemen dies aged 78
By AFP - Dec 11,2017 - Last updated at Dec 11,2017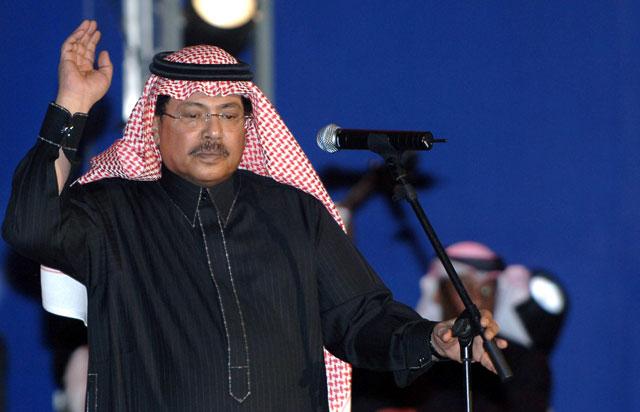 This file photo taken on January 4 shows Saudi-Yemeni singer Abu Bakr Salem performing during the fourth night of the annual Muscat Festival in the Omani capital (AFP photo)
DUBAI — Abu Bakr Salem, one of the most popular singers of the Gulf who synthesised Yemen's rich musical traditions, has died aged 78 in Saudi Arabia after leaving an indelible mark on music in the Arab world.
Salem, who held Yemeni and Saudi nationalities, died of a long illness Sunday in a Riyadh hospital, his son Aseel Abu Bakr said in a Twitter post.
"My father and mentor has passed away," he said.
Salem was mourned in war-torn Yemen, both by the Houthi rebels and the internationally-recognised government the insurgents are battling, and in Saudi Arabia.
The Houthi rebels who control the Yemeni capital Sanaa mourned "one of the rare Arab artists to combine song, composition, musical arrangement and poetry", the insurgents' media reported.
The government of President Abed Rabbo Mansour Hadi, based in the southern port city of Aden, also paid tribute to Saleh, calling him in a statement "a giant of Yemeni, Gulf and Arab music".
Dubbed by music critics as the "father of Khaleeji [Gulf] music" and considered one of the most popular singers in the region, Salem had a rich repertoire ranging from romantic ballads, folk music to patriotic songs.
He began his career in 1956 in southern Yemen — an independent state prior to the country's reunification in 1990 — where he created songs fusing traditional sounds from Aden to those of the southeastern province of Hadramawt and later Sanaa.
Salem's patriotic odes to Yemen celebrated landmarks in the country's history — from the abolition of the monarchy in the north in 1962 to the independence of the south in 1967, and finally the unification of Yemen in 1990.
His repertoire also includes songs paying tribute to Saudi Arabia, where he is very popular and which granted him citizenship.
Generations of Arab singers from the Gulf to Lebanon and Syria, and even Morocco, have sangs his songs.
Salem gave numerous concerts across Gulf countries in the 1990s and the early 200s at the height of his career, drawing adoring crowds each time.
Related Articles
Feb 11,2019
CAIRO — Standing before a rapt crowd, Ahmed Adel oozes charm with his passionate performance of an Egyptian classic, evoking a romant
Sep 16,2015
SAFER, Yemen — The glitzy skyscrapers and 21st century comforts of Dubai feel very distant from the barren sand dunes of Marib in central Ye
Mar 20,2019
ISTANBUL — In a decade-and-a-half in power, Turkish President Recep Tayyip Erdogan has often turned to oratory skills that are the envy of h