You are here
Iraq army seizes key air base from Daesh south of Mosul
By AFP - Jul 10,2016 - Last updated at Jul 10,2016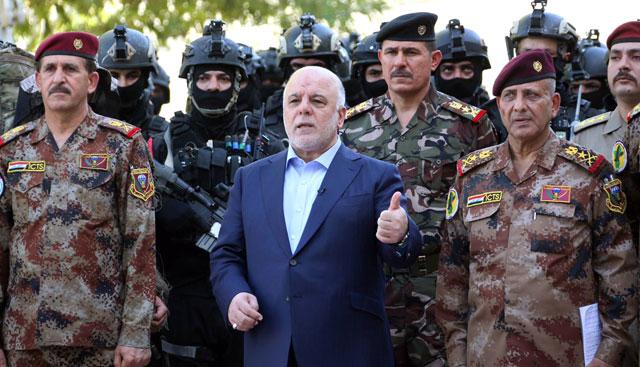 A photo released on Saturday by the Iraqi Prime Minister Haider Al Abadi's office shows him posing for a photo with army generals and members of the counterterrorism forces in the capital Baghdad (AFP photo)
BAGHDAD — Iraqi forces have captured a key air base from the Daesh terror that can serve as a launchpad for retaking the extremist-held city of Mosul, Prime Minister Haider Al Abadi said on Saturday.
The Qayyarah air base in the Tigris Valley, 60 kilometres south of Mosul, would be "an important base for the liberation of Mosul", Abadi said in a statement.
He called for the people of Iraq's northwestern Nineveh province, of which Mosul is the capital, to "prepare for the liberation of their cities".
Iraq's Joint Operations Command said two army divisions and members of the country's counterterrorism forces took the base with air support from a US-led international coalition.
Security sources said extremists had fled towards Mosul after the base was taken.
An officer taking part in the operation said bomb disposal teams were removing booby traps and mines left behind by Daesh militants.
No further details were immediately available on the scale of fighting for the base.
At the end of last month, Iraqi forces recaptured Fallujah, a city 50 kilometres west of Baghdad, in a major setback for Daesh.
That focused attention on the battle to remove Daesh from the northwest of the country.
In recent months, Daesh has lost significant parts of the territory north and west of Baghdad which it seized in 2014.
The fighting to get into Fallujah was initially fierce, particularly on the southern side, and Iraqi forces were supported by more than 100 US-led coalition air strikes.
On June 26, Abadi stood outside a hospital in Fallujah and vowed that the Iraqi flag would soon be raised over Mosul.
In his statement on Saturday, he said government forces had advanced 100 kilometres in the past few days.
"This is important revenge against the terrorist gangs, which we will crush and cleanse from all of our land very soon," he said.
Rights groups have raised concerns about alleged abuses carried out by Iraqi forces during the fight for Fallujah, including executions of civilians.
Human Rights Watch called on the government on Thursday to be transparent about an enquiry into the alleged abuses, which it said was "mired in secrecy".
More than 80,000 people have been displaced since the start of the Fallujah offensive, bringing to more than 3.3 million the number of Iraqis forced from their homes by conflict since the start of 2014.
The extremist group has responded to its battlefield setbacks by hitting back against civilians, particularly Shiites.
Experts have warned there may be more bombings as the extremists continue to lose ground.
Daesh said it had carried out an attack on a Shiite shrine north of Baghdad that started Thursday evening and killed 30 people.
That came just days after a devastating bombing in the capital that killed 292 people.
Related Articles
Jul 04,2016
BAGHDAD — A suicide car bombing claimed by the Daesh terror group ripped through a busy Baghdad shopping district Sunday, killing at least 1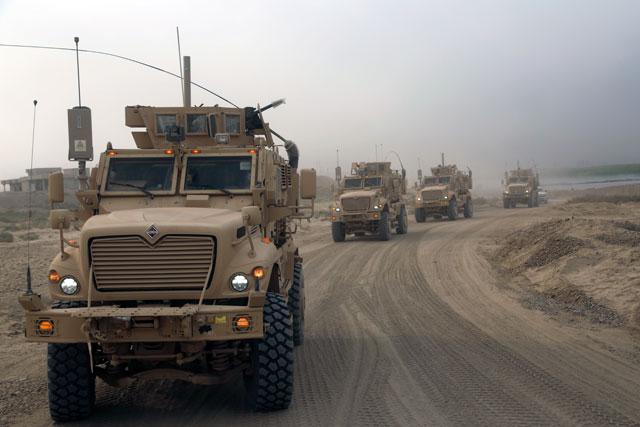 Aug 28,2016
BAGHDAD — Iraq's security forces continue to gear up for a long-awaited operation to retake the Daesh-held city of Mosul.
Jun 01,2016
BAGHDAD — The UN children's fund on Wednesday issued a stark warning to Iraqi troops and the Daesh terror group militants in the battle for
Newsletter
Get top stories and blog posts emailed to you each day.