You are here
Iraq recaptures Tal Afar centre, citadel from Daesh
By AFP - Aug 27,2017 - Last updated at Aug 27,2017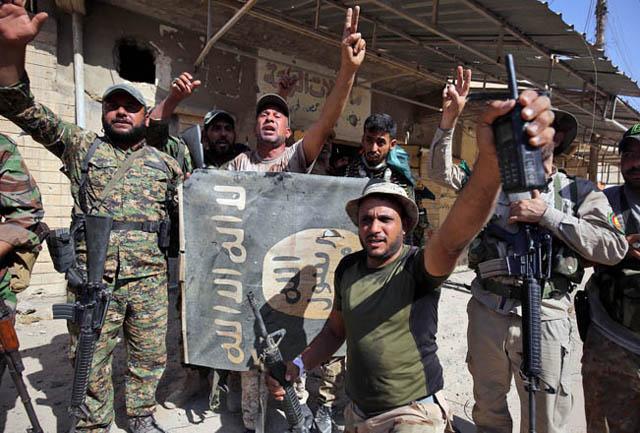 Fighters of Hashed Al Shaabi (Popular Mobilisation Units) flash the victory gesture as they hold upside down a banner bearing the logo of the Daesh group, during the advance in the town of Tal Afar, west of Mosul, after the Iraqi government announced the launch of the operation to retake it from Daesh control on Saturday (AFP photo)
TAL AFAR, Iraq —Iraqi forces announced Saturday the ouster of the Daesh terrorist group militants from central Tal Afar and its historic citadel, leaving them poised to fully recapture one of the last Daesh urban strongholds in the country.
The advance, less than a week into an assault on the strategic city, comes after Prime Minister Haider Al Abadi declared victory in July over the extremists in Iraq's second city Mosul, where Daesh declared its "caliphate" in 2014.
It came on the day of a visit to Baghdad by the French foreign and defence ministers during which a loan of 430 million euros ($512 million) was announced to help the Iraqi economy in the face of low oil prices and the cost of battling the extremists.
"Units of the Counter-Terrorism Service liberated the Citadel and Basatin districts and raised the Iraqi flag on top of the citadel," operation commander General Abdulamir Yarallah.
The CTS and federal police units also seized three northern districts and the Al Rabia neighbourhood west of the citadel, after retaking the district of Al Taliaa to the south on Friday.
On Saturday, they battled Daesh extremists around Al Ayadieh, 15 kilometres north of Tal Afar and strategically located on the road between the city and the Syrian border, said Yarallah.
Columns of smoke could be seen rising over the city after the Hashed Al Shaabi paramilitary coalition fighting alongside government troops seized Al Khadra and Al-Jazeera districts.
Abbas Radhi, a Hashed Al Shaabi fighter, said Daesh had resisted the advance mostly with sniper fire. "There are also booby-trapped cars, mortars. But they've been defeated, God willing," he said.
Government troops and units of the Hashed Al Shaabi, backed by a US-led coalition against Daesh, launched the assault last Sunday after weeks of coalition and Iraqi air strikes.
Tal Afar sits on a strategic route between Daesh-controlled territories in Syria and Mosul, 70 kilometres further east.
Progress in Tal Afar has been far more rapid than in Mosul, which only fell to Iraqi forces after a gruelling nine-month battle.
Officials have said they hope to announce victory in Tal Afar by Eid Al Adha, the Muslim holiday set to start in Iraq on September 2.
Obstacle course
Until its takeover by Daesh, Tal Afar was largely populated by Shiite Turkmen, whose beliefs are anathema to the extremists.
Most of the city's 200,000-strong population fled after Daesh seized it.
Some members of Tal Afar's Sunni minority joined extremist ranks, forming a Daesh contingent with a particular reputation for violence.
Pro-government forces faced an obstacle course of roads blocked with earth embankments and strategically-parked trucks, as well as sniper fire and mortar shelling.
Troops also said they discovered a network of underground tunnels used by Daesh to launch attacks behind lines of already conquered territory, or to escape.
The International Organisation for Migration said "thousands of civilians" had fled Tal Afar since the offensive began.
Those who flee through desert areas face soaring temperatures putting them at risk of dehydration, said Viren Falcao of the Danish Refugee Council.
Officials have said the capture of the city would make it even more difficult for the extremists to transport fighters and weapons between Iraq and Syria.
The extremist group has lost much of the territory it controlled and thousands of its fighters have been killed since late 2014, when a US-led international coalition was set up to defeat the group.
Iraq announced the "liberation" of Tikrit, 160 kilometres north of Baghdad, in early 2015.
The group's biggest defeat was in Mosul, where some 30,000 Iraqi forces backed by US-led air support launched a vast operation in October.
Three months later, they retook the Mosul's east and turned their attention to the west, finally declaring the whole city "liberated" on July 9.
French support
The extremist group still retains territory in Iraq and neighbouring Syria, where a US-backed Kurdish-Arab coalition is fighting to drive the group from its de facto Syrian capital Raqa.
Once Tal Afar is retaken, Baghdad is expected to launch a new offensive on Hawija, 300 kilometres north of Baghdad.
Daesh is also present in the vast western province of Anbar, where it controls several zones along the border with Syria, including Al Qaim area.
The Tal Afar advance came as the foreign and defence ministers of France visited Baghdad to reaffirm their country's support in the fight against Daesh.
France is to extend the loan of 430 million euros before the end of 2017, French Foreign Minister Jean-Yves Le Drian said in a meeting with Abadi.
Le Drian and Defence Minister Florence Parly travelled on to Erbil in northern Iraq for talks with Iraqi Kurdish leader Massud Barzani.
"As long as our common enemy has not been eradicated, France will continue to take part" in the campaign, Parly, whose country's forces have carried out air and artillery strikes in support of Iraqi operations, said in Baghdad.
Related Articles
Aug 27,2017
BADUSH, Iraq — Badush camp, set up for civilians who escaped the Tal Afar battle between Iraqi forces and the Daesh terror group, stands alm
Aug 14,2017
BAGHDAD — Iraqi officials said Monday that preparations have been made for the battle to retake Tal Afar, a town held by the Daesh extremist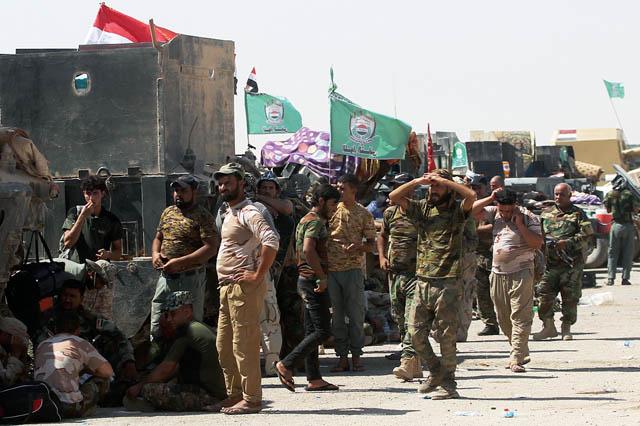 Aug 28,2017
TAL AFAR, Iraq — Iraqi forces backed by local militia and a US-led coalition were poised Sunday to drive the Daesh terror group from the cit
Newsletter
Get top stories and blog posts emailed to you each day.