You are here
Israel says no talks with Palestinian gov't that includes armed Hamas
By AFP - Oct 17,2017 - Last updated at Oct 17,2017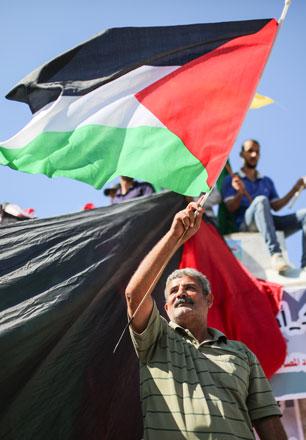 A man waves a Palestinian flag in front of the Unknown Soldier's monument to celebrate Hamas-Fateh reconciliation agreement in Gaza City, Gaza, on October 12 (Anadolu Agency photo)
OCCUPIED JERUSALEM — Israel's government decided Tuesday not to negotiate with a Palestinian unity government that includes Hamas if the Islamist movement does not disarm and recognise the country.
The decision by Israel's security Cabinet, announced in a statement from Prime Minister Benjamin Netanyahu's office, comes after rival Palestinian movements Fateh and Hamas signed a landmark unity deal last week aimed at ending their decade-long split.
The statement said negotiations would not be held until a range of conditions were met — and it seemed unlikely that all demands could be reached.
"The government of Israel will not carry out political negotiations with a Palestinian government that relies on Hamas, a terror organisation which calls for the destruction of Israel, until it fulfils the following conditions," the statement said.
Beyond the initial three, it also said Hamas must no longer be supported by Iran, which provides it with military assistance.
In addition, it said the remains of two missing Israeli soldiers must be returned from the Gaza Strip to Israel.
Three Israeli civilians believed held in Gaza, all said to be mentally unstable, must also be returned, it said.
Palestinian President Mahmud Abbas' Fateh, based in the occupied West Bank, and Hamas, which runs the Gaza Strip, signed the unity agreement in Cairo on Thursday.
The Abbas-led Palestine Liberation Organisation has recognised Israel, unlike Hamas.
Gaza humanitarian crisis
The Palestinian Authority, currently dominated by Fateh, is due to resume control of the Gaza Strip by December 1 under the deal.
However, previous such attempts at reconciliation have repeatedly failed.
A major sticking point is expected to be Hamas's refusal to disarm its 25,000-strong armed wing.
Hamas is considered a terrorist organisation by the United States and the European Union, but diplomats say it would be possible to form a unity government that they could deal with that does not officially include the Islamist movement.
A previous attempt at a unity government in 2014 was made up of technocrats deemed acceptable by the international community, though that bid fell apart.
Israel has launched three aggressions against the coastal enclave since 2008, and the Gaza Strip has been under an Israeli blockade for around a decade.
Egypt has also kept its border with Gaza largely closed in recent years.
Hamas seized Gaza in 2007 in a near civil war with Fateh that followed an electoral dispute after polls won by the Islamist movement.
After Hamas's victory, it faced demands from the international community that it renounce violence and recognise Israel, which it refused to do.
Hamas has faced increasing isolation and deteriorating humanitarian conditions in the Gaza Strip in recent months, including a severe electricity shortage.
Abbas has imposed a series of sanctions on the Gaza Strip to pressure Hamas, including cutting electricity payments, which has worsened the shortages.
Hamas has reached out to Cairo for help, hoping to have the Rafah border with Egypt opened.
In return, Cairo has pressed Hamas to move forward on reconciliation with Fateh.
With previous failed reconciliation attempts in mind, many analysts are treating the latest bid with caution, waiting to see if actual change will occur on the ground.
Related Articles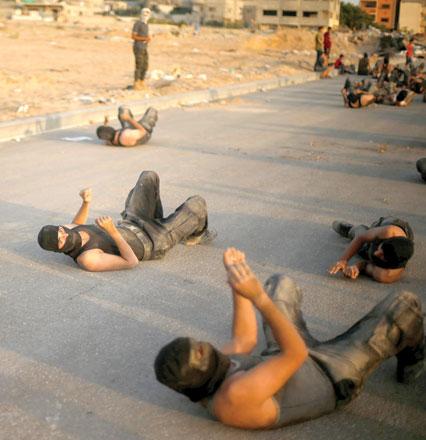 Oct 19,2017
GAZA CITY, Palestinian Territories — Hamas' leader in the Gaza Strip said Thursday "no one" can force it to disarm or recognise Israel, afte
Oct 05,2017
GAZA CITY — Palestinian Prime Minister Rami Hamdallah left the Gaza Strip on Thursday after a four-day visit aimed at reconciliation w
Oct 02,2017
BEIT HANUN, Palestinian Territories — Palestinian Prime Minister Rami Hamdallah visited Gaza for the first time in two years on Monday, in a
Newsletter
Get top stories and blog posts emailed to you each day.