You are here
More than 30 migrants, mostly toddlers, drown off Libya — rescuers
By Reuters - May 24,2017 - Last updated at May 24,2017
ROME — More than 30 migrants, mostly toddlers, drowned on Wednesday when about 200 people without life jackets fell from a boat into the sea off the Libyan coast before they could be hauled into waiting rescue boats.
The boat was near a rescue vessel when it suddenly listed and many migrants tumbled into the Mediterranean, Italian Coast Guard commander Cosimo Nicastro told Reuters. "At least 20 dead bodies were spotted in the water," he said.
The rescue group MOAS, which also had a ship nearby, said it had already recovered more than 30 bodies. "Most are toddlers," the group's co-founder Chris Catrambone said on Twitter.
The coast guard called in more ships to help with the rescue, saying about 1,700 people were packed into about 15 vessels in the area.
The transfer from these overloaded boats is risky because desperate migrants in them sometimes surge to the side nearest a rescue vessel and destabilise their flimsy craft, which then list dangerously or capsize.
More than 1,300 people have died this year on the world's most dangerous crossing for migrants fleeing poverty and war across Africa and the Middle East.
Last Friday, more than 150 disappeared at sea, the International Organisation for Migration (IOM) said on Tuesday, citing migrant testimony collected after they disembarked in Italy.
In the past week, more than 7,000 migrants have been plucked from unsafe boats in international waters off the western coast of Libya, where people smugglers operate with impunity.
Despite efforts by Italy and the European Union to bolster the Tripoli-based coast guard and funnel training and equipment to fight trafficking to the UN-backed government, record numbers of migrants are coming this year.
Italy is hosting a meeting of the world's seven major industrialised nations in Sicily on Friday and Saturday, and is pushing the group, which includes the United States, to put migration, Libya's stabilisation and African development at the top of the agenda.
"The tragedy of children dying in the Mediterranean is a wake-up call to leaders meeting in Sicily," the United Nations Children's Fund Executive Director Justin Forsyth, who is traveling to the summit, said in a statement.
"These extremely vulnerable children need action now."
More than 50,000 migrants have been rescued at sea and brought to Italy so far, a 46 per cent increase on the same period of last year, the Interior Ministry said this week.
Most rescues take place just outside the 12-mile mark that separates Libyan territory from international waters.
The Libyan coast guard on Tuesday fired shots as non-governmental vessels conducted rescues nearby, humanitarian group Jugend Rettet, which operates the Iuventa rescue ship, said in a statement.
up
25 users have voted, including you.
Related Articles
Jun 14,2014
Ten migrants drowned after the boat they were travelling in sank off the Libyan coast, Italy's navy said on Saturday, reporting the latest deaths among thousands of migrants trying to reach Europe from Africa and Syria.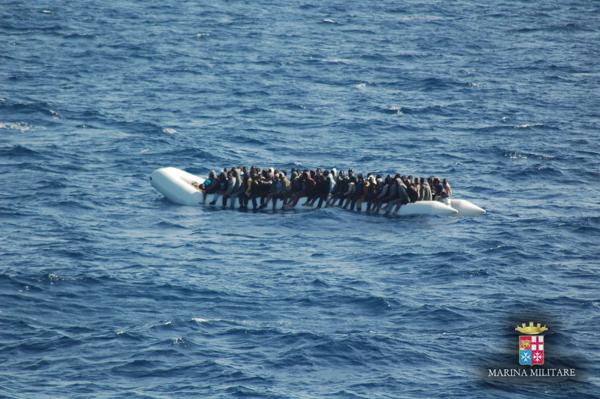 Apr 30,2016
ROME — Eighty-four migrants are still missing after an inflatable craft sank off the coast of Libya, according to survivors cited by the Int
Aug 23,2014
A wooden boat carrying up to 200 migrants has sunk just one kilometre off the Libyan coast, the coast guard said on Saturday, and most passengers were feared drowned.
Newsletter
Get top stories and blog posts emailed to you each day.