You are here
Qatar's ruler says time to resolve differences in talks
By Reuters - Jul 22,2017 - Last updated at Jul 22,2017
DOHA — Qatar's emir called on Friday for dialogue to resolve a political crisis pitting his country against four Arab states, saying any talks must respect national sovereignty, but the call was unlikely to end the rift.
In his first speech since four Arab countries severed ties with Doha, a defiant Sheikh Tamim Bin Hamad Al Thani said life was continuing as normal despite what he described as an unjust "siege".
Saudi Arabia, the United Arab Emirates, Bahrain and Egypt cut ties and imposed sanctions on Qatar last month, accusing it of financing extremist groups and supporting terrorism, which the emir denied.
"Qatar is fighting terrorism relentlessly and without compromise, and the international community recognises this," Sheikh Tamim said in the televised speech.
He spoke hours after US Secretary of State Rex Tillerson said the United States was satisfied with Qatar's efforts to implement an agreement aimed at combating terror financing, and urged the four states to lift their "land blockade".
It also comes days before Turkish President Recep Tayyip Erdogan, who had supported Qatar in the crisis, was due to visit Qatar, Saudi Arabia and Kuwait to try to resolve the rift.
Earlier this month during a round of shuttle diplomacy, Tillerson signed a deal with Qatar to fight terrorism financing, part of efforts led by Kuwait to try to resolve the most serious rift in the Western-allied Gulf in decades.
An official comment from the four Arab countries had yet to be issued, but a Saudi royal court adviser described it as a piece of literary work written by a school student. "Had it been written by a student in middle school he would have flunked," Saud Al Qahtani wrote on his Twitter account.
Commentators hosted by Al Arabiya News Channel also denounced the speech.
"This is a speech of obstinacy which sends messages that Qatar will not stop supporting terrorism," said Ali Al Naimi, editor of an online news website published in the UAE.
The crisis revolves around allegations that Qatar supports extremist militant groups, including in Syria and Libya, and hosts members of the Muslim Brotherhood.
It began after a speech in late May by Sheikh Tamim appeared on the state news agency's website, which Doha said he had never made and indicated the website had been hacked from one of its neighbours, indicating the UAE.
The Washington Post, citing US intelligence officials, last week reported that the United Arab Emirates had arranged for Qatari government social media and news sites to be hacked in order to post the fiery but false quotes. The UAE denied any involvement.
Sheikh Tamim described the sanctions as a campaign that had been pre-planned against Qatar, calling it an act of aggression against Doha's foreign policy.
"Its planners planted statements to mislead public opinion and the countries of the world," he said.
Sheikh Tamim vowed to withstand the sanctions and said he had instructed the Qatari government that Qataris should become more self-reliant and called for the economy to be opened up to foreign investments.
"The time has come for us to spare the people from the political differences between the governments," he said, urging dialogue.
"... Any solution must respect the sovereignty and will of each state."
Related Articles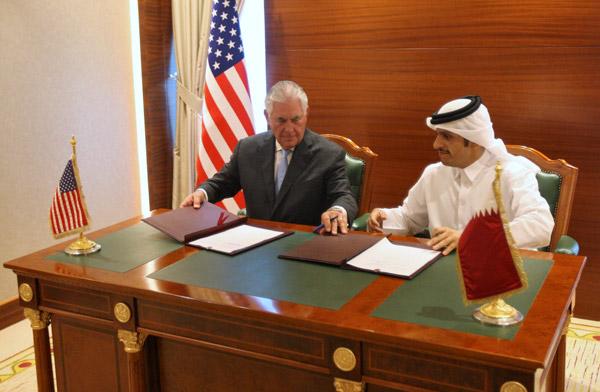 Jul 12,2017
JEDDAH, Saudi Arabia — US Secretary of State Rex Tillerson ended talks with ministers from Saudi Arabia and three Arab allies on Wednesday o
May 25,2014
Bahrain on Sunday ruled out returning its ambassador to Qatar soon, signalling that efforts to resolve the unprecedented rift within the US-allied Gulf Cooperation Council have yet to bear fruit.
May 31,2017
DUBAI/DOHA — Just 10 days after President Donald Trump called on Muslim countries to stand united against Iran, a public feud between Qatar
Newsletter
Get top stories and blog posts emailed to you each day.