You are here
Rebels, Al Qaeda advance on regime in northwest Syria — monitor
By AFP - Jun 06,2015 - Last updated at Jun 06,2015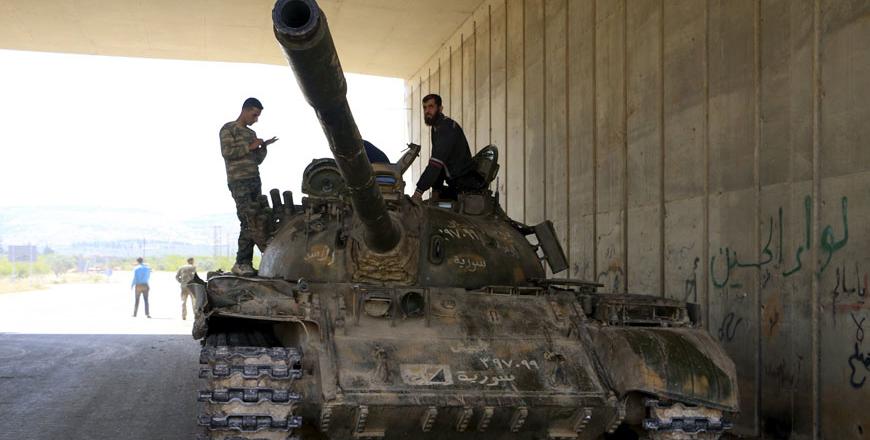 Fighters from a coalition of rebel groups called 'Jaish Al Fateh', also known as 'Army of Fatah' (Conquest Army), stand on a tank in an underpass near Psoncol town after saying they had taken control of it, on a highway that heads to Latakia, in the Idlib countryside, Syria, on Saturday (Reuters photo)
BEIRUT — A rebel alliance including Al Qaeda's Al Nusra Front seized more territory in northwestern Syria overnight, strengthening its position on the borders of two key largely regime-controlled provinces, a monitor said Saturday.
The Army of Conquest rebel alliance had made a series of sweeping gains in Idlib province, said the Syrian Observatory for Human Rights, a Britain-based monitor.
Rebels seized a major army position, the town of Muhambel, and several villages in the area between Jisr Al Shughur and Ariha, two key towns already under opposition control.
The 24 hours of fighting left 13 opposition fighters dead along with 32 regime forces, the observatory said.
The advance cements their control over that part of the province, almost entirely lost by the government, but also allows the grouping to reinforce its positions on the edges of Latakia and Hama provinces.
They are largely regime-controlled, and coastal Latakia in particular is a government bastion and home to President Bashar Assad's ancestral village.
Al Nusra touted the advances in Idlib on Twitter, listing the "liberation" of several villages and army positions.
State media effectively acknowledged the losses, quoting a military source as saying "the army evacuated several military sites around the town of Muhambel in Idlib province".
"They relocated to new positions and lines more suitable for the implementation of subsequent combat missions," official news agency SANA said.
Regime forces have lost control of nearly all of Idlib province since the Army of Conquest seized the provincial capital at the end of March.
In recent weeks, analysts and observers have said the regime is ready to accept the de facto partition of Syria and is concentrating on holding the areas it considers key and retreating elsewhere.
Elsewhere, the observatory said nine people were killed — among them two children — in rebel rocket fire on the city of Aleppo.
The group said the rockets hit the Ashrafiyeh district in the western, government-controlled part of the city.
More than 220,000 people have been killed in Syria since the conflict began in March 2011 with anti-government protests that were met with a regime crackdown.
Related Articles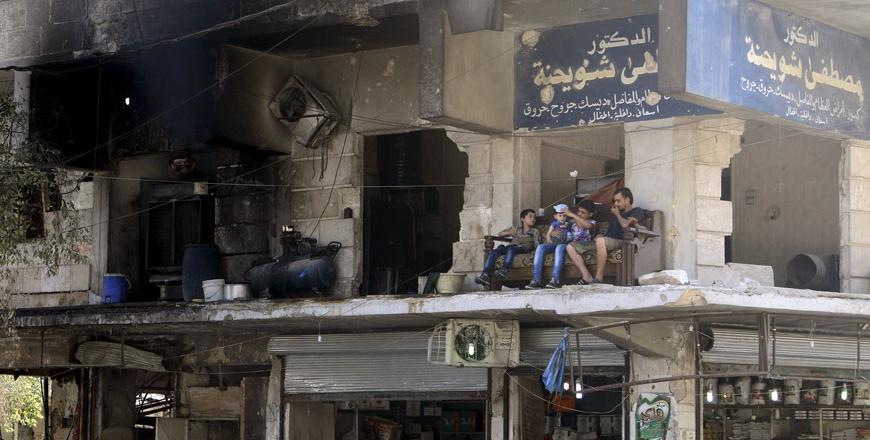 Aug 02,2015
BEIRUT — Syrian troops backed by Hizbollah fighters on Sunday pressed a counteroffensive against rebels near President Bashar Al Assad's coa
Aug 09,2015
BEIRUT — The Daesh terror group advanced Sunday against rival rebel forces, including Islamists, in a bid to capture a series of key village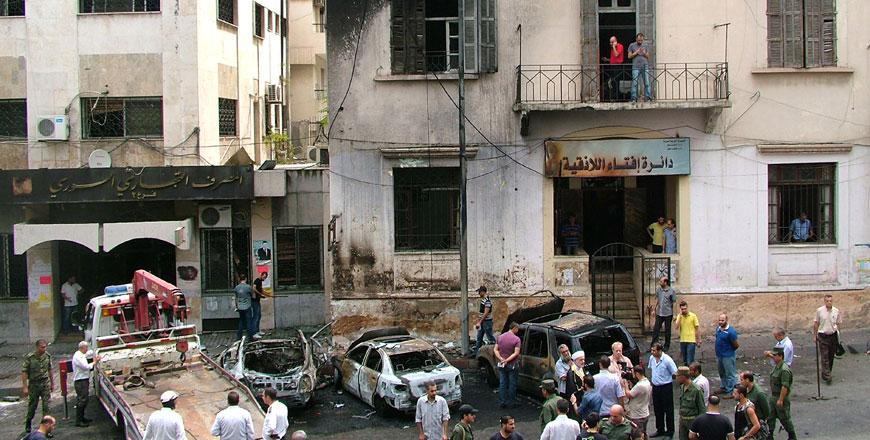 Aug 13,2015
BEIRUT —Two people were killed and 14 wounded Thursday in a rare rebel rocket attack on the provincial capital of President Bashar Al Assad'
Newsletter
Get top stories and blog posts emailed to you each day.