You are here
Russian strikes in Syria's Idlib kill 37 civilians — monitor
By AFP - Sep 25,2017 - Last updated at Sep 25,2017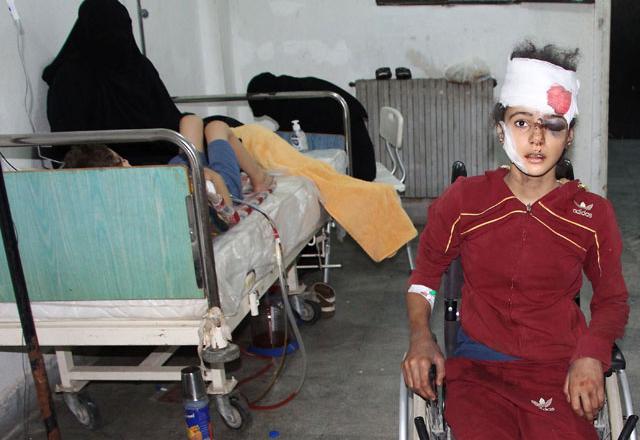 An injured Syrian girl who lost family members in a reported air strike on the southern village of Quneitra, receives treatment at a hospital in Idlib on Monday (AFP photo)
BEIRUT — Russian air strikes on northwest Syria's mainly extremist-controlled province of Idlib on Monday killed at least 37 civilians including 12 children, a Britain-based monitor said.
The Syrian Observatory for Human Rights said it was the highest civilian death toll in Idlib since the region was designated in May as one of Syria's "de-escalation" zones under an accord between regime allies Russia and Iran, and rebel backer Turkey.
"The air raids struck several locations and villages in the district of Jisr Al Shughur, leaving 37 dead among civilians, including 12 children," observatory chief Rami Abdel Rahman told AFP, updating an earlier toll of 27 dead.
After several months of calm, Idlib province has for the past two weeks been the target of heavy air strikes by the regime and its Russian allies, following an extremist assault in neighbouring Hama province also covered by the de-escalation accord for Syria's war that has cost more than 330,000 lives since 2011.
The Daesh extremist group has no fighters in Idlib.
Syria's exiled opposition blamed Russia and the Syrian regime for what it called the "criminal" bombing, according to a statement.
In what the Istanbul-based National Coalition branded "war crimes", hospitals, medical installations, schools and civil defence facilities had been hit, it said.
Also on Monday, the US-backed Syrian Democratic Forces (SDF) militia accused Russia of killing one of its fighters and wounding others in strikes on a gas facility it captured two days earlier from the Daesh terror group in eastern Syria.
"Russian air strikes and mortar fire hit the Conoco gas plant where a large number of our forces are stationed," SDF spokeswoman Lilwa Abdallah told AFP.
A statement issued later by the militia said one fighter had been killed and six wounded in the bombing.
Moscow neither confirmed nor denied the report, noting only that Russian warplanes were carrying out strikes on "terrorist sites" in support of regime operations against the extremists in Deir Ezzor province.
Abdallah said Syrian regime forces carried out additional bombardment of SDF positions after the initial Russian bombing.
"We reserve the right to respond," she added.
The SDF, an alliance of Kurdish and Arab fighters, captured the Conoco plant in eastern Syria's Deir Ezzor province on Saturday.
The militia is fighting a campaign against Daesh on the eastern side of the Euphrates River that cuts diagonally across Deir Ezzor, a resource-rich province that borders Iraq.
Syria's regime, backed by its ally Russia, is carrying out its own campaign against Daesh in Deir Ezzor, largely on the western side of the Euphrates, including in provincial capital Deir Ezzor city.
A "de-confliction" line is supposed to prevent the two campaigns from clashing, but Monday's alleged bombardment is the second time the SDF has accused Russia and the regime of hitting its fighters.
On September 16, the group said six of its fighters were wounded in air strikes by regime and Russian warplanes in the Al Sinaaiya area around seven kilometres from the eastern bank of the Euphrates.
And on September 21, Moscow warned Washington of reprisals after accusing the SDF of firing on Syrian regime forces in the province.
Related Articles
Sep 11,2017
BEIRUT — Syria's army sent massive reinforcements to territory under its control in Deir Ezzor on Monday ahead of a final push for the Daesh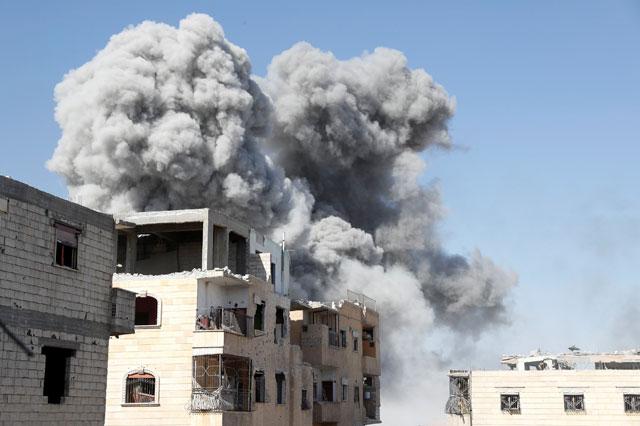 Oct 04,2017
BEIRUT — A Russian air strike killed 38 civilians on Wednesday as they tried to cross the Euphrates River to escape fighting in eastern Syri
Sep 13,2017
DEIR EZZOR, Syria — After breaking a Daesh extremist group blockade, Syria's army is seeking to encircle the remaining extremist-held parts
Newsletter
Get top stories and blog posts emailed to you each day.