You are here
Saudi-led air raids pound rebels in Yemen's Aden
By AFP - Apr 15,2015 - Last updated at Apr 15,2015
ADEN — Saudi-led coalition air strikes hit rebel targets in and around Yemen's main southern city of Aden on Wednesday as clashes with forces allied with fugitive President Abed Rabbo Mansour Hadi intensified.
Coalition warplanes targeted rebel positions west of the port city, in Ras Imran, where heavy clashes have been raging as the Houthi rebels try to advance towards the city's strategic refinery, a military source said.
The rebels appear to be trying to seize petrol reserves stored at the refinery as the country suffers a huge shortage of fuel.
Rebel reinforcements, including tanks commanded by rebel troops, arrived Wednesday in Ras Amran from the province of Lahj, witnesses said.
The clashes Wednesday killed three southern fighters and wounded 11 others, a medic at a local hospital said.
Earlier, coalition air strikes hit rebel positions in Crater, Khor Maksar and other districts of Aden, which has seen heavy clashes between pro- and anti-government fighters.
Residents told AFP the rebels "randomly" shelled residential areas in the city, killing at least three civilians.
The rebels also shot dead four armed supporters of Hadi, medics and residents said.
In Daleh province, north of Aden, Hadi loyalists carried out several attacks that killed 16 rebels, according to pro-government militia sources.
It was not possible to independently verify the toll and the rebels rarely acknowledge their losses.
Houthi militants attacked a position of the 35th Armoured Brigade, which remains loyal to the president, north of the central city of Taez, seizing tanks and killing three soldiers, a military official said.
The rebels have also seized tanks from another post and besieged the headquarters of the brigade on the northern outskirts of Taez, the official added.
The Saudi-led coalition launched its air war on March 26 after the Iran-backed Shiite Houthi rebels seized control of the capital Sanaa and advanced on Aden, where Hadi had taken refuge before fleeing to Riyadh.
Related Articles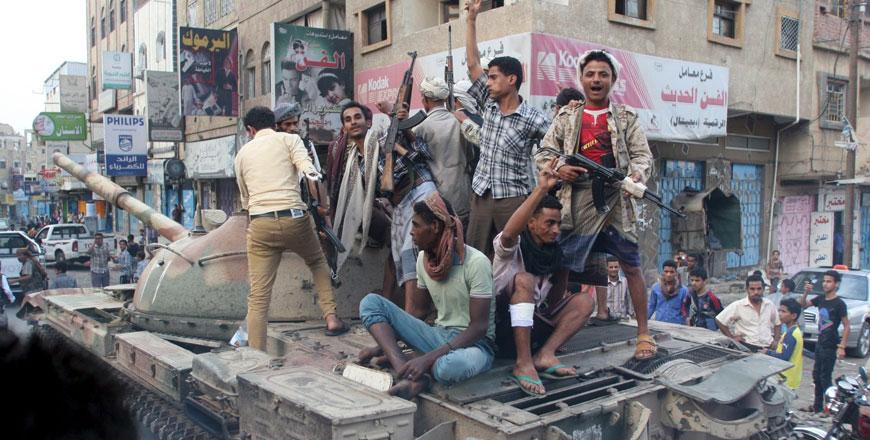 Aug 17,2015
ADEN — Heavy fighting between government loyalists and rebels for control of Yemen's third city Taez has killed more than 80 people in the p
Aug 18,2016
ADEN — Yemen troops on Thursday launched a bid to break a rebel siege of third city Taez, with fierce fighting leaving five soldiers and 13
Aug 24,2015
SANAA — Iran-backed rebels in Yemen fired rockets into a residential district of Taez, killing 14 civilians, mostly women and children, offi
Newsletter
Get top stories and blog posts emailed to you each day.