You are here
UN envoy invites Syrians to parallel, thematic talks
By AFP - Jul 30,2015 - Last updated at Jul 30,2015
Syria's United Nations Ambassador Bashar Jaafari (top left) listens as UN Special Envoy for Syria Staffan de Mistura (bottom) speaks during a Security Council meeting on Syria at the UN headquarters on Wednesday (AP photo)
UNITED NATIONS, United States — The UN envoy to Syria on Wednesday invited Syrians to take part in what he called "thematic" discussions to keep alive stalled efforts to negotiate an end to the war.
"Sadly there is still no consensus on the way forward," Staffan de Mistura told the UN Security Council after two months of meetings with key players in the conflict.
"The UN is obliged and all of us are obliged to keep the issue alive," added the Swedish-Italian diplomat, appointed last year to what many termed "mission impossible".
"I now intend to invite Syrians to parallel, or simultaneous, thematic discussions through intra-Syrian working groups."
But de Mistura gave no details on when or where the talks could take place, and who exactly might participate.
Proposed discussions would focus on protecting civilians, political and constitutional issues, military and security matters, public institutions and reconstruction.
"Such an international initiative will require the support of a contact group and we will get to that at the right time."
The envoy said "the fear of black flags over Damascus" — a reference to the extremist Daesh group's emblem — was driving some to re-consider positions, but said there was still significant disagreement on even the causes of the conflict.
UN Secretary General Ban Ki-moon called on the Security Council to endorse de Mistura's recommendations, and to work to persuade parties to the conflict to take part "constructively".
He called Syria "the world's largest humanitarian crisis".
Urgent need to act now
At least a quarter-of-a-million Syrians have been killed and nearly half the population — 12 million men, women and children — have been forced to flee their homes by the fighting, the UN chief said.
Ban said there was an "urgent need for the international community to act now if we want to save and preserve what is left of Syria".
"As the situation deteriorates, Syrians predict that the prospects for achieving a political solution will also fade."
It was a message that his 68-year-old envoy echoed.
There were "profound risks" to failing to act now, de Mistura told the Security Council. Each passing month, he said, "reduces the prospects of ever restoring Syria as a unified state".
Ban instructed de Mistura in late March to step up UN efforts to find a political solution.
Since then, the envoy has visited China, Turkey, Jordan, Egypt and Iran, which is one of the Syrian regime's main backers.
He also met Syrian opposition figures in both Amman and Cairo.
De Mistura's predecessors — respected diplomats Kofi Annan and Lakhdar Brahimi — both resigned after failing at the task of trying to bring peace to the country.
The Security Council has been paralysed by deep divisions over Syria, with Russia blocking resolutions aimed at putting pressure on Syrian President Bashar Assad to end the war.
Related Articles
Jul 10,2014
United Nations Secretary General Ban Ki-moon on Thursday appointed veteran UN official Staffan de Mistura, a former UN special envoy to Afghanistan and Iraq, to replace Lakhdar Brahimi as the international mediator seeking an end to Syria's civil war.
Dec 30,2014
UN special envoy for Syria Staffan de Mistura will be represented at talks about Syria in Moscow next month, his spokeswoman said on Tuesday.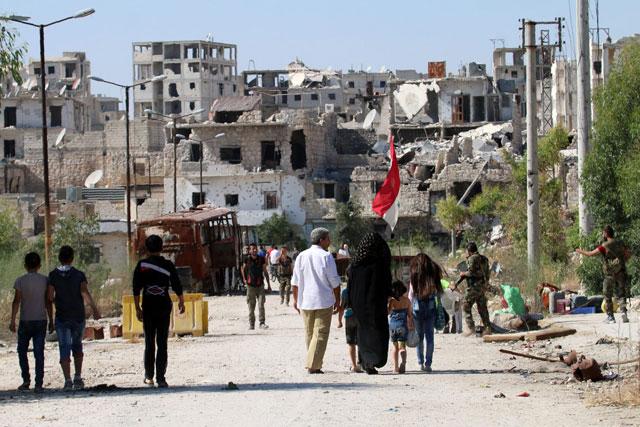 Jul 31,2016
DAMASCUS — UN Deputy Syria Envoy Ramzy Ezzeldin Ramzy on Sunday invited Damascus to new peace talks with the opposition at the end of August
Newsletter
Get top stories and blog posts emailed to you each day.