You are here
US to deploy officials in Qatar in counterterrorism accord — sources
By Reuters - Jul 21,2017 - Last updated at Jul 21,2017
DOHA/DUBAI — The United States will post officials at the Qatari state prosecutor's office as part of a Qatari-US agreement signed this month to fight the financing of terrorism, people familiar with the matter said.
US Secretary of State Rex Tillerson reached the deal with Qatar during a round of shuttle diplomacy aimed at ending a diplomatic crisis in the Gulf. The agreement has not been approved by the four US-allied Arab states which accuse Doha of aiding terrorists — charges Qatar denies.
Saudi Arabia, Bahrain, the United Arab Emirates and Egypt imposed sanctions on Qatar last month, saying the gas-rich Gulf state finances militants throughout the region.
No details about the contents of the agreement signed by Tillerson and his Qatari counterpart, Sheikh Mohammed Bin Abdulrahman Al Thani, have been publicly released.
But a Western official in the Gulf who has seen the document said it specifies actions Qatar will take by the end of the year, including placing two US Department of Justice officials in Qatar's general prosecution.
"They will work hand in hand with Qatar to charge individuals accused of financing terrorists," said the official, who declined to be named because of the sensitivity of the matter.
Other actions in the agreement include imposing travel bans, enforcing surveillance and freezing the assets of individuals with suspected links to terrorism. The accord points to internationally agreed definitions of terrorism without specifying particular groups.
A US Department of Justice spokesman declined to comment.
A Qatari official said that the country's general prosecutor would be working with US officials but that the terms of the cooperation had not been finalised.
The deal suggests White House officials hope to use the Gulf crisis over Qatar as a way to stem alleged financing flows from the wealthy region to terrorist groups.
"It's a very strong agreement. If followed, this should achieve exactly what Trump requested in the Riyadh summit," said the Western official.
Qatar taking action
The Saudi-led alliance cut diplomatic ties and severed all transport links with Qatar soon after a visit to Riyadh in May by President Donald Trump, who days later said Qatar was a "funder of terrorism at a very high level".
Qatar appears to be taking steps to ease the pressure.
"Since the crisis there have been arrests and increased monitoring. They [Qatar] are taking important steps," said a US official in the Gulf.
Qatari officials say last week's agreement highlights their commitment to fighting extremism and say their neighbours are using terrorism as a cover for enforcing demands on Qatar that encroach on its sovereignty.
The US-Qatari agreement, however, did not appear to sway the Saudi-led bloc.
"Diplomacy must address Qatar's support for extremism & terrorism & undermining regional stability. A temporary solution is not a wise one," the UAE minister of state for foreign affairs, Anwar Gargash, posted on Twitter the night after the accord was signed.
The four Arab countries last month named 59 individuals and 12 organisations they accused of terrorism and links to Qatar.
That included Egypt-born cleric Yusuf Al Qaradawi, a spiritual leader of the Muslim Brotherhood, and Qatar Charity, a state body which carries out aid projects with the United Nations.
Qatar has said the list is politically motivated.
Related Articles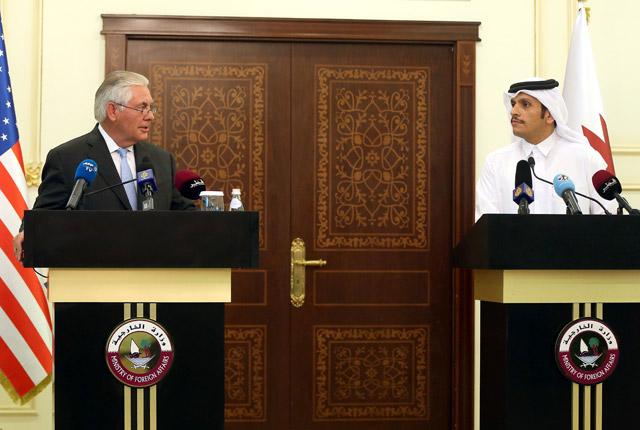 Jul 11,2017
DOHA — Qatar and the United States signed a deal Tuesday on combatting "terrorism" as visiting US Secretary of State Rex Tillerson pursued e
Mar 22,2018
DUBAI — Qatar said on Thursday it had placed 28 people and entities on a terrorism list, including several Qatari nationals already blacklis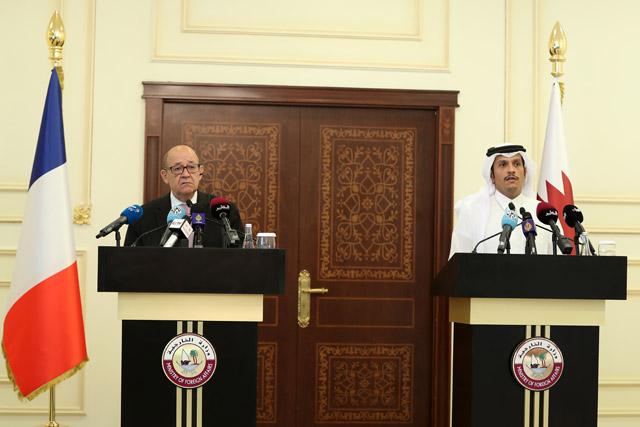 Jul 16,2017
DOHA — French Foreign Minister Jean-Yves Le Drian said in Doha on Saturday that Paris wants to assist Kuwait-led mediation on the crisis bet
Newsletter
Get top stories and blog posts emailed to you each day.