You are here
Yemen army launches bid to break rebel siege of Taez
By AFP - Aug 18,2016 - Last updated at Aug 18,2016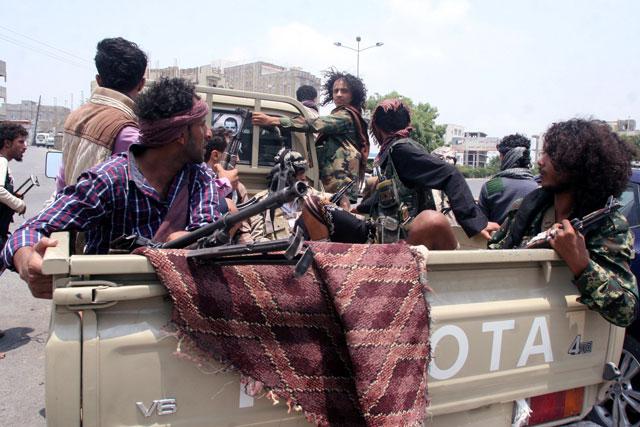 Pro-government fighters ride on the back of a patrol truck, in Bir Basha area in southwestern Taiz province, Yemen, on Thursday (Reuters photo)
ADEN — Yemen troops on Thursday launched a bid to break a rebel siege of third city Taez, with fierce fighting leaving five soldiers and 13 insurgents dead, military sources said.
Soldiers attacked positions of the Iran-backed Shiite Houthi rebels from the east, west and north of the flashpoint southwestern city that has been under siege for more than a year, they said.
One military source said the troops made "a relative breakthrough" by driving the Houthi rebels from several positions around the city.
A pro-government activist, Abdel Majid Al Dhababi, confirmed that troops had made progress after months of trying to break the siege of Taez.
He told AFP the army "practically succeeded in breaking the blockade from the west".
"But the road leading to Aden is still unsafe and this is preventing civilians from fleeing south," said Dhababi.
Yemen has been hit by unrest since the Houthi rebels and allied loyalists of former president Ali Abdullah Saleh overran the capital Sanaa in September 2014.
The violence increased after a Saudi-led Arab coalition launched a military campaign in March last year to help shore up the government of President Abed Rabbo Mansour Hadi.
The government had fled to Saudi Arabia after the Houthis seized Sanaa and pushed south to second city Aden.
But with help from the coalition authorities have recaptured Aden, where the government has set up temporary headquarters.
In March, loyalist forces backed by Saudi-led air strikes managed to break the rebel siege of Taez after fierce clashes but the insurgents later re-imposed a blockade on the city.
Tens of thousands of civilians are said to be caught in the fierce and protracted battle for Taez.
Saudi-led aircraft meanwhile pounded rebels positions around Sanaa on Thursday, scoring hits on three military camps held by the insurgents, military sources said.
Al Qaeda 'revenge' bombing
Violence on Thursday also rocked the southern Abyan province where an Al Qaeda suicide bomber killed four Yemeni soldiers and wounded four others, a military official told AFP.
The attack comes after government forces launched an anti-militant operation in Abyan.
The bomber rammed his car into two military vehicles parked on a road linking the towns of Loder and Moudia, the military official said.
The attack came after troops recaptured both towns from Al Qaeda in the Arabian Peninsula (AQAP), the official added.
He said the bombing was apparently in retaliation for the capture Sunday of provincial capital Zinjibar by the army backed by Saudi-led air strikes.
Extremists fled into the mountains as the army entered, the military official said.
Abyan lies east of the province of Aden, where authorities have trained hundreds of soldiers over the past two months to retake Abyan.
Al Qaeda and Daesh extremists have exploited a power vacuum in Yemen to expand their presence in the country's south and southeast.
The United States considers AQAP to be Al Qaeda's deadliest franchise and has conducted a drone war against the group in Yemen.
The UN says more than 6,600 people, mostly civilians, have been killed since last March and more than 80 per cent of the population needs humanitarian aid.
Related Articles
Sep 17,2016
ADEN — Yemeni pro-government forces battled Shiite Houthi rebels on two fronts Saturday, including east of Taez where they are struggling to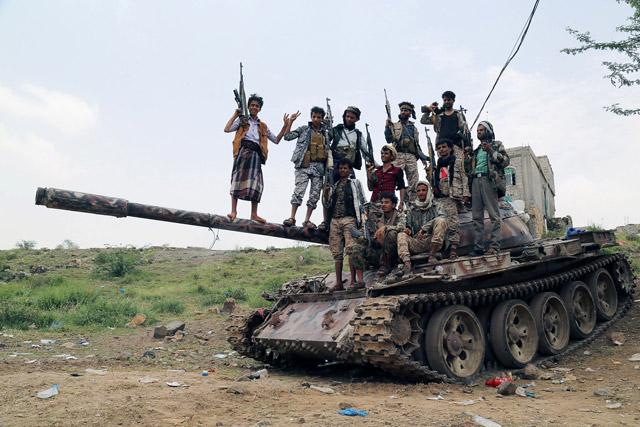 Aug 14,2017
ADEN — A roadside bomb killed 12 civilians and wounded four in southern Yemen on Monday when a blast targeting a military car hit their vehi
Jan 04,2018
ADEN — Saudi-led air strikes have killed dozens of rebels and civilians in the past 24 hours in Yemen's flashpoint province of Hodeida, medi
Newsletter
Get top stories and blog posts emailed to you each day.