You are here
AFDP-supported girls football festival concludes in Lebanon
By JT - Aug 04,2015 - Last updated at Aug 04,2015
AMMAN — With support from the Asian Football Development Project (AFDP), the first women's football festival in Lebanon titled 'Our Game, Our Goals' concluded on Monday following a week-long tournament organised by Discover Football and the Girls Football Academy (GFA) of Beirut, according to a statement from AFDP.
Teams from Egypt, Jordan, Libya, Palestine, Lebanon and Germany came together to play football at the Beirut Nejmeh Stadium and participated in 4 days of workshops and football practice led by World Vision and Right To Play. They were joined by over 200 girls from rural areas between the ages of 11-18, in four different regions: North (Salam Zgharta), South (Sour), West (Bhamdoun) and central (Nejmeh).
The festival aims to promote gender equality, raise awareness about women's football in the region and increase media exposure of women's football in Lebanon and neighbouring countries, and is timed to lead up to the FIFA U-17 Women's World Cup which is to be held in October 2016 in Jordan.
The ground-breaking initiative also serves as a kick-off for long-term girl's football projects with the GFA.
"Organisations such as Discover Football and the Girls Football Academy are playing a key role in encouraging girls in our region to put on their sports shoes and score some goals, and we at the AFDP are incredibly proud to be a part of that," HRH Prince Ali, AFDP founder and chairman, was quoted as saying in the statement.
"The excitement around women's football here has never been more palpable and it is a remarkable time ahead of the U-17 World Cup in Jordan next year," Prince Ali added.
The GFA also received 500 footballs from AFDP to be used in football activities for girls residing in marginalised areas across Lebanon.
AFDP, with the support of its official partner PepsiCo, continues to focus its needs-based support on promoting women's football in Asia and empowering women through the game, in addition to social development through football, grassroots and youth development, and protecting and developing the sport.
Related Articles
Apr 06,2014
The Asian Football Development Project (AFDP) has teamed up with the English Premiere League to support "My Wonder Football Wall" — a graffiti project led by the Federation of Kyrgyz Republic following the building of new pitches for women's football in Kyrgyzstan, a statement from the office of HRH Prince Ali, the founder of AFDP, said Sunday.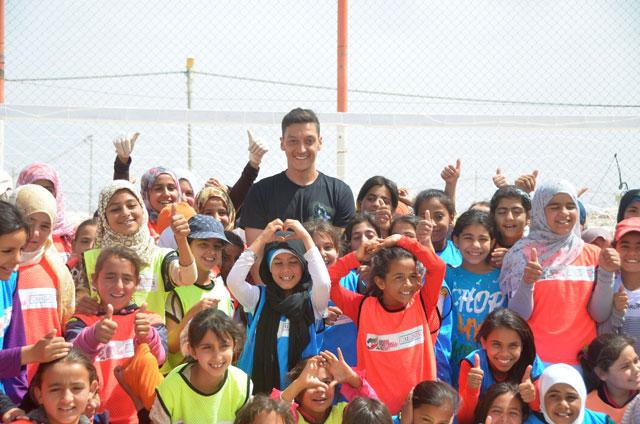 May 19,2016
ZAATARI CAMP — Abdul Raouf Khaled was standing in the middle of a football pitch in the Zaatari Refugee Camp in Mafraq on Wednesday, wearing
Oct 11,2014
The U-16 girls football team headed to Bangladesh on Saturday to play Group B Asian qualifiers that act as a qualifying tournament for the Asian Football Confederation (AFC) finals and U-17 Women's World Cup.
Newsletter
Get top stories and blog posts emailed to you each day.