You are here
Alcaraz returns to Miami after rapid rise
By AFP - Mar 22,2023 - Last updated at Mar 22,2023
Carlos Alcaraz of Spain fields questions from the media during the Miami Open in Miami Gardens, Florida, on Tuesday (AFP photo by Matthew Stockman)
MIAMI GARDENS, Florida — World No. 1 Carlos Alcaraz heads into this week's Miami Open looking to defend both his title and top ranking and admitting even he has been surprised by his dizzying rise to the top of the sport.
A year ago, the 19-year-old came to Miami on the back of wins on clay in Croatia and Brazil and hoping to make his mark on the hard courts. His victory in South Florida launched a remarkable year.
The highlight was his US Open triumph which made him the youngest player to become World No. 1 and he returns to Miami after last week's win in Indian Wells, achieved without dropping a set in the tournament.
"It's all been very fast, when I got to Miami last year I was around No. 20 and a year later I am coming in with the No. 1 ranking. That is something very special. I fulfilled my dreams quicker than I expected," he told reporters on Tuesday.
Because of his victory in Miami last year, Alcaraz must win at the Florida event again if he is to hold on to his No. 1 spot, but he says he feels no pressure in that regard or to meet newly raised expectations.
"I don't feel the pressure too much. I know the things I have to do. I need to play relaxed and not mind if I lose or if I play well or not," he said.
"My goal is always the same. To feel comfortable on court. To enjoy playing tennis and try to have great thoughts when playing. That is why I am playing at a good level. I am enjoying every single second and playing relaxed. That is what I am thinking about on court," he added.
'You have to improve'
As at Indian Wells, World No. 2 Novak Djokovic is missing after being refused entry to the United States due to his lack of a COVID vaccine and Alcaraz says he misses the Serb's presence, along with the injured Rafael Nadal.
"I'm a professional tennis player, but also I'm a huge fan of tennis and I always want to watch the best players in the world, like Rafa, like Djokovic," he said.
"I played a couple of times against Rafa and I wish to play against him more and with Djokovic as well. I wish to play against him more times, you know, but obviously in every tournament I want them to be playing and I hope we get them back soon," he said.
Far from feeling the weight of following in the footsteps of the "Big Three" of Djokovic, Nadal and the now retired Roger Federer, Alcaraz says he is trying to draw lessons from their successes.
"You have to improve, you have to get better every day. That's why the big players, the Big Three, for example, did all through their careers — to improve every day a little bit," he said.
Alcaraz can expect plenty of support from the crowd in Miami, which includes many Spanish-speaking fans.
"It's so special to come back here and feel the same energy that I felt, for example, last year," he said.
"I have great supporters here, a lot of people supporting me. I remember last year it was unbelievable you know, with the crowd. I feel like I am at home, you know," he added.
The top seed will begin his title defence against Argentine Facundo Bagnis or a qualifier and could face two-time Miami champion and former World No. 1 Andy Murray in the third round.
Alcaraz said he was full of admiration for the Scotsman and recently told him in a message during Murray's run to the final of the Qatar Open.
"Andy is a magnificent player, one of the Big Four," said Alcaraz.
"It was amazing to watch him play and also learn from him away from the court. What he has done to return from surgery after they told him he would not play again, that is an inspiration for all of us," he said.
Related Articles
Aug 26,2023
NEW YORK — Novak Djokovic makes a long-awaited return to the US Open next week looking to reclaim the title and World No.
May 10,2022
PARIS — Few players have rivalled Roger Federer, Rafael Nadal and Novak Djokovic over the past two decades, but Spanish teenager Carlos Alca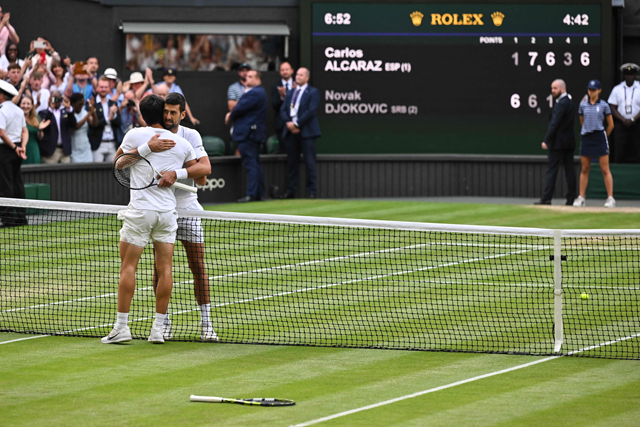 Jul 17,2023
LONDON — Carlos Alcaraz's triumph over Novak Djokovic at Wimbledon on Sunday marked the latest chapter in a story predicted to end with "30