You are here
'Angola undergoing reforms, shifting towards sustainable development'
By JT - Feb 25,2021 - Last updated at Feb 25,2021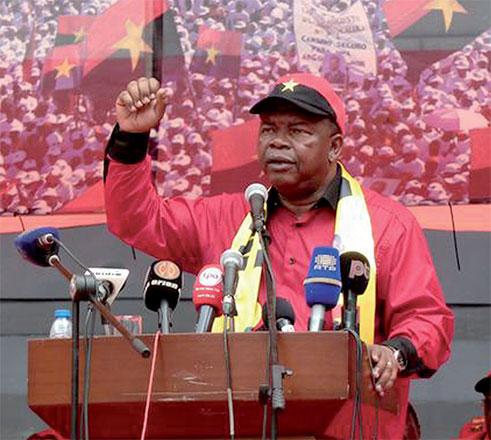 Angolan President Joao Lourenco is seen in this photo speaking at a public gathering (AFP photo)
AMMAN — Since the change of leadership in 2017, a new impulse for change is happening in Angola, with a political will to distribute resources more equally.
The middle-income country in Southern Africa enjoyed some of the fastest growth on the African continent during the past decades, but its economic success relied almost exclusively on oil, which accounts for 93 per cent of total merchandise exports, according to a statement to The Jordan Times. "When oil prices crashed in 2014, growth fell below 1 per cent, and government revenue followed in its wake."
Following Joao Lourenco's selection, the new President immediately focused on diversifying the country's economy, focusing on sectors that could be friendlier to the environment, such as the coffee and fisheries industries, with the aim of creating more jobs for disadvantaged parts of society, the statement said.
"Since since taking office in 2017, President Lourenço and his administration begun to enact reforms to promote investment and boost competitiveness," the statement said, explaining that the government embarked on a "comprehensive" privatisation process with an initial 195 companies or assets across all sectors on track to be privatised. "Laws establishing principles for private investment and promoting market competition have been approved, and anti-corruption measures have been taken. The government has also liberalised the exchange rate."
After a considerably long setback in the agriculture sector, Angola has managed to increase agricultural projects as highlighted in the World Bank Group's Country Private Sector Diagnostic for Angola, according to the statement.
"Angola's governmental ambitions for wide-ranging reforms aiming at diversifying the economy away from oil, increasing foreign and domestic investment and promoting development of the private sector are severely impacted by the COVID-19 pandemic and its effects on commodity prices."
The EU ambassador to Angola Jeannette Seppen was quoted in the statement as saying that the bloc is planning more funds to Angola for the coming years. "So far, under the European Development Fund, support of more than 130 million euros has been granted and the EU and Angola are now dealing with planning for the next six to seven years."
Seppen also indicated that the financial programming will serve to 'support Angola towards a greener, more sustainable, more resilient economy' and should start to be implemented in the first half of this year, the statement said.
Overall, structural reforms are expected to contribute to the economic recovery from 2021 onward. Strategic investments in infrastructure, human capital, and credit markets are bound to diversify Angola's economy, improve its current account balance, and generate international reserves (about 98 per cent of exports are oil and diamonds) in the long term, the statement said. "Government support for export diversification and import substitution is identifying priority sectors that could benefit from such initiatives as the credit support programme announced in May 2019."
"Angola was scheduled to ascend from the category of Least Developed Country to that of Middle-Income Country in February 2021. However, Angola's graduation has been postponed for three years -following a UN General Assembly resolution on February 12, 2021 due to the country's socio-economic vulnerability and difficulties brought about by the COVID-19 pandemic."
Newsletter
Get top stories and blog posts emailed to you each day.