You are here
ASEAN communique stalls amid disagreement on South China Sea stance
By Reuters - Aug 05,2017 - Last updated at Aug 05,2017
Philippines' Foreign Secretary Alan Peter Cayetano (right) and ASEAN Secretary General Le Luong Minh unveil a painting of the founding fathers of the Association of Southeast Asian Nations (ASEAN) during the opening ceremony of the 50th ASEAN Regional Forum meeting in Manila on Saturday (AFP photo)
MANILA — Southeast Asian foreign ministers failed to release a customary communique at the end of a high-level meeting on Saturday after what diplomats said was a lack of consensus about how to refer to disputes in the South China Sea.
The South China Sea has long been the most thorny issue for the Association of Southeast Asian Nations (ASEAN), with different opinions among its 10 members on how to address China's assertiveness and its building and heavy arming of its artificial islands in disputed waters.
Philippine Foreign Ministry spokesman Robespierre Bolivar gave no reason for the delay and said the statement would instead be released at the end of a series of regional events hosted by Manila in the next few days.
"The communique will be issued together with all the chairman's statements by the end of all the meetings," he said.
ASEAN's problem in agreeing the wording highlight China's growing influence at a time of uncertainty whether the new US administration will prioritise relations with ASEAN, and try to check Beijing's controversial maritime activities.
Diplomats from three ASEAN countries said the delay was because Vietnam, which is among four members with competing sovereignty claims with China, wanted the text to mention the need to avoid land reclamation and militarisation.
A working draft of the communique seen on Thursday was a watered-down version of one issued last year and drops references to both.
China is extremely sensitive about ASEAN mentioning its expansion of its military capabilities on those islands and some members are concerned about possible repercussions of upsetting Beijing given its military and economic power.
Three of China's seven reclaimed reefs have runways several kilometres long, radar, surface-to-air missiles and storage facilities for fighter jets.
"It's only Vietnam holding out. Maybe, by tomorrow everything will be ironed out," said one diplomat involved in the drafting process.
Global threat
What ASEAN countries could on Saturday agree on was that tensions on the Korean peninsula stemming from North Korean long-range missile tests seriously threaten global peace and security.
Taking a stronger tone than previous statements on the stand-off, they called for North Korea to comply with United Nations Security Council resolutions on its nuclear programme, and make a positive contribution to regional peace.
North Korea's tests of intercontinental ballistic missiles, are expected to dominate Monday's ASEAN Regional Forum (ARF), which gathers 27 foreign ministers — including those of Russia, Japan, the United States, China and North and South Korea — to discuss security issues.
North Korea is determined to develop a nuclear-tipped missile capable of hitting the United States and officials in Washington say its latest test a week ago showed it may be able to reach most of the country.
"We strongly call upon [North Korea] as a participant of the ASEAN Regional Forum, to positively contribute to realise the ARF vision to maintain the Asia-Pacific as a region of lasting peace, stability, friendship and prosperity," ASEAN said.
The ASEAN position is short of the tougher line urged by the United States, which wanted it to downgrade relations with the already isolated nation.
Related Articles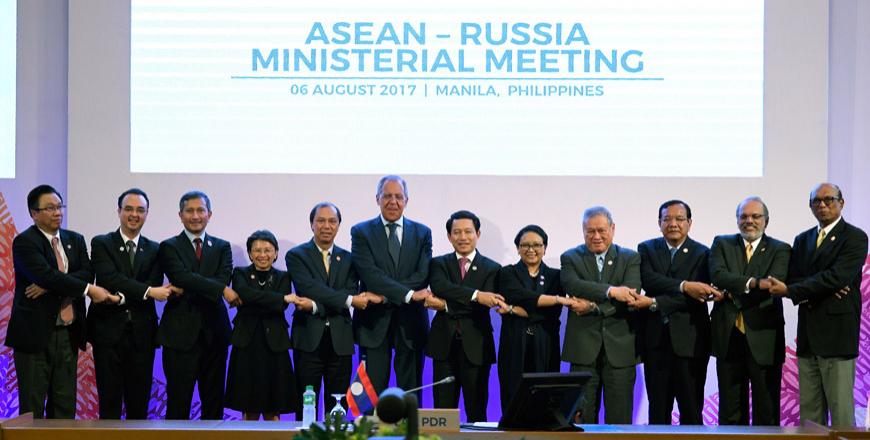 Aug 06,2017
MANILA — Southeast Asian foreign ministers ended an impasse on Sunday over how to address disputes with China in the South China Sea, issuin
Aug 03,2017
MANILA — Southeast Asian ministers meeting this week are set to avoid tackling the subject of Beijing's arming and building of manmade South
Jul 24,2016
VIENTIANE — Southeast Asian nations failed to agree on maritime disputes in the South China Sea on Sunday after Cambodia blocked any mention
Newsletter
Get top stories and blog posts emailed to you each day.