You are here
EU sends help to fight fires in Greece, Italy
By AFP - Aug 04,2021 - Last updated at Aug 04,2021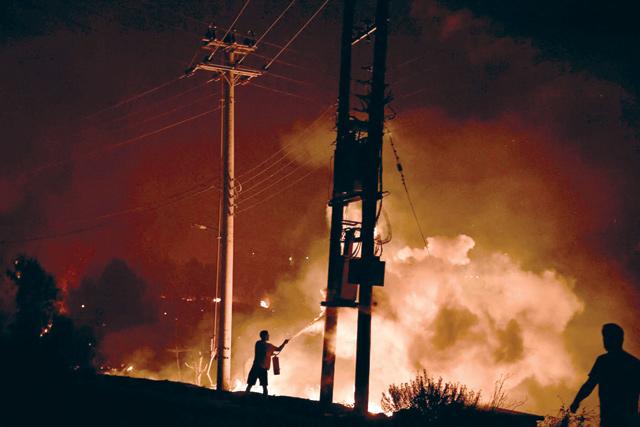 A man uses a fire extinguisher as local residents try to fight the forest fire in Dekelia, north of Athens, on Tuesday (AFP photo)
BRUSSELS — Fire-fighting resources from EU nations are on their way to Greece, Italy, Albania and Northern Macedonia to help fight forest blazes, the EU crisis management commissioner said on Wednesday.
"We are working around the clock to send help as fires rage across Europe," commissioner Janez Lenarcic said in a statement.
"I thank Cyprus, Czechia, France, Slovenia and The Netherlands for swiftly deploying firefighting airplanes, helicopters and a team of firefighters to support countries heavily affected by forest fires."
The dispatch of the aircraft and firefighters were being coordinated by the EU Civil Protection Mechanism, with the European Commission picking up most of the mobilisation cost.
Greek firefighters have been battling several heatwave-fuelled forest infernos, including around Athens that have destroyed or damaged dozens of homes and businesses and forced the evacuation of villages, and others in the south and on the island of Euboea.
Devastating fires have also scorched parts of Italy, including in Sicily and near Rome.
Both Greece and Italy are EU member states.
EU help was also being given to non-EU neighbours, in the form of two helicopters sent to Albania and 45 Slovenian firefighters to North Macedonia.
The European Union earlier this week deployed firefighting help to Turkey, which is also struggling with violent summer wildfires that have sent residents and tourists scrambling to safety.
Rescuers used helicopters and water cannon on Wednesday to beat back fires encircling a Turkish power plant in the second week of deadly blazes.
More than 170 wildfires have scorched swathes of Turkey's southern coast and killed eight people since breaking out east of the Mediterranean vacation hotspot Antalya last Wednesday and then spreading west.
The blazes have destroyed pristine forests and thousands of cattle.
Their location around Turkey's main vacation destinations have also dented government hopes of a tourist-driven revival of the fragile economy.
The European Union's satellite monitoring service said their "radiative power" , a measure of the fires' intensity, "has reached unprecedented values in the entire dataset, which goes back to 2003".
An AFP team in Milas saw Turkish workers dig trenches around the plant to keep the flames away.
Turkish helicopters and two firefighting planes from Spain dumped sea water and fire retardant on the surrounding hills and rows of scorched or burning residential buildings.
A group of locals watched the battle unfold from the relative safety of the beach.
Most of the flames appeared to have been extinguished and only white plumes of smoke rose from the back of the hills on Wednesday afternoon.
"The local security forced asked us to evacuate the village but we never left. We stayed where we were," a local electrician who agreed to be identified only as Ersoy told AFP.
Experts warn that climate change in countries such as Turkey increases both the frequency and intensity of wildfires.
Turkey's Agriculture and Forestry Minister Bekir Pakdemirli said temperatures in the Aegean city of Marmaris reached an all-time record of 45.5ºC this week.
Newsletter
Get top stories and blog posts emailed to you each day.