You are here
Five things to know about Italy's 'Ndrangheta mafia
By AFP - Nov 20,2023 - Last updated at Nov 20,2023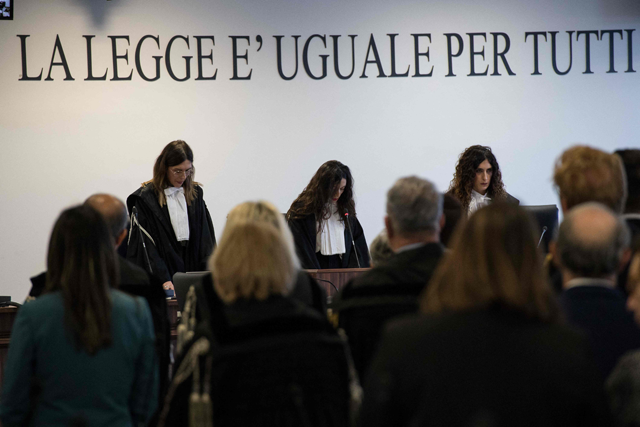 Magistrates stand during the reading of the verdict at the maxi mafia-trial in Lamezia Terme on Monday where some 200 people were convicted in the so-called Rinascita Scott trial against alleged members of the 'Ndrangheta mafia in the Calabrian province of Vibo Valentia and the mob's white-collar facilitators (AFP photo)
LAMEZIA TERME, Italy — The massive historic trial concluding on Monday targets the 'Ndrangheta mafia, which has surpassed Sicily's better-known Cosa Nostra to become Italy's wealthiest and most powerful criminal organisation.
Based in the southern region of Calabria, the 'Ndrangheta has developed a near-monopoly on the European cocaine trade and has tentacles across the globe.
Here are five things to know about the group:
Origins
The 'Ndrangheta is rooted in the poor, rural region of Calabria, at the toe of Italy's boot, and dates back at least to the unification of Italy in 1861.
Its name, derived from Greek, refers to valour, and top members today continue to be sworn into the group in formal ceremonies.
Long dismissed as a purely rural phenomenon — and overshadowed by the more visible Costa Nostra — it came to public attention in the 1980s and 1990s in a series of kidnappings across Italy.
Affiliates are believed to have been responsible for kidnapping the grandson of US-born oil tycoon John Paul Getty in 1973, severing his ear to help procure a ransom.
It was only in 2010 that Italy first classified the 'Ndrangheta as a mafia organisation under the law.
Main activities
Controlling the bulk of cocaine flowing into Europe, the 'Ndrangheta has far surpassed the Cosa Nostra — made famous by "The Godfather" movies — in power and wealth.
Now extending far beyond Calabria, it operates in over 40 countries around the world.
Besides its main source of wealth, drug trafficking, it is involved in money laundering, extortion, trafficking of illegal waste and other criminal activities, using shell companies to invest illegal gains in the legitimate economy worldwide.
Within Calabria, the extent of the 'Ndrangheta's reach in the local economy — infiltrating public sectors from town halls to hospitals — has made it nearly impossible to eradicate.
Outside Italy within Europe, it is active primarily in Belgium, Germany, The Netherlands and Spain, whose ports are the main entry points for cocaine in Europe, with the 'Ndrangheta often working in conjunction with other organised crime groups.
The 'Ndrangheta's family structure — with individual "clans" based on blood ties — has meant that the mafia has relatively few turncoats, frustrating authorities' attempts to crack down on the group.
How much is it worth?
Experts believe there are some 150 'Ndrangheta families and their associates in Calabria, with thousands more worldwide.
Nicola Gratteri, a leading anti-mafia magistrate in Calabria, has estimated that the group generates an annual turnover of more than 50 billion euros ($55 billion) — much of it from cocaine trafficking.
International response
In 2020, Italy set up the "I-CAN" programme through international policing agency Interpol to educate other countries where the 'Ndrangheta has a presence about this specific mafia, and encourage information-sharing.
In a major swoop in May this year, more than 130 people were taken into custody after raids across Italy, Germany, Belgium, France, Portugal, Slovenia, Spain and Romania.
The most famous arrest so far has been of Rocco Morabito, one of Italy's most wanted fugitives, who was arrested in 2021 in Brazil, following his escape from a prison in Uruguay in 2019.
Maxi-trial
Italy's largest mafia trial in more than three decades, which opened in Calabria in January 2021, has targeted more than 300 alleged 'Ndrangheta members.
It focuses on just one Calabrian province, Vibo Valentia, and alleged crimes include murder, money laundering, drug trafficking and abuse of office.
The trial has shed light on the 'Ndrangheta's close contacts with politicians and business figures that have helped the mafia to infiltrate nearly all areas of commerce.
Related Articles
Sep 12,2020
ROME — After years of investigation, mountains of evidence and hundreds of suspects, Italy's plucky anti-mafia prosecutor Nicola Gratteri is
Sep 15,2021
ROME — Italy's finance police on Tuesday busted an international cocaine-smuggling ring run by the 'Ndrangheta crime group after cracking a
Sep 16,2018
PALERMO, Italy — Pope Francis arrived in Sicily on Saturday to pay homage to a priest murdered by the mafia 25 years ago while trying to sav