You are here
Ukraine fears Russia 'ready to attack'
By AFP - Mar 23,2014 - Last updated at Mar 23,2014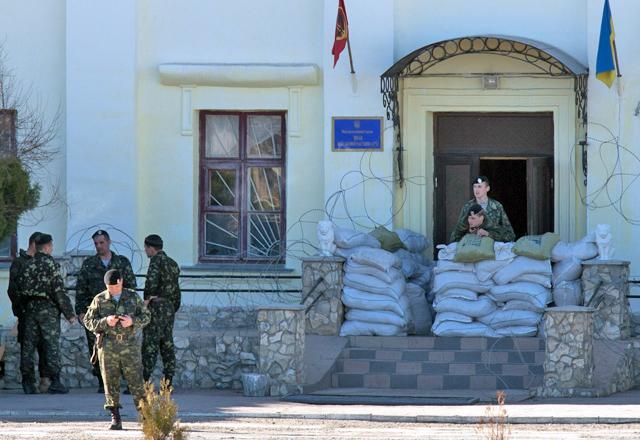 KIEV — Ukraine's Western-backed leaders voiced fears on Sunday of an imminent Russian invasion of the eastern industrial heartland following the fall of their last airbase in Crimea to defiant Kremlin troops.
Saturday's takeover involving armoured personnel carriers and stun grenades provided the most spectacular show of force since the Kremlin sent troops into the heavily Russified peninsula three weeks ago before sealing its annexation Friday.
Alarm about a push outside Crimea by Moscow's overwhelming forces — now conducting drills at Ukraine's eastern gate — were fanned further Sunday by a call by its self-declared premier for Russians across the ex-Soviet country to rise up against Kiev's rule.
The interim leaders in Kiev fear that Russian President Vladimir Putin — flushed with expansionist fervour — is developing a sense of impunity after being hit by only limited EU and US sanctions for taking the Black Sea cape.
"The aim of Putin is not Crimea but all of Ukraine... His troops massed at the border are ready to attack at any moment," Ukraine's National Security and Defence Council chief Andriy Parubiy told a mass unity rally in Kiev.
Foreign Minister Andriy Deshchytsya reaffirmed that message in an interview broadcast on Sunday on a top US political talk show.
"We do not know what Putin has in his mind and what would be his decision. That's why this situation is becoming even more explosive than it used to be a week ago," Deshchytsya told ABC's "This Week".
Europe's most explosive crisis in decades will dominate a nuclear security summit opening in The Hague on Monday that will include what may prove to be the most difficult meeting to date between US Secretary of State John Kerry and Russian Foreign Minister Sergei Lavrov.
The encounter comes with Russia facing the loss of its coveted seat among the G-8 group of leading nations and US financial restrictions imposed on the most powerful members of Putin's inner circle for their decision to resort to force in response to last month's fall of Ukraine's pro-Kremlin regime.
'Call to fight'
One of the biggest tests facing the besieged interim leaders in Kiev now comes from restless Russians who have been stirring up violent protests and demanding their own secession referendums in the southeastern swaths of Ukraine.
The region's mistrust of the new team's European values lies from cultural and trade ties with Russia that in many cases are centuries old — a fact seized upon on Sunday by Crimea's Russia-backed Prime Minister Sergei Aksyonov.
He said in an impassioned address he posted on Facebook and read out on local TV that Crimea began facing a "sad fate" the moment three months of deadly protests involving a mix of nationalist and pro-Western forces toppled the pro-Kremlin regime in Kiev.
"But we resisted and won! Our motherland — Russia — extended her hand of help," said Aksyonov. "So today, I appeal to you with a call to fight."
"I call on you to resist the choice made for you by a bunch of political mavericks who are being financed by oligarchs."
Aksyonov said he was "deeply convinced" that the future of southeastern Ukraine "rested in a close union with the Russian Federation — a political, economic and cultural union".
Stun grenades
Crimea's authorities estimate they together with the Kremlin's forces control at least half of Ukrainian bases on the Black Sea peninsula and about a third of its functioning naval vessels.
Ukraine's acting Defence Minister Igor Tenyukh on Sunday lamented that his navy officers appeared too ready to surrender to Kremlin-backed militias and Russia's Black Sea Fleet that has made Crimea its home since the 18th century.
"You know that in recent days, we have had our ships blockaded and seized even though our commanders had the authorisation to use force," Tenyukh told reporters in Kiev.
"Unfortunately, the commanders made decisions on the spot. They chose not to use their weapons in order to avoid bloodshed."
The Ukrainians' refusal to engage Russian forces has led to a domino-like fall of their bases across the rugged peninsula of two million people.
The most dramatic episode of Russia's excursion so far saw crack forces on Saturday break into the Belbek airbase near the main city of Simferopol after an armoured personnel carrier blasted through the main gate.
Two more armoured personnel carriers followed and gunmen stormed in firing automatic weapons into the air. An AFP reporter heard stun grenades before the situation calmed and the gunmen lowered their weapons.
Several unarmed soldiers began singing the Ukrainian national anthem during the ensuing lull.
Ukraine's interim President Oleksandr Turchynov said Sunday that the Russian forces had also captured the base commander and demanded his immediate release.
Bid to 'splinter Europe'
Russia's diplomatic isolation is now growing as quickly as the reemergence of an ideological divide that appeared to have been bridged with the 1989 fall of the Berlin Wall.
The foreign minister of Germany — whose economic power is playing a decisive role in forging Europe's response to Putin's increasingly belligerent stance — warned after talks with Ukraine's leaders that the continent's future was at stake.
The show of diplomatic solidarity may play an important psychological role in Kiev as it faces new pressure from Russia that include open threats to throw Ukraine's wheezing economy into convulsion by raising its gas rates and demanding colossal payments for disputed debts it could ill afford.
Yet both the United States and Europe have thus far limited their retaliation against Putin to targeted travel and financial sanctions that concern officials but do not impact the broader Russian economy.
Washington's steps have been more meaningful because they hit what US officials call a Putin "crony bank" as well as oligarchs who are believed to be closest to the Russian strongman and — in one case — actually running a joint business with him.
Leading EU nations such as Britain and Germany — their financial and energy sectors intertwined with Russia's — have questioned why they should suffer most in case of an all-out trade war.
Related Articles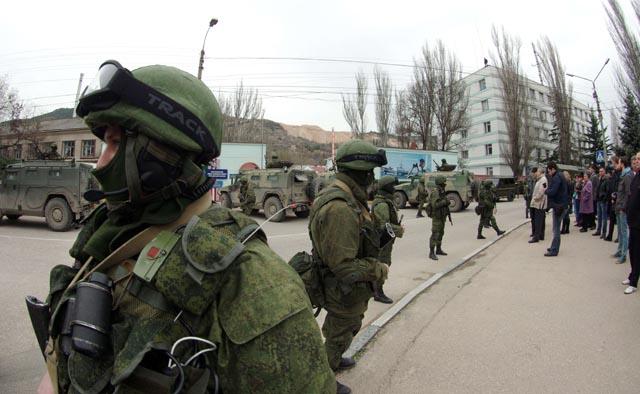 Mar 01,2014
Russian President Vladimir Putin won the green light from parliament Saturday to send troops into Ukraine after a bloody three-month uprising that swept new pro-EU leaders to power but sparked unrest in the pro-Kremlin Crimean peninsula.
Mar 17,2014
Crimea's declaration of independence Monday from Ukraine triggered the toughest Western sanctions against Russia since the Cold War — with Washington and the European Union retaliating with asset freezes and travel bans and US President Barack Obama vowing to "increase the cost" if the Kremlin does not back down.
Mar 10,2014
Ukraine's foreign minister said Monday that his country was practically in a state of war with Russia, as Moscow further ratcheted up pressure on Kiev, claiming that Russian-leaning eastern regions have plunged into lawlessness.
Newsletter
Get top stories and blog posts emailed to you each day.