You are here
US flies B-52 over South Korea after North's nuclear test
By Reuters - Jan 11,2016 - Last updated at Jan 11,2016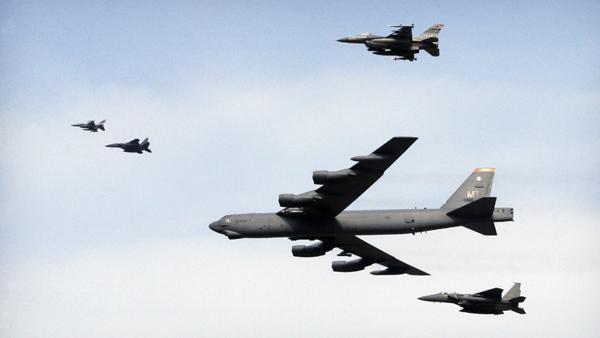 A US air force B-52 bomber flies over Osan Air Base in Pyeongtaek, South Korea, on Sunday (AP photo)
SEOUL — The United States deployed a B-52 bomber on a low-level flight over its ally South Korea on Sunday, a show of force following North Korea's nuclear test last week.
North Korean leader Kim Jong-un maintained that Wednesday's test was of a hydrogen bomb and said it was a self-defensive step against a US threat of nuclear war.
North Korea's fourth nuclear test angered both China, its main ally, and the United States, although the US government and weapons experts doubt the North's claim that the device was a hydrogen bomb.
The massive B-52, based in Guam and capable of carrying nuclear weapons, could be seen in a low flight over Osan Air Base at around noon (0300 GMT). It was flanked by two fighter planes, a US F-16 and a South Korean F-15, before returning to Guam, the US military said in a statement.
Osan is south of Seoul and 77km from the Demilitarised Zone that separates the two Koreas. The flight was "in response to recent provocative action by North Korea", the US military said.
In Washington, White House Chief of Staff Denis McDonald said on Sunday the flight underscored to South Korea "the deep and enduring alliance that we have with them".
"Last night was a step toward reassurance in that regard and that was important," McDonough said on CNN's "State of the Union".
He said the United States would continue to work with China and Russia, as well as allies Japan and South Korea, to isolate the North until it lives up to its commitments to get rid of its nuclear weapons.
"Until they do it they'll remain where they are, which is an outcast unable to provide for their own people," he said.
After the North's last test, in 2013, the United States sent a pair of nuclear-capable B-2 stealth bombers over South Korea. At the time, the North responded by threatening a nuclear attack on the United States.
The United States is also considering sending a nuclear-powered aircraft carrier to waters off the Korean peninsula next month to join a naval exercise with Seoul, South Korea's Yonhap news agency reported without identifying a source. However, US forces and Korean officials said they had no knowledge of the plan.
The two Koreas remain in a technical state of war after their 1950-53 conflict ended in a truce, not a peace treaty, and the United States has about 28,500 troops based in South Korea.
An editorial in the North's Rodong Sinmun newspaper on Sunday called for a peace treaty with the United States, which is the North's long-standing position. "Only when a peace treaty is concluded between the DPRK [North Korea] and the US can genuine peace settle in the Korean Peninsula," state news agency KCNA quoted it as saying.
The United States and China have both dangled the prospect of better relations, including the lifting of sanctions, if North Korea gives up its nuclear weapons.
Earlier on Sunday, KCNA quoted Kim as saying no one had the right to criticise the North's nuclear tests.
"The DPRK's H-bomb test is a self-defensive step for reliably defending the peace on the Korean Peninsula and the regional security from the danger of nuclear war caused by the US-led imperialists," it quoted Kim as saying.
"It is the legitimate right of a sovereign state and a fair action that nobody can criticise," he said.
Related Articles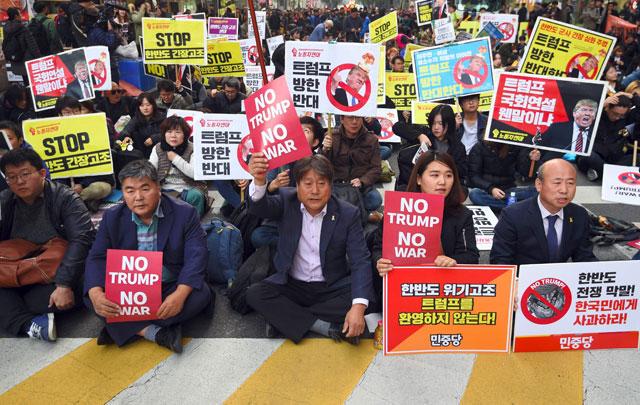 Nov 04,2017
SEOUL — North Korea ruled out talks and threatened to increase its nuclear arsenal in a fresh warning to Donald Trump's administration Satur
Jun 04,2018
SEOUL, South Korea — Syrian President Bashar Al Assad said he plans to visit North Korean leader Kim Jong-un, North Korean state media repor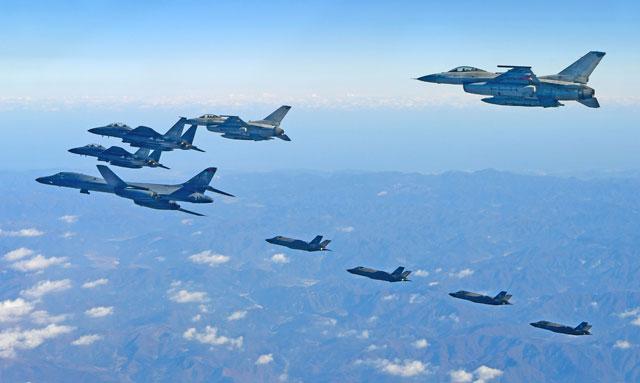 Dec 07,2017
SEOUL — Two American B-1B heavy bombers joined large-scale combat drills over South Korea on Thursday amid warnings from North Korea that th
Newsletter
Get top stories and blog posts emailed to you each day.