You are here
Washington faces days of cleanup after epic blizzard
By Reuters - Jan 26,2016 - Last updated at Jan 26,2016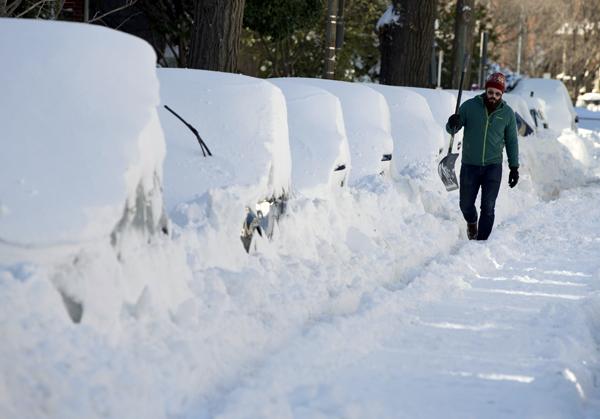 Ben Osborn walks with a shovel past a line of snowed-in cars on a Steet in northeast Washington, on Sunday (AP photo)
WASHINGTON/NEW YORK — Washington will need several more days to return to normal after a weekend blizzard dropped more than 60cm of snow along the US East Coast, likely causing billions of dollars in damage and killing more than 30 people.
The US capital was at a standstill, with federal government offices to be closed again on Tuesday, schools in the district and surrounding suburbs shut until at least Wednesday, and the US House of Representatives canceling all votes until next week.
Washington's mayor, Muriel Bowser, said city public schools would remain closed on Tuesday but that city government offices would reopen. She urged people to use mass transit rather than trying to drive and park on the city's snow-clogged roads.
"We knew that we would have... several days of cleanup ahead of us," Bowser told reporters. "Know that we're going to be dealing with snow all of this week."
Officials reported at least 36 storm-related deaths, including traffic accidents and heart attacks while shoveling snow in Washington, Delaware, Kentucky, Maryland, New Jersey, New York, North Carolina, South Carolina, Ohio, Tennessee and Virginia.
The dead included a North Carolina man who was shot and killed when he saw a motorist who had run off the road in the storm and attempted to help him. The motorist remained jailed on murder charges on Monday.
Risk Management Solutions meteorologist Jeff Waters said he could not provide specific damage estimates yet, but said the storm "could rank as one of the more significant events in recent history".
He said comparable historical storms would include the Blizzard of 1996, which caused approximately $1.5 billion in economic losses and $740 million insured losses at the time.
Reinsurance broker Aon Benfield said on Monday the storm likely caused billions of dollars in economic losses, including damage to buildings and lost business from closures.
Officials said all but one line on Washington's second-busiest subway system would resume service on Tuesday and bus services would be expanded.
High snowbanks at street corners made travel within Washington difficult for pedestrians.
"The hardest part was getting the stroller through the unclean sidewalks," said Isam Qahwash, a 41-year-old scientist from Princeton, New Jersey, as he carried his 14-month-old son in a stroller across a downtown street. "It seems like they move really slow cleaning the snow here."
Even with federal government offices officially closed, the supreme court was open for business, scheduled to issue rulings and act on pending appeals from the snowbound courthouse across from the US Capitol building.
Washington officials said the city has applied for federal disaster relief to help pay for the snowstorm's costs, which they did not estimate.
Ten public schools around the city opened to provide breakfast and lunch to low-income children who typically receive free meals at school, officials said.
'This has been a nightmare'
Air travel remained seriously affected as some 1,603 US flights were canceled on Monday, with Newark Liberty International Airport, New York's LaGuardia Airport and Washington Dulles International Airport the hardest hit, according to FlightAware.com.
"This has been a nightmare," said Mary Lavigne, 34, as she waited at LaGuardia with her 18-month-old daughter for a flight to Montreal. "We've come to the airport twice, only to have to go back home... The trip is proving as brutal as the storm."
New York was quicker to return to business, with the New York Stock Exchange and the city's public schools open.
New York City Mayor Bill de Blasio told a local radio station he thought the city would face more storms of this magnitude in the future.
"We're now in the age of extreme weather. You know, this is what climate change has done to us. These storms are much bigger than what we've seen in the past," de Blasio said. "The mega storm is going to be with us for a while now."
NY officials warned the cost of snow removal was rising.
Comptroller Scott Stringer said on Monday the city spent an average of $2.5 million last year to remove each inch of the 47.5 inches of snow that fell, above the average of $1.9 million going back to 2013.
Along New Jersey's southern coast, business owners were left to mop up the damage of a storm surge that flooded homes and businesses in the popular tourist area. Several expressed frustration with Governor Chris Christie's weekend comments that the area hit by this storm had not borne the brunt of 2012's Superstorm Sandy.
Related Articles
Jan 23,2016
NEW YORK/WASHINGTON — A winter storm on Saturday whipped up record-setting tides higher than during Superstorm Sandy, causing major flooding
Feb 05,2014
A heavy winter storm that could dump up to a foot (30 cm) of snow bore down on the US East Coast on Wednesday, prompting a state of emergency in New Jersey and the closure of some schools.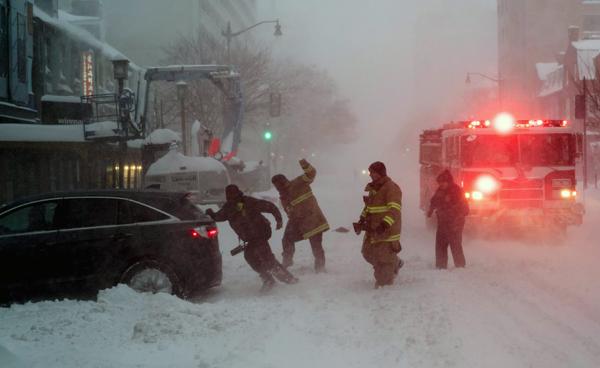 Jan 24,2016
New York — A massive blizzard that claimed at least 16 lives in the eastern United States finally appeared to be winding down Sunday, giving
Newsletter
Get top stories and blog posts emailed to you each day.