You are here
Hong Kong spends $2 billion to defend currency peg
By AFP - Aug 16,2018 - Last updated at Aug 16,2018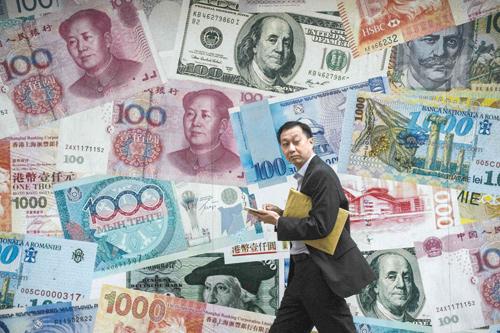 In this photo taken on November 9, 2016, a man walks past a display showing bank notes of different currencies in Hong Kong (AFP file photo)
HONG KONG — Hong Kong's de facto central bank on Thursday said it had bought up more than $2 billion worth of local currency to maintain a long-held peg to the US dollar.
The intervention — which began on Wednesday and was the latest in a series of moves to support the currency this year — comes as the US dollar rockets on the back of turmoil in emerging markets and the ongoing Turkish lira crisis.
The buyout means that the Hong Kong Monetary Authority (HKMA) will have just $12 billion in its reserves by the end of the week, the lowest level in a decade, Bloomberg News said.
Norman Chan, chief executive of the HKMA said the outflow of funds is a "normal and inevitable process for Hong Kong dollar interest rate normalisation".
On Thursday, the Hong Kong dollar was trading at HK$7.8495 against the US dollar, very close to the edge of its permitted range of HK$7.75-7.85.
Under the city's Linked Exchange Rate System, the HKMA is required to buy the local currency at HK$7.85 to US$1 to ensure exchange rate stability.
The southern Chinese financial hub has maintained a decades old peg with the US dollar, which keeps Hong Kong at the mercy of Fed policymakers.
The city's dollar was linked to the greenback in 1983 in a bid to prevent a sell-off as it wobbled over fears about China's reunification talks with Britain.
The HKMA said it stands ready to issue $1 trillion "Exchange Fund Bills" to release liquidity in order to deal with possible sharp outflow from Hong Kong dollar.
The HKMA last intervened to support the currency in May.
Newsletter
Get top stories and blog posts emailed to you each day.