You are here
SMEs await 'genuine' empowerment — experts
By Laila Azzeh - Aug 26,2015 - Last updated at Aug 26,2015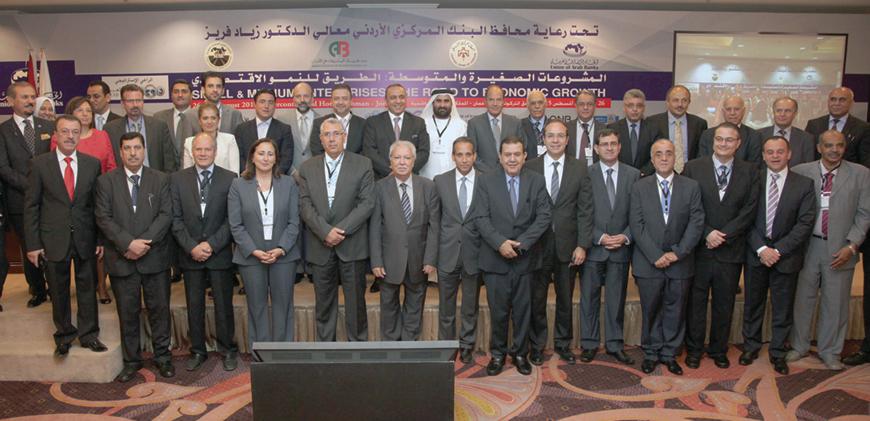 Participants in a forum, titled 'SMEs: The Road to Economic Growth' pose for a group photo on Wednesday in Amman (Petra photo)
AMMAN — Developments in the region, especially the drop in oil prices, require a "genuine" stance to empower small-and medium-sized enterprises (SMEs), experts said Wednesday.
During a forum, titled "SMEs: The Road to Economic Growth", Arab economists and bankers stressed the need for a holistic strategy to address challenges facing micro businesses which are deemed as drivers for national stability and growth.
Despite accounting for around 50 per cent of gross domestic product ( GDP) in Arab countries, challenges facing SMEs range from financing, training and marketing to innovation and sustainability.
While nearly 90 per cent of the regional economies are driven by SMEs, participants underlined the "poor" policies towards them, urging for establishing ministries designated to serving the sector.
Arab economists and bankers highlighted trends adopted by their respective governments to nurture this dynamic sector, especially in light of the drop in oil prices and political instability.
"It is true that in times of economic downturn, SMEs are the first to be affected, but they are the first to interact and grow in times of prosperity," said Fouad Zmokhol, president of the Lebanese Businessmen Association.
Officials at the two-day forum, organised by the Union of Arab Banks (UAB), mentioned that the lack of innovation and sufficient technical and financial support hinder SMEs from reaching their full capacity and becoming large businesses.
"The inability to access financial resources is related to the incomplete reform efforts in many Arab countries and having legal loopholes that result in maximising banks' potential losses," said Marwan Awad, chairman of Association of Banks in Jordan.
Majid Al Suri, member of the Central Bank of Iraq's board of directors agreed, underlining the need of Arab countries to identify the type of market economy they embrace as a way to identify the type of projects they need to encourage.
"Till this day, Arab states have no specific type of market economy…banks should work towards entrenching a culture of free work among young people," he stressed.
In the Kingdom, the Central Bank of Jordan (CBJ) has channeled around JD1 billion to SMEs through banks at very competitive conditions, CBJ Governor Ziad Fariz told the forum.
"The government is planning to establish a fund to provide guarantees for start-up loans...," he said.
Fariz indicated that the lack of updated and accurate data on the SMEs financing activities does not help identify the exact issues they face.
Adel Sharkas, CBJ deputy governor, noted that the budget deficit in Jordan is in "better shape" now and no longer competes with SMEs for financing.
"The government's financing needs used to stand at JD1 billion in the past three years, but with the drop in oil prices, the deficit is improving. This would definitely benefit the SMEs," he said.
According to the European Bank for Reconstruction and Development (EBRD) survey, which covered the period between May 2013 and April 2014, almost 70 per cent of Jordanian firms that needed a loan were either discouraged from applying for a credit or rejected when they did, which is above the SEMED average of 57.2 per cent and the average for the rest of the region (47.5 per cent).
More than three quarters of young firms and over 70 per cent of SMEs were credit-constrained, compared with 68.1 per cent of old and 19.7 per cent of large firms, the survey showed. It involved the four countries where the bank works in the southern and eastern Mediterranean (SEMED) region: Jordan, Egypt, Morocco and Tunisia. Political instability was among the top five concerns in all four countries, and was the biggest concern for Egypt and Tunisia, according to the study.
Regarding access to finance in Jordan, the EBRD report indicated that only 16.7 per cent of the firms had a loan or a line of credit, well below the SEMED average of 32.1 per cent and the rest of the EBRD region average of 37.4 per cent.
A recent study suggested that the banking sector in Jordan is reluctant to lend to SMEs because they are unable to pledge enough collateral.
Related Articles
Mar 12,2016
AMMAN — Achieving sustainable economic growth and empowering small- and medium-sized enterprises (SMEs) are among top national priorities, C
Feb 18,2015
Arab banks should extend a wider share of their credit facilities  to small-and medium-sized enterprises (SMEs) due to their role in improving socio-economic development, banking experts said Wednesday. 
Jul 22,2015
AMMAN – Access to finance poses the main constraint for Jordanian firms, according to a recently released survey prepared by the European Ba
Newsletter
Get top stories and blog posts emailed to you each day.