You are here
Trade, under Agadir agreement, drifts downwards post 'Arab spring'
By JT - Jan 08,2017 - Last updated at Jan 08,2017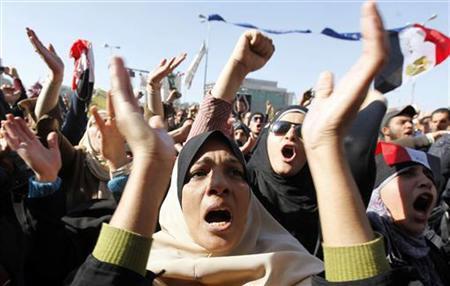 Protesters shout anti-military council slogans at Tahrir Square in Cairo December 23, 2011 (Reuters photo)
AMMAN — The volume of trade transactions among the Agadir free trade agreement countries has failed to keep its upward trend, which continued until around 2011, the agreement's technical unit executive chief, Fakhri Hazaimeh, said on Sunday.
However, Hazaimeh voiced hope that the accord will once again lead to bringing about more favourable results in the next few years and that member states may resist the downward trend if they utilise their strengths.
In the period post-2011, trade under the agreement, which includes Jordan, has been adversely impacted by the so-called Arab Spring and the fall-out of the global financial crisis, Hazaimeh told the Jordan News Agency, Petra.
There is also a big deficit in terms of the trade balance between the accord member states and the EU, he told the local news agency.
Hazaimeh cited the envisaged role that the agreement business council can play in assisting member states to venture into actual cooperative projects in several economic sectors.
He also stressed the significant role that the private sector can play to boost multilateral trade under the agreement, on the one hand, and between its member states and the
EU, on the other.
The trade volume among the agreement countries — comprising Egypt, Tunisia and Morocco, besides Jordan — annually stands at around $1.85 billion, of which the Kingdom's share amounts to around 7 per cent, he indicated.
For around 10 years, trade transactions between Jordan and Egypt have witnessed a steady growth at 16 per cent until 2012. The joint commercial exchange volume stood at $1 billion in 2012, while it posted a drop in 2013 and 2014, mainly due to the disruption of the country's natural gas imports from Egypt as it constituted some 40 per cent of the total trade volume, according to Hazaimeh.
As for the Kingdom's trade with Tunisia, he mentioned that it has always been limited, not exceeding $100 million at its best levels, while in terms of its trade with Morocco, the figure reached its best in 2009 when it amounted to $50 million.
Related Articles

Jan 21,2017
AMMAN — The Agadir free trade agreement is open to any Arab League and Greater Arab Free Trade Agreement (GAFTA) members, provided there is
Dec 06,2015
AMMAN (JT) — Industry, Trade and Supply Minister Maha Ali and her Tunisian counterpart Ridha Lahouel on Sunday highlighted the importance of
Nov 16,2017
AMMAN — Members of the Agadir Agreement (Jordan, Egypt, Tunisia and Morocco) on Wednesday discussed means to enhance customs cooperation dur
Newsletter
Get top stories and blog posts emailed to you each day.