You are here
Alfa Romeo Giulia Quadrifoglio: Seductive, swift, super saloon
By Ghaith Madadha - Jul 10,2018 - Last updated at Jul 10,2018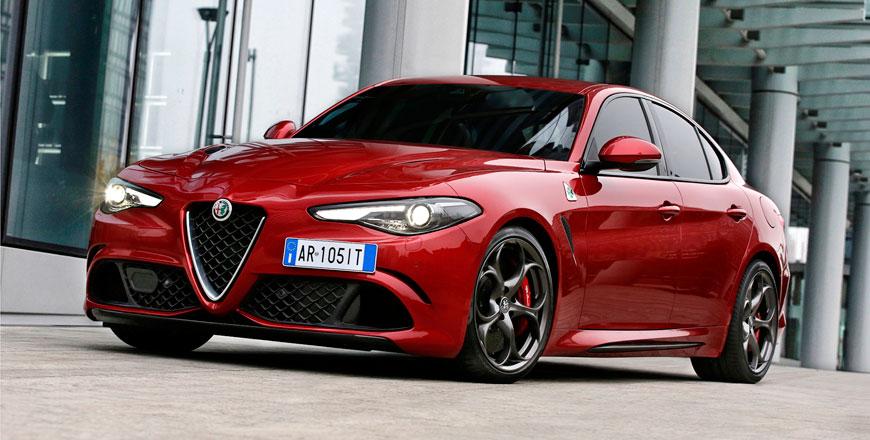 Photos courtesy of Alfa Romeo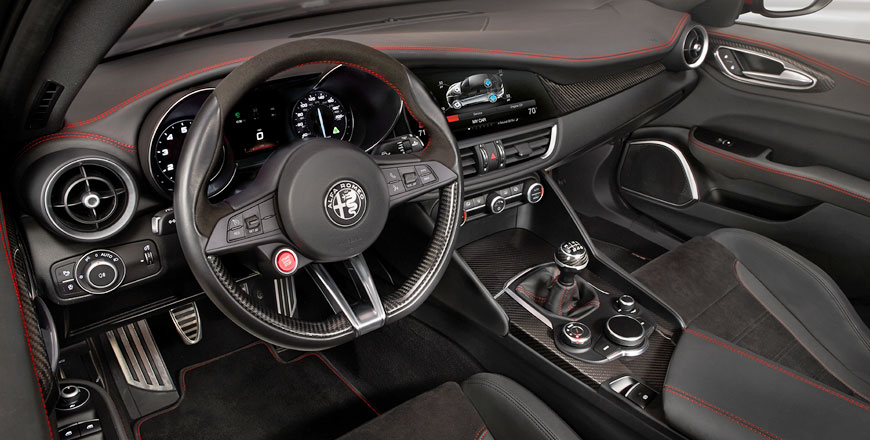 Back in the business of making stylishly sexy sports and super saloons after a brief hiatus of concentrating on sports cars and hatchbacks, the reborn car bearing Alfa Romeo's iconic Giulia nameplate also re-acquaints itself with rear-wheel-drive configuration.
Successor to cars like the 1963 Giulia Ti Super and 2001's front-driven 156 GTA, the range-topping Giulia Quadrifoglio retains the same seductive sense of glamour, but now packs a whole lot more punch and is aimed squarely at the like of the Mercedes-AMG C63, BMW M4 and Jaguar XE SV compact executive super saloons, and Audi's estate-bodied RS4 Avant.
Stylishly athletic
Reflecting its feminine namesake, the Alfa Romeo Giulia is the curviest and most seductively styled car in its segment, with tense and urgently athletic posture and detailing, rather than outright brutal aggression. Pretty and lusty in pictures, the Giulia Quadrifoglio's design is even more desirable in the flesh, where one better appreciates the discrete curvature of its surfacing, ridges, vents and wheel-arch and bumper treatment. With a more upright fascia than its 156 and 159 saloon predecessors, owing to pedestrian safety legislation, the Giulia Quadrifoglio nevertheless looks sleek and slinky with a flowing roofline and pert boot.
Bearing Alfa Romeo's traditional racing and performance car four leaf clover — or Quadrifoglio — good luck charm, the Giulia super saloon's front is dominated by the 108-year-old brand's trademark shield-like grille, flanked by huge mesh intakes and subtle side gills. The triangular motif is also reflected in its bulging bonnet lines, rear quarter windows and rear lights. With slim browed headlights, rakish A-pillars and a short front overhang balanced with broad hips, quad tailpipes and prominent side sills and vents, the Giulia Quadrifoglio strikes a distinctly sporting stance, and features a functional rear air diffuser and an active front air splitter.
Explosively urgent
Specially developed by Ferrari, the Alfa Romeo Giulia Quadrifoglio's prodigious 2.9-litre twin-turbocharged direct-injection V6 engine is positioned far back in the engine bay and drives the rear wheels for near-perfect front-to-rear weighting balance.
Growling, snarling and willing to rev to 7,400rpm, it develops a potent 503BHP at 6,500rpm and a muscular 443lb/ft torque over a broad, accessible and versatile 2,500-5,500rpm rev band. Supercar swift, the 1,580kg Giulia Quadrifoglio puts power effectively down through its rear wheels and rockets through 0-100km/h in just 3.9 seconds and onto a 307km/h top speed, while returning restrained 8.2l/100km combined cycle fuel efficiency.
With its twin IHI single-scroll turbos positioned between cylinder banks for short gas flow paths, the Giulia Quadrifoglio is responsive from standstill, and is versatile and eager in mid-range, and explosively urgent at the top end as it races seamlessly towards its rev limit.
Virtually lag free and with great throttle response, the Quadrifoglio's engine is consistent and progressive in delivery, and is also quick to wind down on lift-off, considering its high-boost state of tune. Driving rear wheels through either a 6-speed manual or 8-speed automatic gearbox, as tested, the Quadrifoglio delivers satisfyingly succinct bolt-action rifle-like shifts.
Intuitive ability
Balanced through corners and buttoned down at speed, the Giulia Quadrifoglio's handling character is both intuitive and seemingly adjustable, and at the same time reassuring, grippy and precise. With low short front overhang and eager steering it turns in tidy and crisp with eager agility and a high resistance to understeer.
Light and exact with good weighting, resistance and road feel for its segment, the Quadrifoglio's steering, along with its chassis' agility and settled stability allow one to weave through obstacles at speed with unperturbed fluency and a sense of delicacy not often found in modern high-performance cars.
Meanwhile, its taut suspension set-up keeps weight and body roll well in check through sudden switchbacks, tight 180° turns and long high-speed bends. Driven at speed during a brief session at Balocco with dampers, throttle, steering and gearbox set in the second sportiest, most responsive and firmest Dynamic setting, rather than Race mode with its less interventionist stability controls, the Quadrifoglio felt like it could easily be induced to progressive rear slides, were one to provoke it. However, there were no sudden surprises, and instead it proved adjustable in regards to shifting body weight to tighten a corner.
Control and comfort
Nevertheless, the Quadrifoglio remained grippy and committed through corners when driven so, and well matched one's intentions and inputs. Powering the rear wheels through an electronically-controlled limited slip differential, the Quadrifoglio can send power to the rear wheel best able to put down to tarmac for agility and stability.
Meanwhile, its large staggered 245/35ZR19 front and 285/30ZR19 rear tyres provided a good combination between steering precision and rear grip, while large six-piston front and 4-piston rear brakes proved effective and provided decent pedal feel. Stable and settled at speed, the Quadrifoglio's air splitter alternatively helps generate up to 100kg of down force, and a low CD0.32 aerodynamic drag.
Refined and smooth, the Giulia Quadrifoglio felt settled on rebound, and drove with unexpected but relative comfort and suppleness for such a car over a short, roughly paved patch of tarmac used for testing at Balocco. Swathed with black leather and carbon fibre, the Quadrifoglio's luxurious and well-appointed and equipped cabin has a distinctly sporting flavour, with thick and well-adjustable steering, driver-focused instrumentation, controls and infotainment screen. Carbon-fibre spine seats meanwhile provided a comfortable, supportive, ergonomic and alert driving position, while front space is good and rear space decent.
TECHNICAL SPECIFICATIONS
Engine: 2.9-litre, twin-turbocharged, in-line V6-cylinders
Bore x stroke: 86.5 x 82mm
Compression ratio: 9.3:1
Valve-train: 24-valve, DOHC, direct injection
Rev limit: 7,400rpm
Gearbox: 8-speed automatic, rear-wheel-drive, electronic limited-slip differential
Ratios: 1st 5.0; 2nd 3.2; 3rd 2.143; 4th 1.72; 5th 1.314; 6th 1.0; 7th 0.822; 8th 0.64
Reverse/final drive: 3.478/3.09
Power, BHP (PS) [kW]: 503 (510) [375] @6,500rpm
Specific power: 174BHP/litre
Torque, lb/ft (Nm): 443 (600) @2,500-5,500rpm
Specific torque: 207.5Nm/litre
0-100km/h: 3.9-seconds
Top speed: 307km/h
Fuel consumption, urban/extra-urban/combined: 12.4-/5.7-/8.2-litres/100km
CO2 emissions, combined: 189g/km
Fuel capacity: 58-litres
Length: 4,639mm
Width: 1,860mm
Height: 1,426mm
Wheelbase: 2,820mm
Track, F/R: 1,555/1,607mm
Overhangs, F/R: 795/1,024mm
Aerodynamic drag co-efficient: 0.32
Headroom, F/R: 980/955mm
Legroom, F/R: 1,077/891mm
Shoulder width, F/R: 1,425/1,361mm
Weight: 1,580kg
Weight distribution, F/R: 50/50 per cent
Steering: Electric-assisted rack & pinion
Steering ratio: 11.8:1
Suspension, F/R: Double wishbone/multi-link, active dampers
Brakes, F/R: Ventilated discs, 360 x 32mm/350 x 28mm
Brake callipers, F/R: 6-/4-piston
Tyres, F/R: 245/35ZR19/285/30ZR19
Newsletter
Get top stories and blog posts emailed to you each day.