You are here
Lamborghini Urus: The supercar as an SUV
By Ghaith Madadha - Aug 02,2021 - Last updated at Aug 03,2021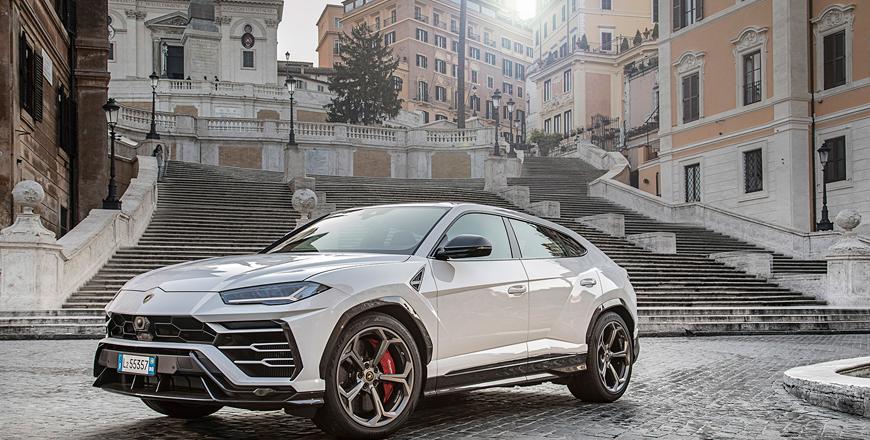 Photos courtesy of Lamborghini
Purveyors of extreme machines almost from the outset, Lamborghini could credibly be credited with defining both the modern supercar's mid-engine format with the 1966 Miura, and its shape, as epitomised by the 1974 Countach. Evolving from a tractor manufacturer, Lamborghini nevertheless proved to be iconic and innovatively ahead of trends as a car maker, and could be said to have single-handedly invented the exotic super SUV with the 1986 LM002.
Emerging from a failed military contract bid, the LM002 was a cult classic long before high performance SUVs became a fashionable segment, which Lamboghini has followed-up on only with the long-awaited Urus, since 2018.
Performance and practicality
Successor to the militaristically chunky LM002 with its high-strung and exotic Countach-sourced V12 engine, the Urus is, however, a different sort of beast. A decidedly more road-oriented machine built on Volkswagen-Audi group underpinnings shared with the Bentley Bentayga and Porsche Cayenne among others, the Urus is instead powered by a beefy and torque-rich twin-turbo V8 engine. The Urus' low, sharp, jutting, angular and highly aggressive design is, however, in essence that of an SUV evolution or interpretation of the basic Lamborghini aesthetic, as long defined by the Countach, and in homage to that seminal supercar, even features similar hexagonal wheel-arches.
Pumping out a whopping 641BHP at 6,000rpm and 627lb/ft torque throughout a wide and accessible 2,250-4,500rpm range to all four wheels from its 4-litre twin-turbo V8 engine, the Urus certainly boasts supercar performance, including phenomenal 3.6-second 0-100km/h and 12.8-second 0-200km/h acceleration, and a 305km/h top speed. However, as a daily drive 5-door interpretation of a Lamborghini, it needs to be both a convincing supercar approximation, and to compete with an eclectic variety of luxury and high performance SUVs in terms of refinement, practicality, comfort, amenities, safety and technology, for which it leverages distinct characteristics through electronically adjustable driving modes.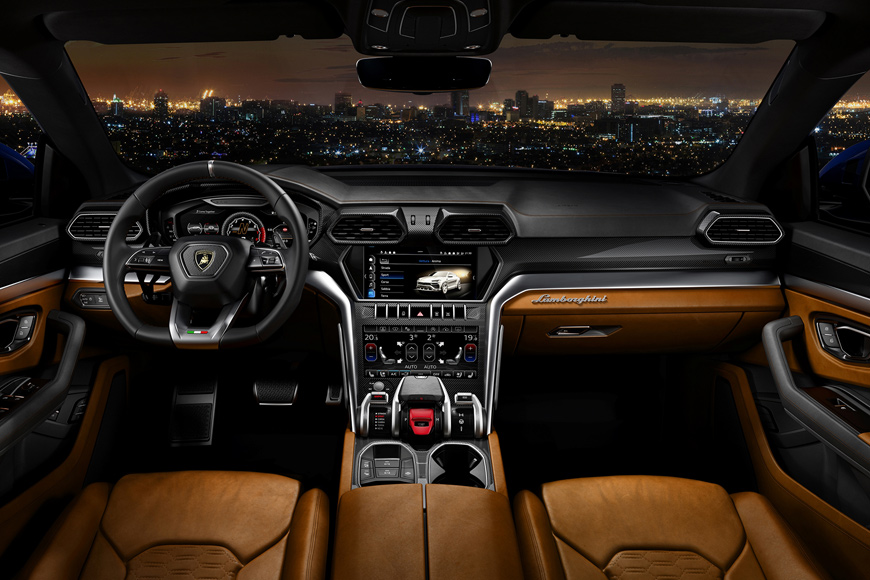 Context and comparison
Driven on two separate occasions within the context of two very different other vehicles, the Urus's sporting side was indelibly evident over several days when test driven concurrently with the Rolls Royce Cullinan. Similarly prestigious yet radically different to the much heavier and more forgivingly sprung ultra-luxury Cullinan, the Urus was every inch the supercar, and seemed lower and lighter than its minimum 158mm ground clearance and 2.2 tonne weight might suggest. Viscerally louder, tauter and more compact, the Urus' staggering performance and beguilingly direct dynamic abilities were never absent, but rather heightened and felt sharper by comparison.
A hill climb hero that all but eliminates turbo lag and is eager to rev higher than most turbocharged cars, the Urus pulls hard from low-end and swells to an indefatigably muscular mid–range before rising to an explosively urgent top-end. In its element through fast snaking corners and steep inclines, the Urus belies its size and weight, especially when set in its more aggressive Sport and Corsa driving modes that sharpen its steering, throttle and gearshift response from its swift and smooth 8-speed automatic, as its ride also stiffens and body control becomes firm and flat.
Focused yet forgiving
Eager and tidy into corners, the Urus delivers enormous front and rear grip levels, with its rear-biased four-wheel-drive, centre Torsen differential, active rear differential and brake-based torque vectoring system working to allocate power exactly where it needs to go, through corners.
Superlative in its road-holding, the Urus is nevertheless unexpectedly sharp and agile, with quick and meaty 2.29-turn four-wheel-steer system that effectively reduces its wheelbase and makes it more nimble through corners when the rear wheels turn opposite to the front, and alternatively enhances stability at speed as the rear wheels turn in the same direction as the front.
A focused corner carver with a settled and reassuringly buttoned down ride next to its performance and luxury SUV contemporaries, a second back-to-back test drive against its own Huracan Evo supercar stablemate, however, served to highlight just how mature the Urus is.
A completely different proposition from the much lighter, lower and razor sharp focused mid-engine Huracan supercar Lamborghini is traditionally famed for, the high riding front-engine Urus's daily drive practicality and overall luxury refinement became more evident by contrast, as it devoured long high speed straights with a determined stability, cocooning refinement and forgiving ride quality.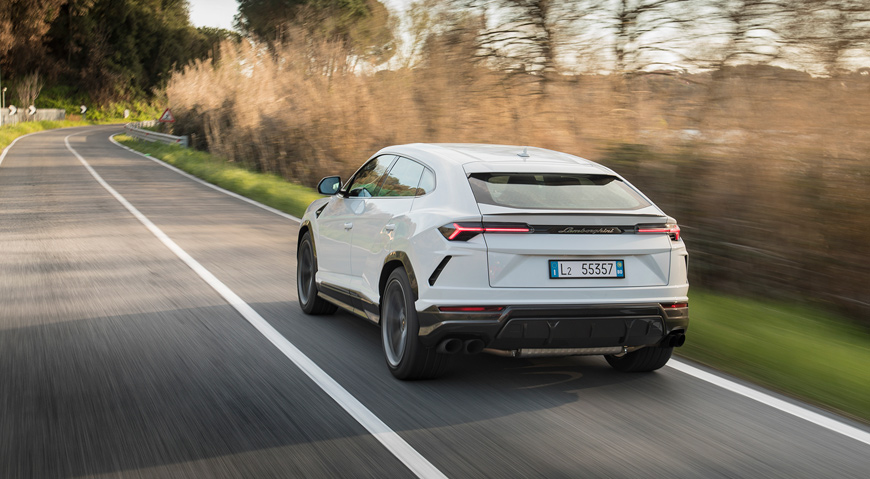 Finding its niche
Sharing a similarly and overtly sporting styling sensibility inside and out, the Urus' cabin shares many similar design elements as the Huracan, including a trigger guard ignition button, supportive Alcantara-clad sports seats and alert, albeit high, driving position. Spaciously palatial next to the Huracan, the Urus may not be as large as the Cullinan inside, but is nevertheless a bona fide 5-seat SUV with generous luggage room and, high passenger comfort levels, and plenty of luxury, safety, infotainment and technological amenities, not to mention achieving comparatively restrained 12.3l/100km combined fuel consumption.
If not quite as indulgent and relaxed as the Cullinan or as responsively immediate in its dynamic characteristics as the Huracan, the Urus, however, accomplishes exactly what it sets out to do when driven against such unlikely alternatives under different conditions. Expected to outsell its supercar sisters, the Urus channels much of its manufacturer's celebrated performance, sporting character and radical design and successfully re-imagines the Lamborghini brand in the guise of a modern, market-friendly SUV. In so doing, the Urus also becomes the closest that a regular production SUV can be to a bona fide supercar to date.
TECHNICAL SPECIFICATIONS
Engine: 4-litre, twin turbocharged, in-line V8-cylinders
Bore x stroke: 84.5 x 89mm
Valve-train: 32-valve, DOHC, direct injection
Rev limit; 6,800rpm
Gearbox: 8-speed automatic, four-wheel-drive
Drive-line: integrated front, Torsen centre and torque vectoring rear differentials
Power distribution, F/R: 40 per cent/60 per cent (default)
Power, BHP (PS) [kW]: 641 (650) [478] @6,000rpm
Specific power: 160.4BHP/litre
Power-to-weight: 291.7BHP/tonne
Torque, lb/ft (Nm): 627 (850) @2,250-4,500rpm
Specific torque: 156.9Nm/litre
Torque-to-weight: 386.9Nm/tonne
0-100km/h: 3.6-seconds
0-200km/h: 12.8-seconds
Top speed: 305km/h
Fuel consumption, extra-urban/urban/combined: 9.7-/16.7-/
12.3-litres/100km
CO2 emissions, combined: 279g/km
Fuel capacity: 85-litres
Length: 5,112mm
Width: 2,016mm
Height: 1,638mm
Wheelbase: 3,003mm
Track, F/R: 1,695/1,710mm
Ground clearance: 158-248mm
Luggage volume, min/max: 616-/1,596-litres
Kerb weight: 2,197kg
Steering: Electric-assisted rack & pinion, four-wheel-steering
Steering ratio: 13.3:1
Lock-to-lock: 2.29-turns
Turning Circle: 11.8-metres
Suspension: Multilink, adaptive air dampers, active electromechanical anti-roll bars
Brakes, F/R: Carbon ceramic ventilated discs, 440 x 40mm/370 x 30mm
Brake calipers, F/R: 10-/6-piston
Braking distance 100-0km/h: 33.7-metres
Tyres, F/R: 285/40R22/325/35R22 (as tested)
up
27 users have voted, including you.
Newsletter
Get top stories and blog posts emailed to you each day.