You are here
11 years on, survivor of Amman bombings working to launch network for terrorism survivors
Jordan remains strong, united in face of terror, PM says
By JT - Nov 08,2016 - Last updated at Nov 09,2016
Jordanians march against terror a few days after the Amman bombings on November 9, 2005 (Petra photo)
AMMAN — As Jordan today marks the 11th anniversary of the bombings that targeted three hotels in Amman, killing 60 people and injuring 115, Ashraf Khaled, one of the survivors, is planning to launch an initiative to establish an Arab network for terrorism survivors.
Khaled, who was celebrating his wedding at one of the hotels that were attacked, has devoted most of his time to preparing this initiative, the first of its kind in the Arab world, the Jordan News Agency, Petra, reported.
So far, he has received support from local and Arab associations and institutions from Iraq, Yemen, Tunisia and Morocco, and he is still trying to attract more countries.
The survivor expressed his pride in the initiative, looking forward to having its headquarters in Amman, with branches in Arab countries, especially since Jordan has received many refugees who fled their homes after wars started in their countries.
Khaled, who lost his father and the parents of his wife — Nadia Alami — in the Amman bombings, said he contacted the Arab League to consider marking a day that commemorates terrorism victims in Arab countries, Petra added.
Through the initiative, he also seeks to prepare statistics on victims of terrorism, and to prepare studies with the aim of nurturing a new generation with moderate ideologies.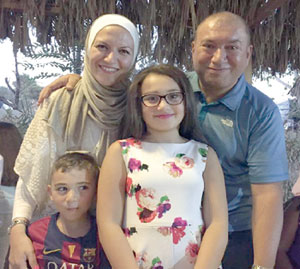 Bombing survivors Ashraf Khaled and Nadia Alami pose for a family portrait with their children (Petra photo)
Hassan Momani, a professor of international relations at the University of Jordan and Khaled's instructor at university, said he knew him as a person who has a passion for knowledge and persistence towards benefiting society.
Momani said the initiative has socio-political aspects, and reflects Jordan's endeavours towards combating terrorism, and highlights citizens' awareness of extremism and its dangers.
On the occasion, Prime Minister Hani Mulki told Petra that Jordan remains strong and capable of fighting terrorism, thanks to its citizens who always stand together against whoever attempts to disrupt the country's security and stability.
Senate President Faisal Fayez told Petra that the hotel bombings and other terrorist acts that Jordan experienced are heinous crimes that violate all religions and international agreements, calling on Jordanians to unite against terrorism to preserve the country's stability.
Lower House Speaker Atef Tarawneh told Petra that the anniversary makes it clear that all Jordanians have to be alert against the dangers of terrorism and extremism, and to continue the war against the groups perpetrating these ideologies.
Meanwhile, the Greater Amman Municipality, in cooperation with other partners, is scheduled to hold a ceremony on Wednesday commemorating the bombings at the Martyr's Park in Abdoun at 5pm, in the presence of victims' families and others.
At the Radisson SAS Hotel — now known as the Landmark Hotel — a suicide bombing targeted Khaled's wedding reception, killing 36.
Jordanians and visitors were also killed in similar suicide attacks that targeted the Grand Hyatt and Days Inn hotels.
Safa Mohammad Ali, Rawad Jassem and Ali Hussein Rishawi were identified as the bombers.
A fourth, Sajida Rishawi, was planning to blow herself up with husband Ali Hussein at the Radisson SAS but her explosive belt failed to detonate.
She was tried and sentenced to death for possessing explosives with illicit intent and plotting subversive acts that led to the death of individuals.
Rishawi was executed in 2015.
Six other people being tried in absentia on the same charges were also sentenced to death.
They are Mazen Mohammad Shehadeh, a Jordanian, Othman Ismail Dalimi, Hiam Hassan and her brother Walid, Nihad Rishawi and Karim Jassim Fahdawi, all Iraqis.
Related Articles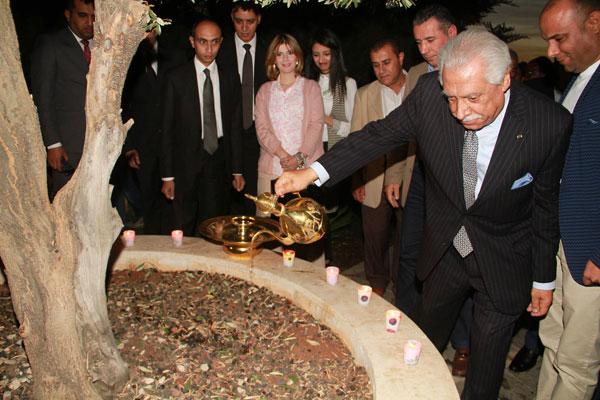 Nov 10,2016
AMMAN — The Greater Amman Municipality (GAM) on Wednesday held a ceremony to commemorate the 11th anniversary of the Amman hotel bombings at
Nov 08,2014
Jordan on Sunday marks the ninth anniversary of the Amman hotel bombings, when coordinated attacks targeted three of the capital's hotels in November 2005, killing over 60 people and injuring some 115. 
Nov 09,2016
AMMAN — Jordan on Wednesday marked the 11th anniversary of the Amman hotel bombings, which killed 60 people and injured over 115."Today, we
Newsletter
Get top stories and blog posts emailed to you each day.