You are here
16-day campaign to 'bring momentum' to efforts to combat gender-based violence
By Laila Azzeh - Nov 25,2015 - Last updated at Nov 25,2015
JNCW Secretary General Salma Nims speaks to reporters at a press conference on Tuesday (Petra photo)
AMMAN – The colour orange, which denotes optimism, inspiration and the rejuvenation of the spirit, will be the emblem of activities held in Jordan over the next couple of weeks as part of the "16 Days of Activism Against Gender Violence" campaign.
Wednesday will mark the launch of the annual global campaign, which aims to intensify attention towards gender violence and the injustices that women and girls face.
A diverse array of activities will be held across Jordan during the 16 days, including sports events, lectures, workshops, awareness campaigns and free legal consultation services.
These activities will shed light on all forms of gender-based violence, especially against girls and women, as they are the most susceptible to violence, according to organisers.
"We should not perceive the 16 days of activism as an individual event or assume that organisations and donors are only working during this campaign. It is an opportunity to bring momentum to all stakeholders' efforts," said Jordanian National Commission for Women (JNCW) Secretary General Salma Nims.
At a press conference held by the JNCW on Tuesday to announce the launch of this year's campaign, she noted that it has managed to bring together the main contributors to efforts to achieve women's empowerment and gender equality in the Kingdom.
Nims highlighted the JNCW as the primary national organisation entrusted with overseeing gender policy in the country and liaising between civil society and the government, the USAID Takamol Gender Programme, donors and United Nations missions in Jordan.
"Many forms of violence are still socially accepted. This is a global issue," she added, as one in three women across the world suffer from a form of abuse, while only one in nine report the abuse.
"In Jordan, 57 per cent of female victims of violence refrain from reporting it because they fear the social stigma and the reaction of their families," said UN Women Representative to Jordan Giuseppe Belsito.
Stressing that the damage left by gender-based violence goes beyond the abused person, the perpetrator and the family, he noted that it affects the overall economic wellbeing of countries.
"There are economic costs of violence. Nearly 1 to 2 per cent of the GDP [gross domestic product] is affected by violence against women, which can be seen in the low productivity of victims, medical and legal services," Belsito said.
On the bright side, there are several positive commitments made by the Jordanian government in this area, such as amending the Family Protection Law, the UN official added.
"We hope that next year we will not still be talking about Article 308 [which pardons rapists if they marry their victims]," he said.
Maartje Peters, deputy head of mission and counsellor at the Dutch embassy, noted that there is still a long way to go to address gender-based violence in Jordan, citing Article 308, the wage gap and reduced penalties for so-called honour crimes, as well as a high rate of gender-based violence in refugee camps.
"The upsurge of violence in refugee camps is expected due to the circumstances they have suffered, but this is not perceived as a phenomenon that needs to be addressed," she added.
The 16-day campaign in Jordan is organised by the JNCW in cooperation with the Shamaa Network to Combat Violence Against Women, which includes several civil society organisations, as well as UN agencies in Jordan, and with the support of
USAID and the embassy of the Netherlands.
For the first time, according to the JNCW, the campaign will include advocacy messages based on real-life stories to be delivered in the form of films.
In addition, billboards featuring prominent Jordanian figures, such as football player Mohammad Khamees and cartoonist Omar Abdallat, with messages against gender-based violence have been installed on streets.
The campaign, which will also involve activities in the Zaatari Refugee Camp, includes a media initiative targeting all governorates, utilising TV, radio, and video messages that highlight the various forms of discrimination and violence against women and girls.
"The focus is not only on Jordanians, but also refugees and foreign workers," Nims said.
Although highly under reported, gender-based violence and discrimination remain all too prevalent in Jordan, as demonstrated in the Beijing+20 National Report recently released by the JNCW.
Survivors of violence are sometimes unaware of existing protection mechanisms and continue to be hesitant in seeking support due to social stigma and fear of retaliation. Additionally, legislative gaps leave women and girls at risk of further abuse and societal stigmatisation, according to the report.
"Whenever we work on changing mindsets around a particular social context, it becomes important to recognise that creating knowledge is... the most important ingredient of that effort," said Nermeen Murad, chief of party of the USAID Takamol Gender Programme, which works with partners from various government and civil institutions to advance gender equality.
Related Articles
Dec 09,2014
Gender-based violence leads to widespread social violence, which negatively affects the security and safety of the community, HRH Princess Basma said Tuesday.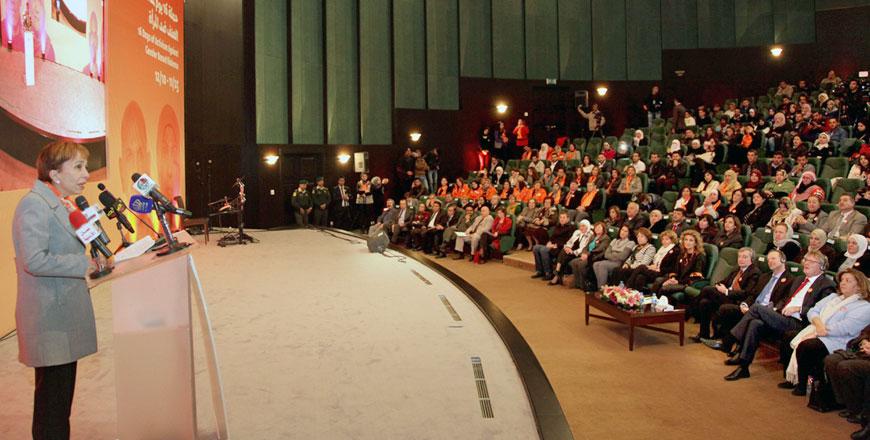 Dec 06,2015
AMMAN — HRH Princess Basma on Sunday said that violence of all types, especially against women, threatens the safety and security of communi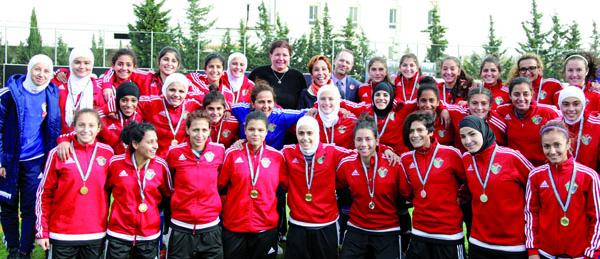 Nov 25,2015
AMMAN — Thirty Jordanian women football players came together for a friendly game in Amman on Wednesday to launch Jordan's activities of the