You are here
2015 marked highest number of journalists behind bars since 2006 — report
By Khetam Malkawi - May 07,2016 - Last updated at May 07,2016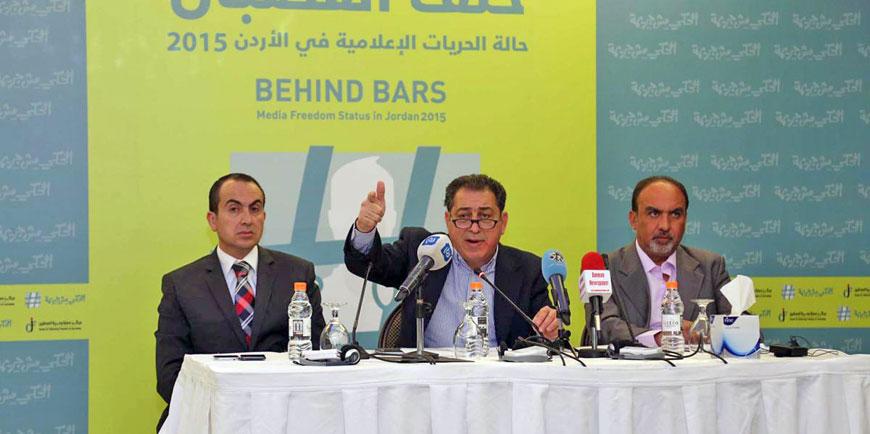 At the Centre for Defending Freedom of Journalists, Nidal Mansour speaks to reporters in Amman on Saturday (Petra photo)
AMMAN — Ten Jordanian journalists were detained last year under the Anti-Terrorism Law and the Electronic Crimes Law, while the total violations against journalists stood at 57, said a new report released on Saturday.
Titled "Behind Bars", the Centre for Defending Freedom of Journalists' (CDFJ) report said detention cases among Jordanian journalists in 2015 were the highest since 2006, and urged the government to scrap laws that restrict the work of media professionals in the Kingdom.
The report, released on the occasion of World Press Freedom Day, annually marked on May 3, said 26 per cent of violations committed in 2015 are classified as "grave violations".
It added that 88.4 per cent of the 251 surveyed journalists said media freedom in the Kingdom witnessed a setback compared to the previous year, with 32 per cent describing it as "low".
Meanwhile, 58.2 per cent of the surveyed journalists stated that laws represent a constraint on media freedom in Jordan, according to the report.
Restrictions on media freedom became obvious, according to CDFJ President Nidal Mansour, after introducing the information systems and cybercrimes law in June 2015.
He called for scrapping Article 11 of the law, which provides public prosecutors and judges with the jurisdiction to detain and imprison media practitioners and users of social media.
Paragraph A of Article 11 stipulates that "anyone who intentionally and without authorisation or in violation or excess of an authorisation accesses a website or information system in any manner with the purpose of viewing data or information that is not available to the public and which touches upon national security, foreign relations of the Kingdom, general security or national economy, shall be punished by imprisonment for a term not less than four months and by a fine not less than JD500 and not exceeding JD5,000".
The survey revealed that 69 media practitioners were subjected to pressures and harassment, representing 27.5 per cent of the surveyed participants.
Denying access to information scored highest on the scale of pressures and harassment to which journalists are subjected, as 41 per cent of respondents said they had experienced this, a rate that nearly doubled from the previous year's 21.4 per cent.
The year 2015 also registered a "noticeable and unprecedented increase" in the number of journalists who were referred to court in media-related cases.
Twenty-nine journalists were tried in 2015, according to the report.
As for self-censorship, last year witnessed a drop, with 93.2 per cent of the surveyed journalists saying they practise it compared with 95.2 per cent in 2014.
The report also criticised the government for not implementing what it has committed to at the UN Universal Periodic Review of the Kingdom's human rights record in Geneva in October 2013.
Some of the recommendations accepted by the government involve cancelling or amending all articles in the Penal Code that impose "blatantly unfair" restrictions on freedom of expression, as well as amending the Press and Publications Law to ensure full protection for freedom of expression and to reduce restrictions imposed on publishing information on the Internet.
Regionally, Mansour said it was not an easy task to monitor all cases of violations against journalists.
However, he said 4,069 violations were reported against journalists and media practitioners in the region. Fifty-two journalists were killed, and 87 were abducted.
Related Articles
Aug 05,2019
AMMAN — Over 90 per cent of media practitioners in Jordan exercise self-censorship while only 15 per cent label media freedom as "
May 10,2018
AMMAN — Around 94.1 per cent of media practitioners in Jordan exercise self-censorship while only 3.9 per cent label media freedom as "excel
Mar 05,2016
AMMAN — The Centre for Defending the Freedom of Journalists (CDFJ) said on Saturday it has launched a campaign to call for cancelling Articl