You are here
All-female plumbing business to open in Amman
After success in Zarqa, women join forces to wade into male-dominated sector
By Hana Namrouqa - Oct 01,2016 - Last updated at Oct 01,2016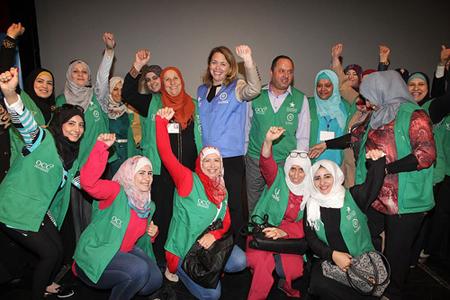 Graduates of the Water Smart Homes — Activity after receiving their certificates recently (Photo courtesy of Millennium Challenge Account — Jordan 's Facebook page)
AMMAN — Two years after graduating from a plumbing training course, a group of women are planning to open an all-female plumbing service in the capital.
Motivated by a booming business, the women plumbers from Zarqa Governorate, 22km northeast of Amman, said they will leave their previous jobs to expand with their new career.
"When I enrolled at the training course, I had my doubts about people's acceptance of the idea of a female plumber, but I said to myself: At least I can always fix dripping taps at my house. But this is not the case, I'm doing very well," Raeda Abul Halaweh said.
Abul Halaweh and her colleagues received professional training on plumbing and home maintenance for a few weeks and worked under the supervision of professional plumbers before they received their certificates.
"Plumbing and home maintenance very much interest me; I go shopping for plumbing tools and supplies then head to my clients," the teacher told The Jordan Times.
Her colleague, Fatmeh Disi, said the majority of her client base is women.
"You want to know why our business is booming? Well, simply because women are more comfortable dealing with other women; plus the fact that most women can't allow a male plumber into their houses in the absence of their husbands, fathers or brothers," Disi said.
Maryam Metleq, another plumber, said that she was also worried at first about how people would react towards the idea of her being a female plumber.
"You defy social norms when you get involved in a male-dominated business…; deciding to do so takes a lot of courage and determination," Metleq said.
The odd thing is that people in her neighbourhood reacted differently from what she had anticipated, Metleq said.
"I received support from my family and friends, and I'm generating a decent living out of the plumbing business," she noted.
The women all have independent plumbing services in Zarqa, but they decided to collaborate and open a plumbing service in Amman.
"We will move our business to Amman because there is a wider population and because our pay will be higher in the capital," Abul Halaweh said.
Their all-female plumbing business will offer installing and replacing taps, flush valves, sinks, water tanks, showers, water meters, water heaters and floating water valves, in addition to unclogging sewer pipelines.
"In addition to all of our services, we will explain to our clients, especially the females, what we are doing step by step and teach them what to do if a sink or a tap drips," said Amal Abu Raad, another female plumber.
Thirty women have graduated from a training course implemented through the Water Smart Homes — Activity (WSHs-A), which is one of the projects implemented by the Millennium Challenge Account — Jordan (MCA — Jordan) and funded by a $275 million water and sanitation compact from the US Millennium Challenge Corporation.
Some of the graduate are also expected to be hired by the Ministry of Water and Irrigation, which announced last month plans to open a centre to train women on in-house plumbing to further integrate them into the plumbing sector.
The graduates will be providing the training.
Newsletter
Get top stories and blog posts emailed to you each day.