You are here
Amman-based photojournalist selected for prestigious mentorship programme
By Mina Mohit - Nov 03,2017 - Last updated at Nov 03,2017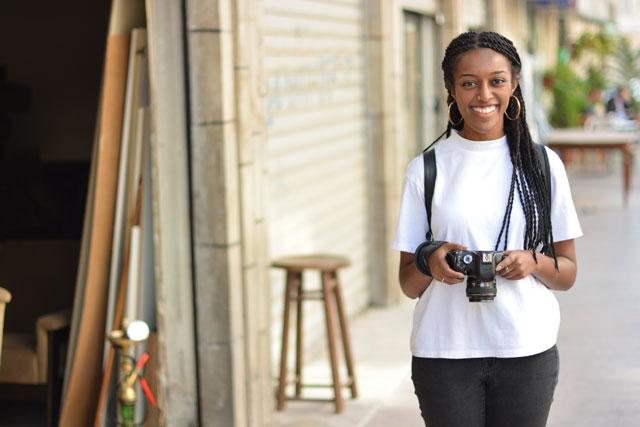 Semhal Tsegaye, selected as a mentee by Women Photograph, stops for a photo in Jabal Luweibdeh (Photo by Mina Mohit)
AMMAN — A month ago, Semhal Tsegaye, an Amman-based amateur photojournalist, was scrolling through Facebook when she learned about Women Photograph, a recently launched initiative that seeks to "elevate the voices of female and visual journalists" globally.
The organisation was receiving applications for its first-ever year-long mentorship programme
that pairs 22 early-career photojournalists with 22 industry leaders including 11 photographers who have received Pulitzer Prizes, Guggenheim Fellowships, and World Press Photo awards and 11 photo editors from National Geographic, The New York Times and The Guardian.
Although she preferred to "keep a low profile" about her work on social media, Tsegaye still decided to apply. Last week, results were announced and Tsegaye made the cut out of 600 applicants from around the world.
"I was really excited, inspired and humbled," said the 24-year-old, recalling the moment she received the congratulatory e-mail from Women Photograph.
The organisation paired Tsegaye with documentary photographer Maggie Steber and photo editor Jen Tse.
She was selected for her dedication to "apply photojournalism to peacebuilding and social justice, with a clear dedication to teaching and mentoring herself", said Daniella Zalcman, founder of Women Photograph, in an e-mail to The Jordan Times.
The American photojournalist, who graduated from Yale, came to Jordan last year on a Henry Hart Rice resident fellowship to teach photography to youth from underprivileged communities. She set up photo workshops in Mafraq and Zarqa, with the help of Care International, a humanitarian NGO that facilitated her classes and supplied her students with digital cameras.
Her weekly workshops were attended by Jordanians from rural areas, along with Syrian and Palestinian refugees. Tsegaye said she "wanted to give these communities a tool to tell their own stories."
"When you have a camera, it's a powerful tool, putting you in a position of power. Especially for youth who are traditionally spoken for, and aren't necessarily speaking for themselves, it's really important for them to have a tool they can actually communicate through," said Tsegaye.
She ran two classes in Zarqa, one solely for adult women, and another for children aged 9-13. She also taught separate groups of teenage boys and girls in Mafraq.
Although Tsegaye's initial plan was to teach youth, it is her adult-women class that stood out to her the most.
"It was a very positive social experience; they formed a community. It was a safe space for them to take off their hijabs and niqabs and be free with each other. It was also somewhere to go, many of them used to spend a lot of time at home and didn't leave the house very often so this was an opportunity to get out and socialise with their peers. The workshop created that space," Tsegaye said.
The young photojournalist, who plans on doing a master's in documentary photography and film, is looking forward to the mentorship programme so that she can find ways to "marry photography and photojournalism with social justice issues affecting youth and displaced people".
Related Articles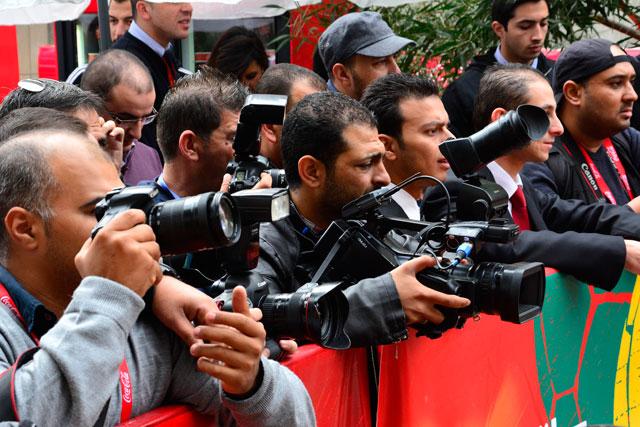 Dec 11,2016
AMMAN — Although a tough job, photojournalism is an important medium to document events around the world and to capture the essence of certa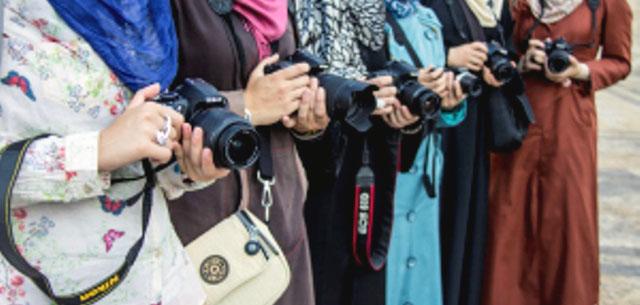 Mar 25,2015
Since 2011, the capital has been the location of one of the largest annual photography festivals in the Middle East. 
Mar 25,2014
Amman residents will be exposed to the work of Jordanian and international photojournalists on Friday when the second version of Night of the Year by renowned international photography festival Rencontres d'Arles opens at 8pm.
Newsletter
Get top stories and blog posts emailed to you each day.