You are here
Athlete sees marathon running as way to connect people, inspire change
By Saeb Rawashdeh - Oct 15,2015 - Last updated at Oct 15,2015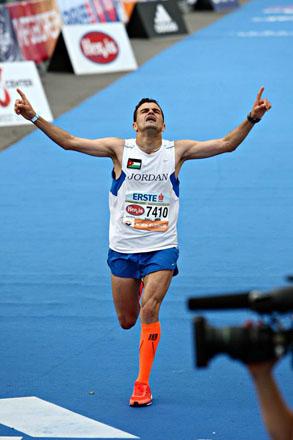 Moath Al Khawaldeh participates in the Berlin Marathon last month (Photo courtesy of Moath Al Khawaldeh)
AMMAN — "Running is more than a sport — it's a way of connecting with people worldwide who are committed to positive change, both for themselves and for their communities," said Moath Al Khawaldeh, a 26-year-old Jordanian long distance runner and humanitarian.
Since 2012 Khawaldeh has been competing at many international marathons and half marathons trying to book his ticket to the Rio Olympics in 2016.
He combines two roles — one of an aspiring runner and another as a promoter of peace, collaboration and tolerance in a world divided by hatred, intolerance and bigotry.
The runner started volunteering with the Jordan Olympic Committee in 2008 after completing high school and continued volunteering whenever he would be back in Jordan.
With a master's degree in human resources management and labour relations, Khawaldeh joined the nonprofit sector at the United Nations in New York.
"I always hoped to be able to work for an organisation that uses sports to bring people together, because that's what I really believe in," he emphasised. "The most well-known organisation in that area is Right To Play, but I was really excited to hear that here in Jordan we had Generations For Peace [GFP], our own Jordanian organisation working to use sports for peace building on an international scale."
The marathon runner mixes his love for long distance races and social development of different communities.
"Now I'm working for GFP as a programmes officer and I help our volunteers in the Middle East, North Africa and sub-Saharan Africa to organise peace building programmes for youths in their communities," he underlined.
"Sometimes it's a challenge to balance everything — work and training for marathons — but I see the two as part of the same goal of using sport for positive change."
Like many young Jordanians his first love was football before he saw a brochure in 2008 advertising the Amman Life Run.
Winning fifth place out of 300 participants on the half marathon was the trigger that made him feel he could become "a real runner".
"Long distance running for me was a hobby before I went to the US and started to compete in college," he said.
Khawaldeh also became the promoter of the Beirut Marathon. "Running in Beirut is popular and enjoys support from ordinary Lebanese people, not only from athletes."
Recently, at the Berlin Marathon on September 27, Khawaldeh achieved his best result — clocking in 02:30:57.
"I'm planning to take part in the Beirut Marathon in November and I'm trying now to encourage Jordanians to run there with other athletes from the Middle East and all over the world, embracing the marathon's message of togetherness, tolerance, and positivity," Khawaldeh said, noting that physical fitness is often overlooked by many Jordanians.
"While Americans spend a lot of time and money on trying to get fit, Jordanians focus more on their appearance. Sometimes I smile when I remember running in Central Park with thousands of others on a weekday morning, even in the cold New York winter," the athlete said.
The marathon man does not slow down; he has lots of plans for the upcoming period both with his NGO work and as a sportsman.
"I'm currently working on the strategic plan for my Run For Peace project, where I'm hoping to bring together kids from different areas of Amman for a running club in order to help talented runners in Jordan develop their abilities."
Related Articles
Aug 10,2017
AMMAN — Jordanian marathon runner Moath Al Khawaldeh was recently awarded the global Athletes in Excellence Award for 2017, granted by the U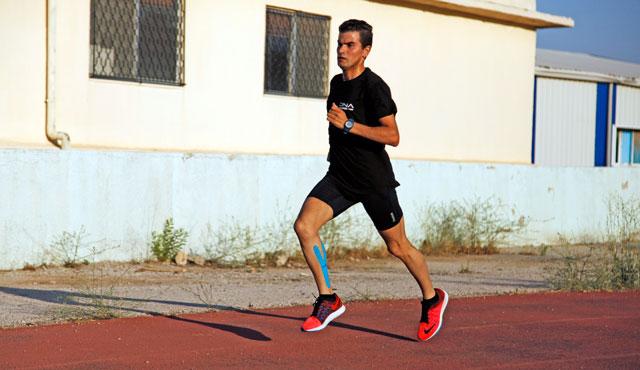 Jul 04,2016
By Sam McneilThe Associated PressAMMAN — After 16 hours without food or water, Moath Al Khawaldeh laces up pink training shoes and begins wo
May 12,2015
The 2nd Istiklal Run set for May 22 is being organised by a group of running enthusiast and ultra-marathon athletes.
Newsletter
Get top stories and blog posts emailed to you each day.