You are here
Black Desert petroglyphs uncover Neolithic animal life
By Saeb Rawashdeh - Aug 25,2018 - Last updated at Aug 26,2018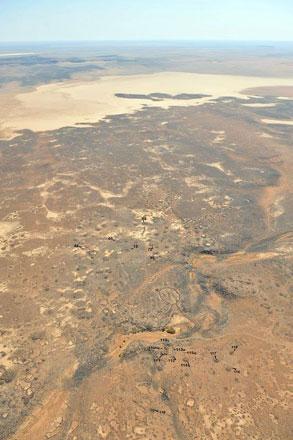 Wisad Pools, a view to the southeast (Photo courtesy of APAAME )
AMMAN — "The question of why there are no gazelles represented in the petroglyphs [designs pecked into a stone surface] remains puzzling," said an American researcher who spent years studying the Black Desert of eastern Jordan, asking: "Could it be that the other animals — with the more exotic and impressive horns of ibex, kudu and oryx — were of greater interest to the ancient people who visited the pools?"
Yorke Rowan, an anthropological archaeologist working for the Oriental Institute of the University of Chicago speculated: "Perhaps the ibex, kudu and oryx were already rare or known from other areas, and were depicted with longing by the hunters."
"Or perhaps greater magical power was required for the successful hunt of these animals," he continued, noting that a great deal of research remains to be done in the Black Desert region, "where so little has been done".
Around the Wisad Pools, the Eastern Badia Archaeological Project has documented over 400 petroglyphs of geometric designs, animals and animal traps, according to Rowan, who said that archaeologists are mapping where each petroglyph occurs and recording details on each of them.
Once this stage is completed, they will compare these to other examples known in Jordan, as well as further away, such as in Saudi Arabia, Rowan claimed.
"Oddly, humans are rarely represented in our petroglyphs at Wisad Pools. Of course, some are unclear and it is no longer possible to understand what was being depicted by the ancient artists, or be certain what kind of animal was intended," he explained, highlighting the "intriguing absence" of gazelles in the petroglyphs while excavations of Neolithic houses at Wisad Pools and Wadi Al Qattafi recovered gazelle bones, "an important component of the diet of those living in the region".
Another problem is that researchers were unable to date the pecked rock art, so they do not know if it was created during the Neolithic, or possibly over the course of millennia, according to the scholar.
"We know, for instance, that the camel was not common in the region until much later, perhaps early in the first millennium BC," he said, stressing that it is unusual to see the animal traps commonly called "kites" as well represented in the rock art, an unusual motif for petroglyphs in the region.
"Kites are recognised landscape feature across eastern Jordan and beyond, that used long lines of rock to funnel gazelle herds into large enclosures where they were then killed with arrowheads. These hunting traps, probably originating in the early Neolithic and possibly continuing for thousands of years, were linked in long north-south chains across the desert," Rowan outlined, adding that their importance to hunters is emphasised by their depiction in the rock art around Wisad Pools.
Newsletter
Get top stories and blog posts emailed to you each day.