You are here
Capital's topography, volume of rain over short period blamed for intensity of flash floods
By Omar Obeidat - Nov 05,2015 - Last updated at Nov 05,2015
An Amman resident stands on top of his car as floodwaters surround other vehicles in the neighbourhood on Thursday (Al Rai photo)
AMMAN — Amman Deputy Mayor Yousef Shawarbeh on Thursday said the hilly topography of the capital leads to flash floods in "exceptional" weather conditions.
Around 40 millimetres of rain fell during the 45-minute downpour, he said in a statement e-mailed to The Jordan Times, describing the figure as exceptional and a rare occurrence.
Shawarbeh said the Greater Amman Municipality (GAM) cleaned all manholes across the city some two months ago, and municipal workers pumped out rainwater from all tunnels and removed debris from streets on Thursday.
Another GAM official told The Jordan Times that the thunderstorm was "too strong" and the volume of rainwater in the streets was beyond the capabilities of GAM and other concerned authorities.
The official, who spoke on condition of anonymity, said water levels rose rapidly and the manholes were unable to absorb such large quantities.
"Amman has not seen such torrential rain in decades," the GAM official said.
Omar Dajani, a forecaster at Arabiaweather.com, told The Jordan Times that the intensity of the rainfall was the main cause of the flash floods, as between 25 millimetres and 65 millimetres were registered in less than an hour in the capital, which usually receives around 550 millimetres of rain during the wet season.
"The quantity of rain that fell in around 45 minutes equals around 5 per cent to 10 per cent of the overall rainfall during winter," the forecaster said.
The intensity of the downpour, Amman's topography and the timing of the rainstorm –– the peak hour rush when people are heading to work –– all played a role in exacerbating the effect of the floods that hit the capital, he noted.
The manholes would have absorbed such quantities of rain if it fell over a period of several hours, Dajani said, adding that debris and garbage thrown in the streets usually block manholes in Amman.
Such heavy rainfall could have caused similar floods in any other city in the world, he argued.
Social media users in the capital blamed GAM's lack of preparations for the flash floods across the city, particularly downtown Amman, for the chaos witnessed on Thursday.
Related Articles
Nov 07,2015
AMMAN — Weekend rainfall channelled around 4.5 million cubic metres (mcm) of water into dams around the Kingdom, Jordan Valley Authority (JV
Nov 07,2015
AMMAN — Following Thursday's floods that caused damages to properties in the capital, a debate emerged on who will compensate owners of dama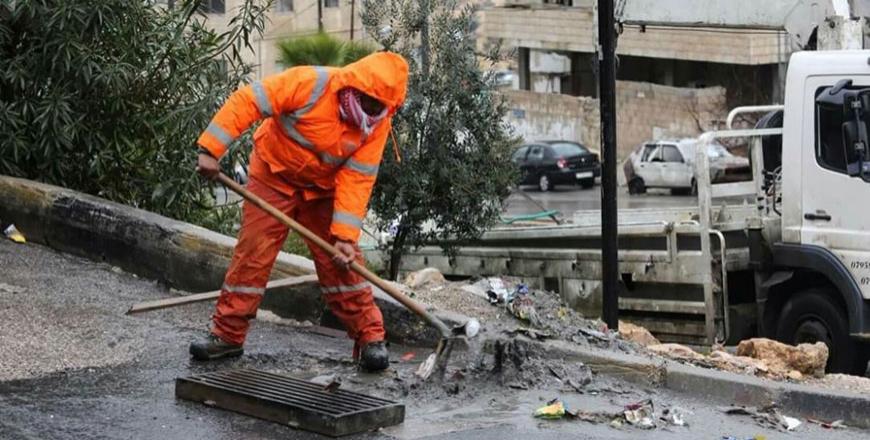 Jan 09,2016
AMMAN — The Greater Amman Municipality (GAM) collected 2,924 tonnes of garbage in the capital on Friday following a heavy downpour, a munici
Newsletter
Get top stories and blog posts emailed to you each day.