You are here
Clothing store owners bemoan 'biggest fall in sales in decade'
By Omar Obeidat - Sep 15,2016 - Last updated at Sep 16,2016
Customers check out offers at a clothing store in downtown Amman earlier this week (Photo by Osama Aqarbeh)
AMMAN – Owners of clothing stores in Jordan say sales for Eid Al Adha this year are the lowest in 10 years.
In remarks to The Jordan Times, they blamed the fall in sales on change in the priorities of Jordanian shoppers and the taxes imposed on imported garments.
In regards to shopping during the days ahead of the Muslim feast of the sacrifice, which starts on Monday, store owners said demand for clothes is less than expected.
To celebrate Eid, Jordanians traditionally buy new clothes for their children.
Asad Kawasmi, the representative of the garment sector at the Jordan Chamber of Commerce, said the slowdown in demand is the biggest in 10 years as consumers have "more important priorities" to meet.
"School tuition fees and other living expenses have prompted households to forego shopping for clothes," Kawasmi said, adding that a 60 per cent plunge in sales was recorded this year.
"Stores across the country are reporting fewer numbers of shoppers," he added, indicating that the rise in customs duties and taxes have prevented stores from making discount offers on their products.
In June, as part of measures taken under an International Monetary Fund-sponsored programme, the government scrapped a Cabinet decision taken in August of last year under which sales tax on clothes, bags, watches, perfume, jewellery, toys and cosmetics was reduced from 16 to 8 per cent, while customs duties on these items were lowered by between 5 and 30 per cent.
Commenting on the impact of the arrival of tourists and expatriates on demand, Kawasmi said they usually contribute to rising sales in the months of July and August of every year as the Kingdom receives hundreds of thousands of visitors during these two months.
"Sales in these two months were more than good," he added.
According to the sector representative, sales during Eid Al Adha, which marks the end of the pilgrimage season, usually range between JD15 million and JD20 million, but this year's Eid sales did not exceed JD7 million.
"Sales are the worst and lowest in 10 years," he reiterated.
Radwan, a store owner in Amman's Jabal Al Hussein commercial district, said he opened the store some six years ago but has never seen a demand on garments as low as this year.
"Sales were going down gradually every year. But this year, sales went down sharply because people have other priorities," he said.
Rami Haddad, owner of a clothing store in the northern city of Irbid, agreed with fellow merchants.
This year's Eid was not encouraging as it coincided with the start of school, he said, adding that the income of households has not improved in nearly a decade.
"It is a tough year in general for business," he noted.
Manal Dmour, a public school teacher, told The Jordan Times that she bought clothes for her three sons but did not exceed the JD100 budget she had allocated for Eid.
"Every year we spend more on clothes, but this year we cut down the budget," she added.
Related Articles
Sep 15,2016
AMMAN — Jordan and the Islamic nation celebrate Eid Al Adha today through Friday.By celebrating Eid Al Adha, or the feast of the sacrifice,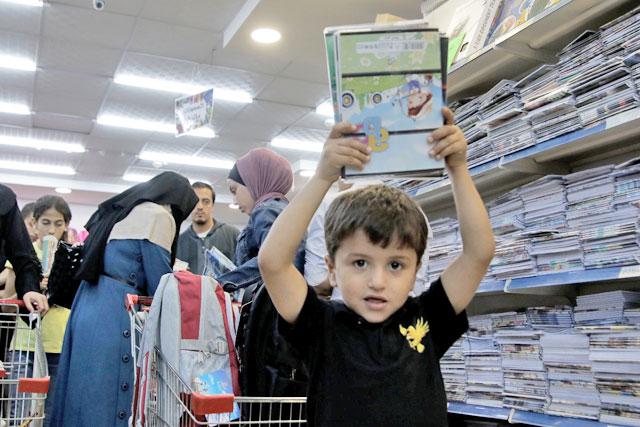 Sep 01,2018
AMMAN — With Eid Al Adha vacation swallowing their salaries, parents said that preparing their children for school is just a "nightmare".The
Sep 21,2015
AMMAN – Some people are set to give up some of their long-standing traditions on the week leading to Eid Al Adha, Muslims' bigge
Newsletter
Get top stories and blog posts emailed to you each day.