You are here
Cloud ionisation technology showing 'promising results' in rainmaking
Between May, July, WeatherTec enhanced rainfall 5 times, cloud cover 8 times, executives say
By Hana Namrouqa - Dec 07,2016 - Last updated at Dec 07,2016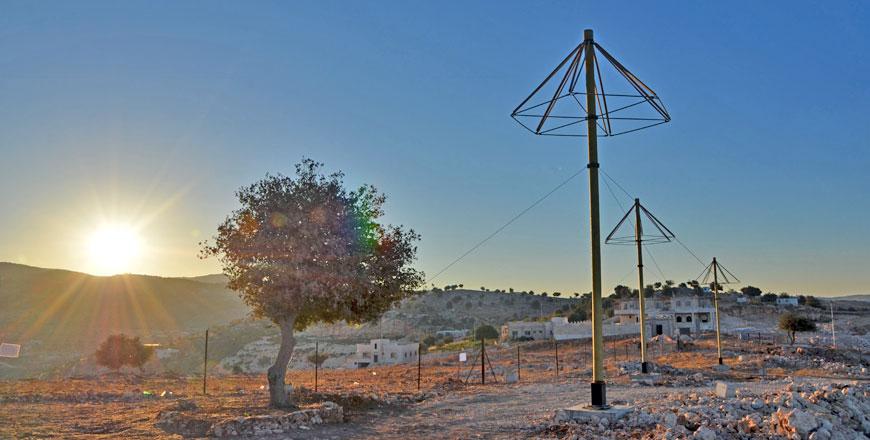 Photos of the WeatherTec emitters installed in Ajloun (Photo courtesy of WeatherTec)
AMMAN — Jordan is tapping the potential of cloud ionisation technology, which has already shown promising results in enhancing rainfall in the country, according to experts in the field.
The Ministry of Transport signed an agreement with WeatherTec Services GmbH in March to apply the technology in Jordan to enhance rainfall and increase the country's freshwater reserve.
WeatherTec, which is based in Munich, now has four operational sites in Deir Abi Said in Irbid, Kufranjah in Ajloun, Zai in Salt, and in Mushaqqar in Madaba, WeatherTec Founder and CEO Helmut Fluhrer told the press during a meeting on Monday.
Fifteen ground-based emitters installed at the four locations receive high voltage power, thus emitting trillions of ions that connect to aerosols.
These elevate by natural updrafts and winds which charge cloud particles, according to the company's press statement, which indicated that enhanced clouds are developed and rainfall occurs over hundreds of square kilometres.
WeatherTec Ionisation Technology, which mimics the sun's ionisation, employs solar-powered electricity without using any chemicals, according to the company, which said that no side effects are caused or waste products are generated.
The company's first rainmaking attempt was on May 9, when the first rain cell was formed, according to Ismat Sawaqed, CEO of Al Qudrah, which is a local environment consultant and member of WeatherTec.
Sawaqed said several other rainmaking attempts using the ionisation technology followed, in close cooperation with the Ministry of Transport and the Jordan Meteorological Department.
Between May and July, WeatherTec enhanced rainfall five times and enhanced cloud cover eight times, Sawaqed said, noting that the technology was used in Jordan during summer not only to induce rain but also to expand the cloud cover to reduce sunbeams and thus energy consumption on hot days in cooperation with the government.
Meanwhile, in the second phase of the project, which stretches between August and December, WeatherTec said that it has succeeded in enhancing rainfall eight times and also increased cloud cover by eight times.
The company's statement indicated that the project's steering committee, which comprises representatives of the concerned government agencies, "showed satisfaction with the results, deemed them as promising and proposed expanding the project of rainmaking via ionisation technology".
Meanwhile, Riyad Mubarak, senior meteorologist at WeatherTec, highlighted that the ionisation technology for rainmaking relies on several factors, including humidity, wind direction and the existence of updraft winds that help raise the emitted ions up to the clouds.
Mubarak noted that WeatherTec's advanced radar showed how the clouds are enlarged once they enter their operation sites, noting that the radar also showed that rainfall amounts were also enhanced.
"The technology can enhance rainfall by an average of 20 per cent," the expert said, underscoring that the percentage can go up to 100 per cent if the right circumstances are met.
WeatherTec's most recent rainmaking attempt via ionisation technology was during the last weekend, when the country received its first rainfall following a long drought.
The company turned on its emitters between Thursday and Saturday, but had to shut down its operation temporarily on Wednesday and Friday to allow the JMD to carry out its cloud seeding experiment, Mubarak noted.
The company is employing 35 Swiss and German experts as well as local staff for the Jordan project and has set up a command and operations room in Amman.
Related Articles
Mar 13,2017
AMMAN — WeatherTec Services GmbH, a Munich-based company applying cloud ionisation technology in Jordan to enhance rainfall, has set up an a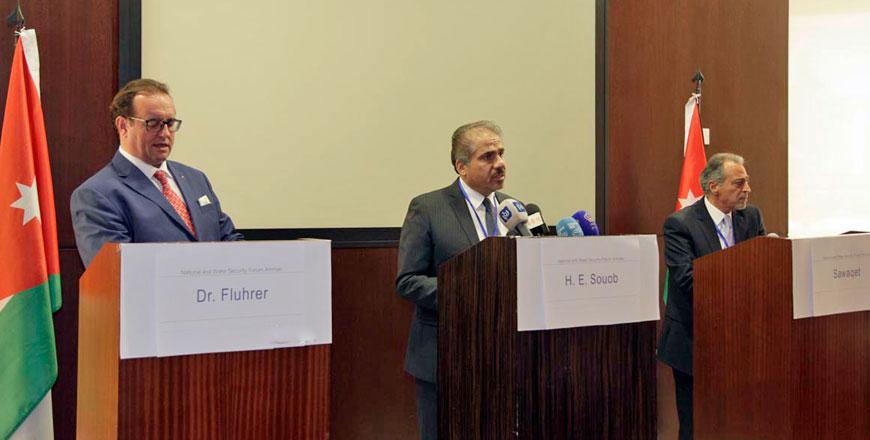 Dec 08,2016
AMMAN — Water security is reshaping the architecture of the Arab region, experts in water and crisis management said on Thursday, hailing cr
Nov 03,2016
AMMAN — Jordan will resume during this month its artificial rainmaking attempts to increase precipitation for the 2016-2017 wet season, a go
Newsletter
Get top stories and blog posts emailed to you each day.