You are here
Coach reflects on Nashama's Asian Cup success
'I believe in all my players... Every game is difficult', says Vital Borkelmans
By Muath Freij - Jan 13,2019 - Last updated at Jan 13,2019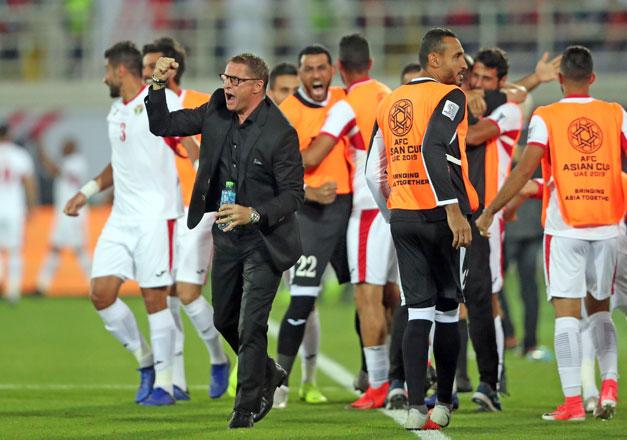 Jordan coach Vital Borkelmans celebrates their first goal against Syria at Sheikh Khalifa International Stadium, on Tuesday (Reuters photo)
AMMAN — Standing with his staff and players chanting the Jordanian national anthem ahead of his team's match against Syria, Belgian coach Vital Borkelmans caught the attention of many sports experts on Thursday.
During an interview with The Jordan Times on Friday, the former Belgian player said the key to Nashama's success was "the spirit among the players and the confidence they have in their skills".
The camaraderie and focus instilled by Borkelmans is part of his philosophy to develop a close relationship with his players and staff.
"I am always an optimistic guy and this is what I always tell my players: be positive and optimistic. I believe in my players and what they can do. They can do a lot on the field," he told The Jordan Times.
'There was something that had to change'
Borkelmans said that he saw a lot of potential in his players, but the mentality needed to be changed in the beginning.
"The positive thing now is that the players believe in the skill they have. Before, everybody was talking about the problems they had: 'They cannot play good defence, they cannot score, they are not very strong tactically.' I changed that and gave confidence to my players; they are not young guys, they are strong guys and they are in a good mental state. They believe in the country... which you can see on the pitch," he added.
Borkelmans said that a lot of the players' positive elements caught his attention, which he used to instil a sense of confidence.
"There was something that had to change in their minds. They [the players] told me that tactically they are weak, and I said no, that is not possible: They are very clever, they have good a mentality and they have a lot of respect for their country, Jordan. For me, they do a lot of things on the field and they surprise me every day in training," he added.
Borkelmans described the communication between his staff as a "significant" reason for their success.
"My staff talks with my players; when I was a player, I talked a lot with our doctors and other staff members. For me, it is important they use the same language I use with my players, and I think it is important to talk in a positive way and give more responsibility to my players to boost their confidence. I have a very good staff and team, and we work very closely together, which reflects on the pitch," he added.
'Every game is difficult'
So far, Jordan has defied expectations with their routs of Australia and Syria, placing them at the top of their group and the first team to qualify for the next round of the Asian Cup.
"It is important to be in the next round and we will see against whom. For me, every game is a difficult game when you play against Syria or Palestine, it is a big derby for the country... and I know how special it is for the fans," he added.
Ahead of the team's match against Palestine, Borkelmans said he does not have an A or B team.
"I have 23 players and as a coach you believe in all your players... I do not have two teams... I have one team, and I try to perform at the best level for my team," he added.
Answering critics
Borkelmans' selection of players initially sparked some criticism among fans and football experts, which he said were now answered by the team's results.
"You know, before I made the selection, everybody was commenting... saying that you must take this [certain] player, but I saw a lot quality in the players [I chose]. I looked for players who can live eight to nine weeks together, and now... I have a team that can live together like two to three months without problems," he added,
Borkelmans said he was not worried about maintaining the players' focus now that they have won games, which he attributed to his staff. The team captain even came to the coach before the Australia match, worried the players were looking too far ahead and not focusing enough for their next opponent.
"I never in my life saw this, and this shows how strong they are together," Borkelmans said.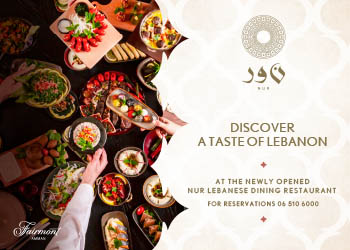 Newsletter
Get top stories and blog posts emailed to you each day.