You are here
Community-based tourism reinstills life in forsaken areas
Amman-based Baraka helps residents from Um Qais, Pella revive their villages' local treasuries
By Camille Dupire - Jun 05,2018 - Last updated at Jun 05,2018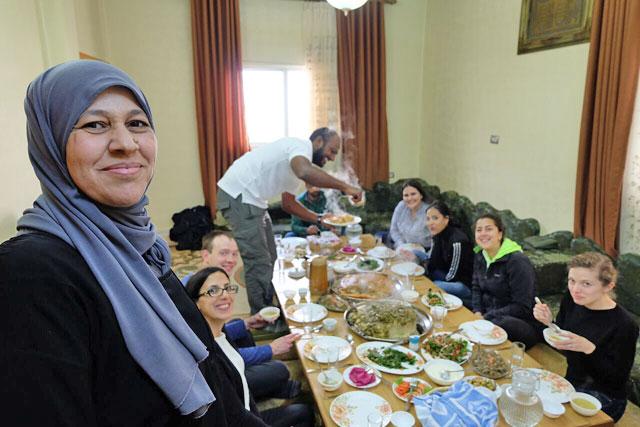 Um Sulaiman founded Galsoum's Kitchen to teach community members and visitors alike her passion for cooking (Photo courtesy of Baraka)
AMMAN — Driven by a passion for sustainable tourism that stimulates economic growth, while conserving and protecting cultural heritage and natural resources, Jordanian Muna Haddad started exploring the tourism landscape around the Kingdom.
She quickly came to two realisations: first, that most of Jordan's attraction power had been overshadowed by the world famous Petra and Wadi Rum. Second, that despite a rich potential for tourism activities that could be run as small businesses, most of the country's locals lacked the training and resources to carry out such profitable initiatives.
Haddad, who is the founder of Amman-based Baraka Destinations, therefore sought a grant from the USAID Jordan Local Enterprise Support Project (LENS) to materialise her idea of developing community-based tourism in various locations across Jordan.
"I encountered so many local communities desperately wanting to engage in the tourism sector, but who were not succeeding, even with support from training programmes and micro-investments by development agencies," the entrepreneur recalled, highlighting that "they are struggling to create products that tourists want while being unable to reach the tourism markets alone".
Aiming to empower these populations by implementing tourism strategies that leave "minimal impacts on the environment and maximum benefits for local communities", Haddad worked towards creating a new form of tourism in Jordan: "experiential tourism".
Experiential tourism has become a rising trend across the world, offering travellers a chance to connect with a country's culture, history and people by immersing themselves in experiences where they meet locals, spend time with them and get to know their way of life, according to online sources.
"Experiential tourism is particularly beneficial for a country like Jordan as it helps micro and small business owners located in local communities to benefit from tourism money, and provides them and their families with an additional source of income," a USAID representative said.
Starting off in the northern village of Um Qais, which Haddad said she "fell in love with a few years ago", Baraka Destinations helped set up six tourism businesses, creating 38 direct and indirect jobs.
"Um Qais has always been a secondary tourism site that tourists rarely visit or, if they do, rarely spend more than two hours there," explained Emily Clark, project coordinator at Baraka, adding: "Besides, the local community barely benefitted from the existing tourists as their cars crowded their streets and their trash cluttered the area".
Baraka partnered with the local community to develop a cluster of tourism products and experiences offering a "full package" for tourists to enjoy up to three days in Um Qais, taking the money traditionally centred at the archaeological site and spreading it out among the community, she continued.
"What we do is that we develop clusters of community-owned tourism businesses before incubating them with the local owners until the business is profitable. Skills are transferred and capacities are at the standard to enable tourism entrepreneurs to build their own villages into vibrant tourism destinations," Clark underlined.
Among the projects developed at Um Qais are Beit Al Baraka (or "House of Blessings"), a three-room bed and breakfast, home cooked meals, catering and packaged food products sold by Galsoum's Kitchen, camping and hiking experiences with Philodemus Camping, and biking excursions with GadaraCycling, among others.
Founder of Galsoum's Kitchen, Um Sulaiman said she has always loved cooking so much that she would "even ditch my studies to cook with my mother".
She now teaches community members and visitors alike a chance to "create in the kitchen" through her cooking classes. "I kind of became a teacher herself and it feels great to pass on my knowledge and be productive," she told The Jordan Times.
"When you come to Um Qais, you can reconnect with reality… the beauty of nature, historical sites, friendly people, and traditional foods and flavours," she said, stressing that "to fully experience a place and culture, you must engage all of your senses."
For local beekeeper Yousef Al Sayeh, being part of Baraka's project also helped him forget how his previous salary was "barely enough to make ends meet".
"I managed to maintain and grow the two beehives I bought over the years, but it was always a side business. After retiring, I realised that beekeeping is what I wanted to do for the rest of my life," Sayeh recounted.
He worked with Baraka with the support of USAID LENS to develop his English skills to better communicate with the visitors of the area and developed a successful business.
"We have a policy to hire and source locally as much as possible to ensure money stays in the community," stressed Haddad, who noted that such projects also help in reinstating pride in a place that these people get to call home.
Capitalising on the success of its work in Um Qais, Baraka is now setting up a shop in Pella in the Jordan Valley, where it opened a bed and breakfast called Beit Al Fannan ("House of the Artist").
"This time, we are experimenting with 'experiential accommodation': the place offers guests a full-on immersive experience in an inspiring space that tells the story of an artist so, everywhere you look, there is something to explore that uncovers more of the story," Haddad explained, adding that "the house also comes fully stocked with art supplies, art books and inspiration for guests to play".
The Baraka founder said they are working with the people of Pella to showcase "their version of the place", while working closely with the archaeologists in the area and the Department of Antiquities to highlight the significance of the area.
Related Articles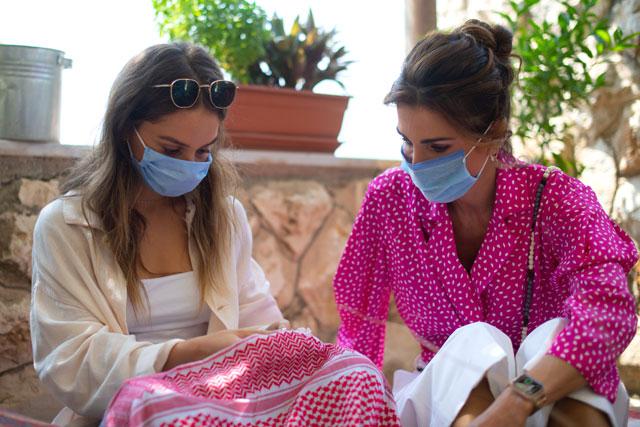 Jul 06,2020
AMMAN — Her Majesty Queen Rania, accompanied by HRH Princess Iman, visited the village of Umm Qais in the governorate of Irbid, on Monday, t
Feb 19,2020
AMMAN — The Royal Society for the Conservation of Nature (RSCN) recently launched a new concept in environmental tourism called "experientia
Apr 09,2016
AMMAN — In a bid to encourage experiential tourism, the Jordan Trail Association (JTA) has developed a hiking trek that connects Um Qais in