You are here
Divers comb Aqaba waters after reported shark attack
By JT - Jun 29,2021 - Last updated at Jun 29,2021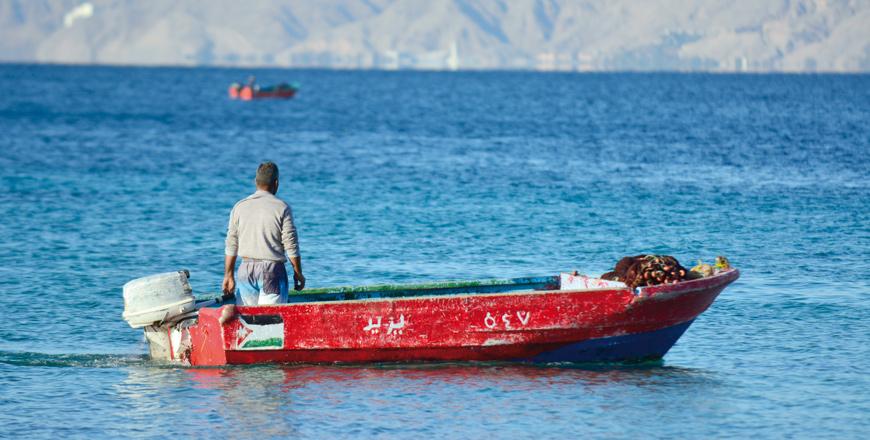 A fisherman is seen on his boat near the Aqaba coast in this photo dated December 16, 2017 (Photo by Amjad Ghsoun)
AMMAN — The Aqaba Special Economic Zone Authority (ASEZA) on Monday announced that there were no actual sightings of sharks after conducting a comprehensive coastal search.
ASEZA's announcement came after reports and clips emerged of a purported shark attack on a person in the Gulf of Aqaba.
The authority added that the matter is under investigation to ascertain the circumstances of the reported shark attack.
The authority said that the ASEZA cadres and the naval forces conducted round-theclock search and maritime patrols along the northern and central parts of the Jordanian coast. ASEZA also said that the Aqaba Diving Association carried out day and night dive searches.
The statement added that the official agencies verified all the related narratives mentioned and listened to the alleged witnesses in an attempt to reach accurate and clear information about this incident.
There was no coherent account confirming the existence of a shark, the authority said.
Monitoring operations are still ongoing, and in the coming days it will continue its operations in cooperation with the Naval Force, the authority said.
Urging caution, ASEZA called on sea-goers, owners of tourist boats, marine sports practitioners and beach visitors not to cross the areas designated for swimming or practising marine sports.
Similarly, the authority referred to false allegations of a shark attacking a fishing boat on Sunday. ASEZA said that the source of the news is being investigated by the competent security services to hold him accountable for spreading false news.
The authority urged the public and tourists to immediately inform the naval forces if they sight any strange marine creatures or sharks, all the while maintaining accuracy and credibility in conveying the information.
Newsletter
Get top stories and blog posts emailed to you each day.