You are here
Environment activist mobilises students for permanent waste exhibition
By Camille Dupire - Oct 15,2017 - Last updated at Oct 15,2017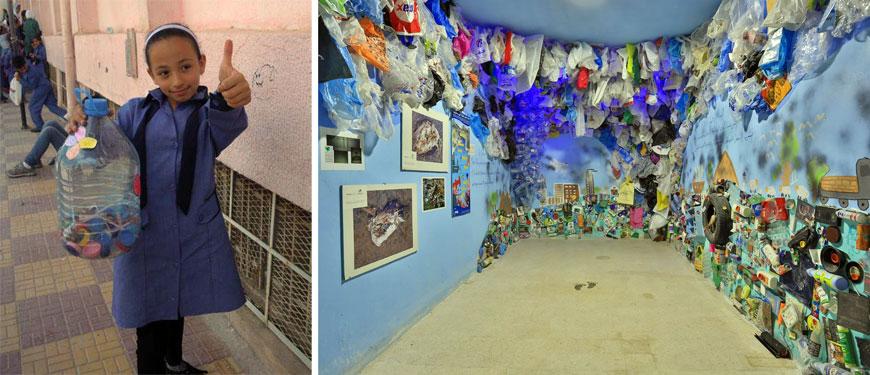 The Towards Zero Waste initiative started with students collecting recyclable items from their houses and their friends (Photos courtesy of Amal Madanat)
AMMAN — "My dream was to see my country clean," explained Amal Madanat, the founder of the "Towards Zero Waste" initiative implemented at the Dahiyat Al Hussein School in Amman.
"When I retired, I started taking long walks, mostly early in the morning. This is when I realised how dirty our country is," Madanat recalled, noting that she also began noticing the sweepers and municipal cleaners working from dawn.
"As I began chatting with them, I understood how much we harm them by our daily behaviours such as littering," she continued, adding that, although she always thought of herself as "a clean person" because she did not litter, she came to the conclusion that she was also harming the environment in her own way.
"I didn't recycle at home, and when I met Abu Ali who collected garbage to recycle it and sell it, I understood that there was a lot more to be done to preserve our environment."
As of 2017, Jordan still does not have a nationwide household recycling programme; the practice has largely been carried out by informal collectors, who sift through dumpsters and landfill sites.
Madanat faced a lot of resistance as she tried to convince her family and friends to start recycling. "They would tell me 'you are only one person, you are not going to make any change,'" she recounted.
However, she persisted and after two years of teaching herself about recycling through books, online resources and interviews, she reached out to Aida Arar, the principal at the school in her neighbourhood.
Aiming to raise awareness on the importance of recycling, Madanat started teaching school students about ways to improve their daily habits to reduce waste.
"Because I used local examples from the area they know, the students were very receptive. They were touched by the story of Abu Ali because they knew who he was and I think that the human side really that pushed them to act," the newfound teacher said.
Student Asaia Khterat, 12, said: "For the first time, I learned that garbage was not a waste and that it had a price because Abu Ali, whom we used to see often around our school, is selling it and making a living from it."
Towards Zero Waste started with students collecting recyclable items from their homes and their friends, which they then sorted and gave back to "the recycling expert" Abu Ali.
"This way, we not only help a man earn a decent income through reselling recycled material, we also clean up the local environment," Madanat said.
The project was made into a permanent exhibition held in the basement of the school, which seeks to raise awareness about ecology and environment preservation.
In partnership with the Green Generation Foundation, the school students and Madanat established the exhibition, designed by Khaled Homsi, to educate the public about the importance of recycling, reusing and disposing waste.
"One of the rooms contain what we called 'a tsunami of trash' with litters that we found around the school," Madanat said, noting that 90 per cent of the waste was plastic.
"I liked designing the exhibition because we created everything from garbage. I learned that design can be a tool to raise awareness about the environment," 14-year-old Tasneem Mehyar said.
The project was entirely recorded by filmmaker Elie Nimri in a documentary titled "With Myself I Started", which was screened on October 9 and 14 at the Amman Design Week.
Madanat has a nationwide vision for her programme, which she is currently discussing with the Ministry of Education with the aim of implementing similar initiatives in all schools across the Kingdom.
Related Articles
Nov 26,2017
TABARJA, Lebanon — The Lebanese divers plunge below the surface, scuba tanks on their backs and nets in hand.
Oct 26,2017
AMMAN — Seeking to instill environmental responsibility in the younger generation through art, the Ministry of Environment on Thursday relau
Jul 27,2022
AMMAN — Changing the mindset of younger children and replacing the habit of excessive consumption to reduce, reuse and recycle are vital in