You are here
EPF hopes world record football show will encourage women's engagement in sports
By Muath Freij - Feb 17,2019 - Last updated at Feb 17,2019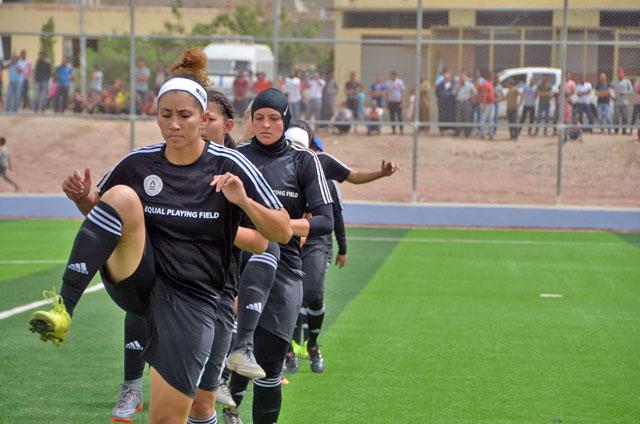 Women football players take part in a friendly game at the new pitch in Ghor Safi in April 2018 (Photos by Muath Freij)
AMMAN — The Equal Playing Field's (EPF) achievement of breaking the Guinness World Record for lowest-altitude football game will inspire more women to join in sports in general, participating female footballers said.
The EPF said on Sunday that they received confirmation from Guinness World Records that they have broken the record with the football match they organised last year at the world's lowest point in Jordan's Ghor Safi.
"Our Dead Sea match in Jordan last year officially set the Guinness World Record for the lowest altitude match ever played!" they Tweeted.
HRH Prince Ali took to Twitter to commend the achievement.
"Congratulations @EPFinitiative @GWR from all Jordanians and especially those who you affected directly! You have already left a lasting legacy. We are all very proud," the prince Tweeted.
In a statement to The Jordan Times, Prince Ali's office said that a total of 70 female footballers took part in the match, which was attended by hundreds of families from the Ghor Safi region in the southern Jordan Valley.
Haneen Khateeb, who was among the footballers, said the record-breaking match was the result of the collaborative efforts of many people.
"I am happy that we gave the chance for 70 girls to play the match, organised through our training clinics, as part of our campaign towards Guinness," Khateeb told The Jordan Times on Sunday.
She voiced her hope that this achievement will play a role in changing the stereotype about football being predominantly a game for men.
"The achievement is not for us personally. It is to inspire the next generation to play football and sports without any barriers," she added.
Erin Blankenship, the co-founder of the EPF, said she is very proud and honoured to have been part of it.
"I am much honoured to be working with some great women to deliver a really meaningful project for Jordanian and Middle Eastern communities," she told The Jordan Times.
Blankenship said their next challenge is holding the biggest football match in history.
Newsletter
Get top stories and blog posts emailed to you each day.