You are here
Fourth injured person in Saturday's raid on suspected terrorists dies
By Rana Husseini - Aug 12,2018 - Last updated at Aug 13,2018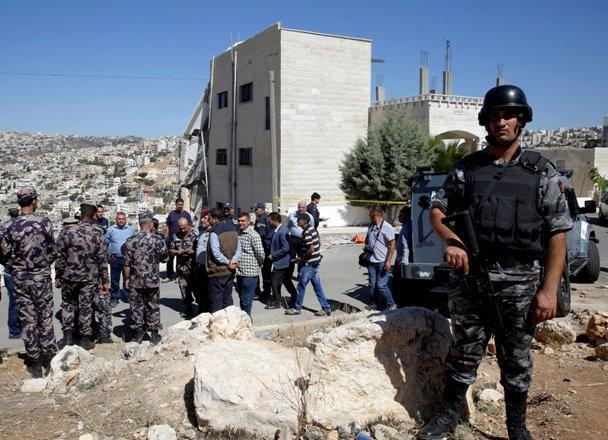 Security forces gather near a damaged building at the city of Salt, Jordan, August 12, 2018 (Reuters photo)
AMMAN — A fourth person, who was injured during the raid on Saturday on a building in the town of Salt, where alleged terrorists were holed up, died on Sunday as a result of his wounds, a senior official announced.
Three suspected terrorist were picked up from the rubble of the building they were hiding in and later detonated when they were cornered by security forces, Minister of State for Media Affairs and Government Spokesperson Jumana Ghunaimat said.
The crackdown came in connection with the terrorist attack on a joint Gendarmerie-police patrol stationed in Fuheis on Friday.
"We have arrested two additional suspect and several weapons were seized, including machineguns," Ghunaimat told The Jordan Times Sunday.
The minister added that a special team demolished the remaining parts of the building "because it is too dangerous to be around it".
She added that the security operation was still ongoing.
Newsletter
Get top stories and blog posts emailed to you each day.