You are here
Google.org supports Queen Rania Foundation to implement online learning platform
By JT - May 10,2017 - Last updated at May 10,2017
Her Majesty Queen Rania attends a talk by business leaders and Google employees in Hertfordshire, the UK , in this recent photo (Photo courtesy of the Royal Court)
AMMAN — The Queen Rania Foundation (QRF) and Google.org on Wednesday announced they have joined forces to create an online learning platform for Arabic open educational resources (OERs) targeting K-12 students and their educators across the Middle East and North Africa (MENA) region.
The initiative comes at a crucial time to help make sure millions of children across the region have access to quality education, according to a statement from Her Majesty's office.
Today, an estimated 13 million MENA children, equivalent to 40 per cent of the school age population, are missing out on an education because of conflict and displacement.
The refugee crisis has also strained existing education systems in host countries, like Jordan and Lebanon, which have taken in large numbers of refugee students, compromising the quality of education offered to both local and refugee children.
The $3 million grant from Google.org, which was announced during a one-on-one discussion earlier this week between Queen Rania and Alphabet Executive Chairman Eric Schmidt at Google Zeitgeist in the UK, reflects their shared belief that technology, when leveraged carefully and intentionally, can play a crucial role in addressing educational challenges around the world.
Speaking of the goals of the work, Queen Rania said, "I am confident that, with the support of Google.org, we can bring about more equitable access to high-quality education, wherever students live, and break down the learning barriers facing so many children in the Arab world."
"We are proud to support the ambitious work of the Queen Rania Foundation as part of our ongoing commitment to education programmes that harness the power of technology in a way that helps all children have the opportunity to learn and grow," said Jacquelline Fuller, vice president of Google.org.
Modeling the latest findings in the space, the K-12 platform will offer both sequential learning material, as well as student-centred inquiry based learning that allows users to search for concepts or skills without having to enrol in a predefined learning sequence, according to the statement. Recognising the importance of teachers in the learning process, the platform will provide key resources for use in the classroom and will eventually align with national curricula.
"We are excited about and grateful for the support of Google.org," said CEO of QRF Haifa Dia, adding that "the grant will enable us to provide children in Jordan and across the region with learning opportunities that elude them today, and to reimagine education in our region".
The first phase of implementation will focus on the mathematics curriculum for all grades, starting with older age groups, and will later expand to include other subjects.
To ensure equitable access to its offerings, the platform will eventually include offline functionality and support, building on the work that the foundation and Google.org have done in this space.
The new platform will build on the success of the QRF's higher education online learning platform, Edraak.org, which has already reached over 1 million learners across MENA.
The expansion into serving learners in K-12 builds on Edraak's experience in creating learning experiences for Arabic speaking learners, and leverages lessons learned from working with educators and students in the region.
The Queen Rania Foundation, founded by Her Majesty in 2013, aims to be a leading regional resource and incubator for new and innovative ideas and initiatives in education. It believes "that education is the foundation of economic, political and social development", according to the statement, adding that it is "focused on identifying gaps and opportunities for developing new education programmes, with the aim of influencing policy and creating transformational change on the ground".
Related Articles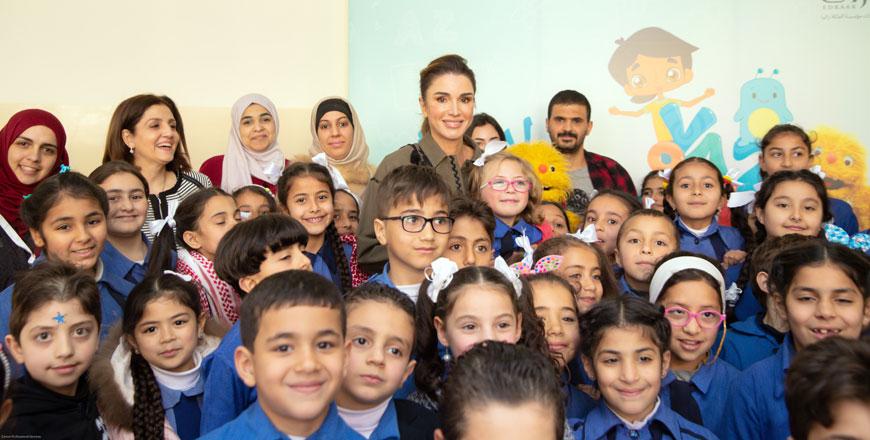 Mar 06,2019
AMMAN — Her Majesty Queen Rania on Wednesday launched the online educational platform Edraak's mathematics curricula for kindergarten to gra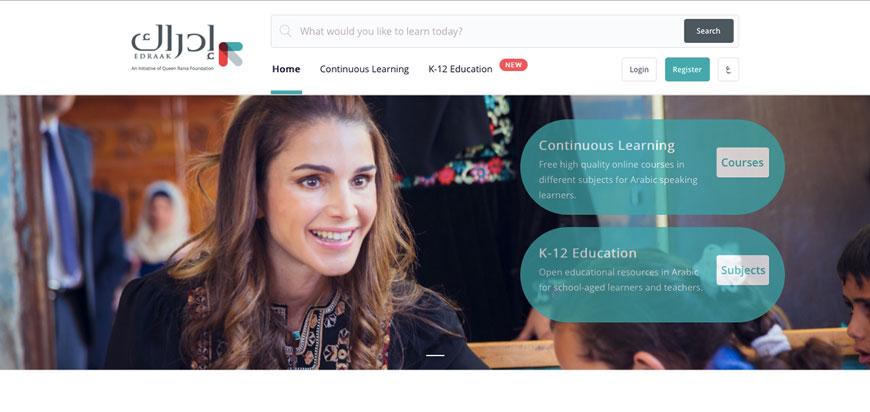 Jan 27,2018
AMMAN — Her Majesty Queen Rania on Wednesday announced the expansion of Edraak.org, the leading Arabic Massive Open Online Courses platform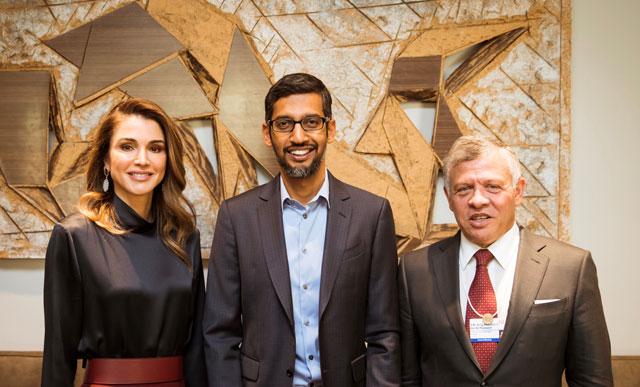 Jan 24,2018
AMMAN — Her Majesty Queen Rania on Wednesday announced the launch of a new learning platform catering to school-aged children across the Ara