You are here
Group discussion tackles labels 'in a world of migration'
By Camille Dupire - Oct 05,2017 - Last updated at Oct 05,2017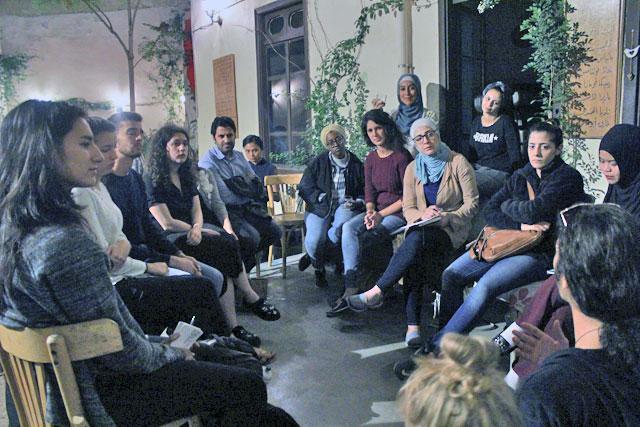 Some 75 participants take part in a collaborative discussion on labelling and bias in identity definition at Jadal for Knowledge and Culture in Amman on Wednesday (Photo by Hani Obaidat)
AMMAN — "How to deal with labels and questioning self-identity in a world of globalisation and migration?" asked the participants at a group discussion held at Jadal for Knowledge and Culture by the online media project Hybris Media on Wednesday.
Jordan, which has welcomed 19,299 resettlement departures in 2016, hosts one of the largest refugee populations in the world, half of which is under 18 years old, according to the latest UNHCR figures.
Based on that finding, a collaborative community discussion was organised to find solutions to the issue of bias and labelling that comes with refugees' integration in society.
"As we see people from different cultural backgrounds constantly facing entrance into a new society, the question of integration has become crucial," Cesilia Faustina, the founder of Hybris Media told The Jordan Times on the sidelines of the event. "We seek to find sustainable community solutions to help migrants and refugees adapt into new societies and to get rid of prejudices and labels towards them," she continued.
Kotaiba Alabdullah, one of the speakers at the event, was only 18 years old when he first fled Syria. He arrived in Jordan five years ago and has since established his own organisation "Action for Change", that aims to help Syrian refugees in Jordan and inside Syria access education and basic services.
"I came to Jordan when I was 25 without anyone; all my family stayed in Syria," Alabdullah started, saying: "I had nothing and now look at me: I got married, I have a job, I founded my own organisation: I built myself."
"I want to show the youth that it is possible to leave the war behind you and to rebuild your life somewhere else," he continued, adding "I could have sat and mourned, only thinking about the war. But no, I started to work the first day I came here and I didn't expect anyone to help me."
The young man, who said he never faced any discrimination issue but heard many stories about it, said it should not matter if you are a refugee or not. "You can start from zero anywhere, as long as you have the right attitude for it," he stated, stressing the need to understand the culture and laws of your country of immigration.
"Wherever you go, you need to keep your personality because this is what defines you, but you also need to abide by the rules of the society you enter," he underscored.
According to UNHCR, some 65.6 million people around the world have been forced to flee their homes, nearly 22.5 million of whom are refugees.This has put many at a crossroads, whereby they are forced to adapt to different environment and situations, sometimes in stark contrast with their initial culture.
Issues of discrimination against newcomers and immigrants, treated with racial and cultural bias, have multiplied, according to a Human Rights Watch report.
"We are now facing several issues related to the integration of a wide variety of backgrounds into a new society, which is not limited to one sole culture anymore," Faustina explained, citing the case of a Nigerian national who recalled his difficult time integrating into the society upon arrival.
Another participant, a Swedish national of Palestinian origin, described the labelling he is subjected to on a daily basis due to his "Arab appearance" that contradicts the preconceived idea of a "typical Nordic look".
During the event, various speakers shared their experiences of being an immigrant who was forced to integrate into a whole different culture and to adjust to new cultural norms and attitudes. Good and bad case practices were shared in collaborative discussions followed by smaller groups engaging in brainstorming and solution drafting activities.
Pauline Latil, a French 22-year-old studying Arabic in Amman told The Jordan Times on the sidelines of the event: "Tonight's discussion really shed light on the Jordanian side of refugee integration. It showed me how welcoming Jordanians can and have been for years. None of them cited nationality as a defining aspect; for them Jordanians, Palestinians or Iraqis: all were the same."
"This is truly surprising for me, as I come from a country where identity is a central issue. In France, we host as little as 30,000 Syrian refugees, yet they are massively considered as a threat to the economy or even to the national identity," she continued.
Faustina rejoiced over the "success" of the discussion, citing the attendance of over 75 people who shared some "really enriching input and solutions to counter labelling and raise awareness about identity bias".
All the outcomes of the discussions will be published on the Hybris Media website, in a bid to create further discussion and enhance feedback from the larger community, according to its founder.
Related Articles
Jan 10,2018
AMMAN — Local audience on Tuesday participated in a group discussion about the ways to prevent and reduce violence and discrimination in soc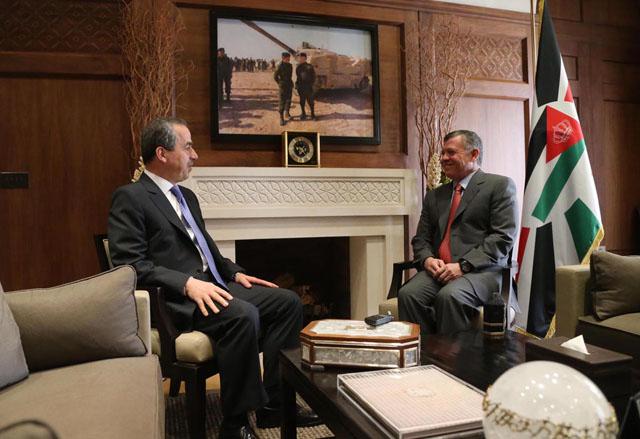 Mar 22,2014
Following is an official translation of the full text of His Majesty King Abdullah's interview with the London-based Al Hayat newspaper published on Saturday.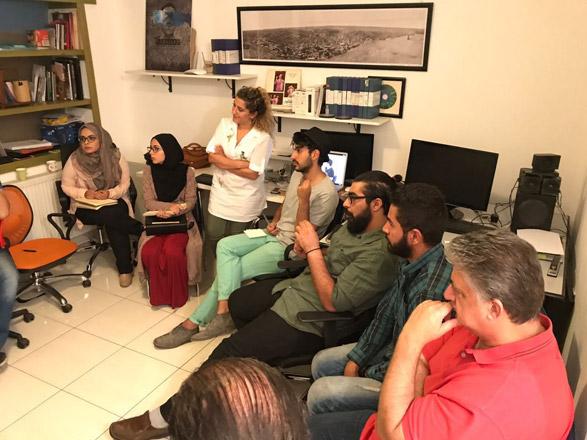 Aug 13,2017
AMMAN — The "Identity and the City" project, starting from Friday, is a "Ma3mal 612" initiative which seeks to affect "positive societal cha
Newsletter
Get top stories and blog posts emailed to you each day.