You are here
House Palestine Committee members meet Abbas in Amman
By JT - Aug 24,2019 - Last updated at Aug 24,2019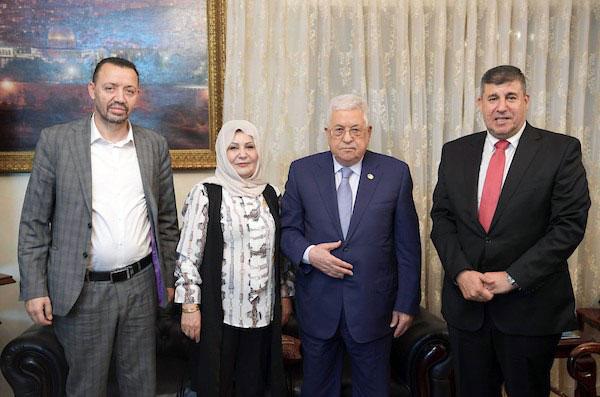 Palestinian President Mahmoud Abbas poses for a photo with members of the Lower House Palestine Committee (Petra photo)
AMMAN — Palestinian President Mahmoud Abbas on Friday, at his residence in Amman, acquainted members of the Lower House Palestine Committee with the latest developments concerning the Israeli blockade on the Palestinian people.
Meeting with MP Yahya Saud, head of the committee, and lawmakers Insaf Khawaldeh and Qusai Dmeisi, members of the panel, Abbas stressed the "deep-rooted and brotherly" relations between the Palestinian and Jordanian peoples, the Jordan News Agency, Petra, reported.
The president praised the Jordanian support of the Palestinian issue, commending the role of the Lower Chamber's committee in its continuous support of the cause.
Saud, for his part, said that the Kingdom's stance towards the Palestinian issue under His Majesty King Abdullah's leadership is firm and unaltered, emphasising the Jordanian support of the Palestinian people until they can reclaim all their rights and establish an independent state with East Jerusalem as its capital.
The MP added that the Hashemite custodianship over Islamic and Christian holy sites in Jerusalem is the "guarantor" to preserving Jerusalem and its Arab identity, highlighting the importance of the Jordanian efforts in defending the city and the sanctuaries that form the core of the Arab-Israeli conflict and the Palestinian issue.
He also referred to the pressures imposed on the Kingdom due to its stance on the Palestinian issue, referring to the Lower House's role in defending the cause at all regional and international parliamentarian meetings.
Newsletter
Get top stories and blog posts emailed to you each day.