You are here
Initiative helps women become independent through craft making
By Muath Freij - Oct 12,2017 - Last updated at Oct 12,2017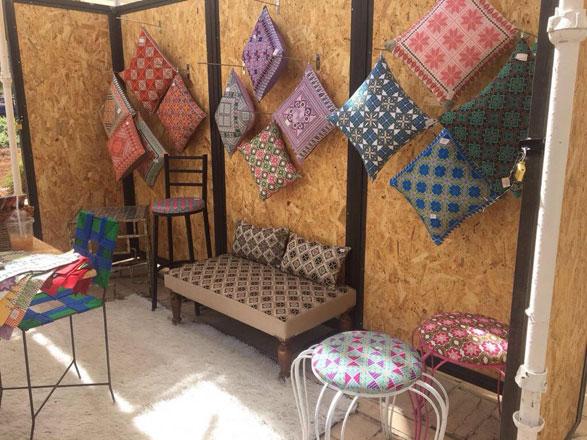 The designs of Ayadeena's products are traditional with a modern style, according to its founder (Photo courtesy of Ayadeena)
AMMAN — Eight years ago, a Jordanian woman decided to launch an initiative called Ayadeena (our hands), in a bid to encourage women to be economically self-dependent through the world of crafts.
Hana Sahawneh sought to support women by investing in their skills to prevent them from having to wait for others to support them financially.
"The name of the initiative is given in reference to the hands of these women which are creating these works," she told The Jordan Times in a phone interview.
Sahawneh started buying materials and brought a wide range of design patterns for women to start creating pillows and furniture items to be sold.
She said the designs are traditional yet created with a modern spirit to give it a "special and unique touch".
"Since then, many women managed to afford medical care and to continue their studies, thanks to the money they generated through their works," she noted.
Sahawneh recalled how some women's husbands opposed the idea of their wives working, which prompted them to work in their free hours so that their work would not clash with their domestic duties.
"They were determined to depend only on themselves," she stressed.
Between 40 and 60 women work on these handmade items, depending on the amount of orders they received, Ayadeena's founder explained.
The works of these women are currently on display at Amman Design Week's crafts district which "helped a lot in exposing the works of these women", Sahawneh concluded.
Related Articles
Jul 26,2016
AMMAN — A nine-day festival will bring over 100 designers from Jordan and the region to Amman to showcase their innovative designs that solv
Jan 26,2014
The lack of details to help motorists find the right garage to repair their vehicles encouraged three Jordanians to create a free mobile application that offers information on auto maintenance.
Oct 12,2017
AMMAN — A 72-page publication takes locals into a journey through the world of Jordanian calligraphy, giving them a glimpse into the practic
Newsletter
Get top stories and blog posts emailed to you each day.