You are here
Israel agrees to Jordan's proposal to install cameras at Al Haram Al Sharif
By JT - Oct 24,2015 - Last updated at Oct 24,2015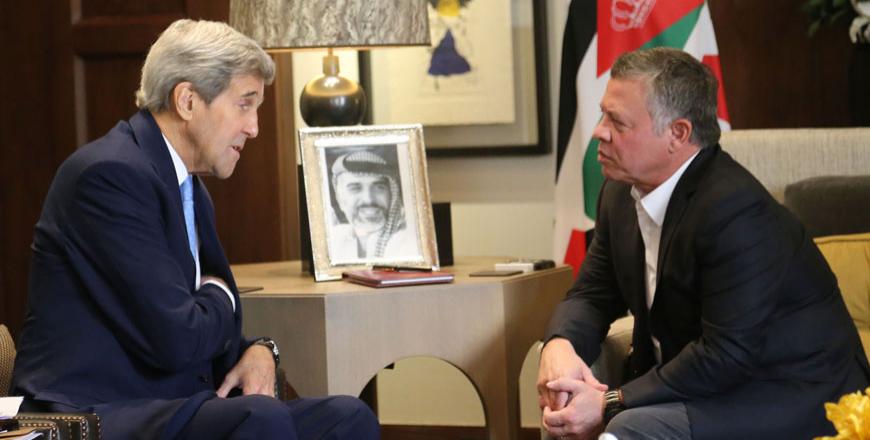 His Majesty King Abdullah meets with US Secretary of State John Kerry in Amman on Saturday (Photo courtesy of Royal Court)
AMMAN — His Majesty King Abdullah met on Saturday with US Secretary of State John Kerry and discussed regional developments, especially the situation in Jerusalem and efforts to revive the Middle East peace process.
The two sides also addressed developments related to the crisis in Syria, and ways to deal with them, according to a Royal Court statement.
They also reviewed the conditions in Iraq and counter-terrorism efforts at the meeting, which was attended by Royal Court Chief Fayez Tarawneh, Deputy Prime Minister and Foreign Minister Nasser Judeh, King's Office Director Jafar Hassan, US Ambassador to Jordan Alice G. Wells and Kerry's accompanying delegation.
At a joint press conference held by Judeh and Kerry, both spoke of the urgency of the current situation and the need to immediately cease all violence in the area. Both also emphasised the necessity of renewed peace negotiations between the Palestinians and the Israelis.
Kerry stated that Israeli Prime Minister Benjamin Netanyahu was committed to maintaining the unchanged status quo on holy sites in Jerusalem, news that Judeh welcomed at the press conference, adding that he would have comments on Netanyahu's statement.
Kerry also stated: "I am very pleased to announce today that Prime Minister Netanyahu has agreed to what I think is an excellent suggestion by King Abdullah, to provide 24-hour video coverage of all sites" on Al Haram Al Sharif.
He added: "This will provide comprehensive visibility and transparency and that could really be a game changer in discouraging anybody from disturbing the sanctity of this holy site. I expect Jordanian and Israeli technical teams will meet soon to discuss the implementation of this idea alongside other measures to maintain and enhance order and calm."
The importance and potential of this measure was also emphasised by Judeh, who said it "will indeed make a difference, and a very strong difference at that".
Kerry also maintained that "Israeli authorities and Jordanian waqf authorities will meet soon in order to strengthen [their] security relationship" in regards to access for worshippers and visitors.
Judeh mentioned that "the Jordanian waqf in Jerusalem deals with Israel almost on a daily basis" and hoped for a fruitful outcome to "substantive, intensive discussions in the next few days to implement the commitments that we will hear".
Judeh also said that a cessation to the violence is necessary and that the Kingdom condemns all killing of civilians, a sentiment echoed by the secretary of state.
The foreign minister added that things need to calm down in order to "go back to the larger picture… the root cause of the entire problem, [which is] the need to have a Palestinian state that lives side-by-side with a secure Israel and all the peoples and nations of this world, and of this region in particular, living in peace and security".
Both men expressed appreciation of each other's friendship, the long partnership between both nations, and of His Majesty's role in guiding the region and leading Jordan's role in maintaining stability in the region.
They both stated that they will continue to work closely together to reach an end to the violence and aggression at Al Haram Al Sharif and to resume negotiations leading to a two-state solution.
Related Articles
Nov 02,2014
His Majesty King Abdullah's direct contacts with influential international leaders contributed to the reopening of Al Aqsa Mosque, in addition to the intensive efforts of Foreign Minister Nasser Judeh in contacting international organisations, a Foreign Ministry statement said. 
Sep 14,2015
AMMAN/OCCUPIED JERUSALEM — Prime Minister Abdullah Ensour on Sunday said the government has been closely following up on Israeli forces' sto
Oct 25,2015
AMMAN — Jordan has stressed that it would maintain coordination with the Palestinian leadership and President Mahmoud Abbas.During a meeting