You are here
Jordan calls for fair sharing of responsibility towards refugees
By JT - May 25,2016 - Last updated at May 25,2016
AMMAN – Deputising for His Majesty King Abdullah, Minister of Planning and International Cooperation Imad Fakhoury participated in the World Humanitarian Summit, which kicked off in Istanbul on Monday.
In a speech he delivered at the two-day summit, Fakhoury called for fair sharing of the burden of taking care of those in need, noting that the global community generates nearly $78 trillion in GDPs and over $160 billion in official development assistance, which means that "we have the collective resources to meet the basic needs of the vulnerable and contribute to safeguard human dignity".
Global cooperation is vital as humanity is "living in a new age of unprecedented mass displacement", he added, noting that having 60 million displaced people worldwide is not a temporary humanitarian crisis, but rather one of human development.
"This new reality presents a challenge on a whole new scale for development and humanitarian agencies as well as international community; one that requires a paradigm shift in perspective and mindset," he said.
Although Jordan is a small country with limited natural resources, it has consistently served as a forerunner when it comes to embracing the vulnerable and sharing its scarce resources with those fleeing conflict, Fakhoury told his audience.
The minister emphasised that the Kingdom, which has the highest historic record of hosted refugees over the many decades, has been doing its share in terms of contributing to peace and security and in an unprecedented manner.
"For decades, my country has always done the right thing for those who sought its borders for refuge," the minister said, explaining that Jordan finds itself currently "in the throes of a protracted crisis that has pushed our absorptive capacity to its limits" due to the Syrian crisis, which is now in its sixth year and is by far the most tragic humanitarian crisis of our time.
Elaborating on the burden shouldered by Jordan and its impact, Fakhoury said the Kingdom has been facing over the past five years a "slow-motion Tsunami", which resulted in growing needs, regressing hard-earned development gains, increased public debt and is impacting the country's sustainable development path.
To deal with the impact of the refugee crisis, he said, Jordan has pioneered a resilience-based approach by linking humanitarian and development needs in its response to the Syrian crisis and thus developed the Jordan Response Plans (currently covering the period 2016-2018) based on a comprehensive vulnerability assessment conducted in partnership with the UN and the international community.
Underlining the need for sufficient international aid, Fakhoury said the current levels of financing provided by the international community are still not enough to meet urgent needs of refugees and host communities alike — a "clear sign that we are unable to act together to promptly respond to this crisis".
The existing situation called for a paradigm shift, he added, one that meets the protracted crisis with a sustainable solution and focuses on growth and investment whilst maintaining resilience and economic stability.
"In this respect, Jordan and its partners at the recent London Conference proposed a holistic approach on which the Jordan Compact was adopted that focuses on: (1) Turning the Syrian refugee crisis into a development opportunity that attracts new investments and opens up the EU market with simplified rules of origin, creating jobs for Jordanians and Syrian refugees in a complimentary manner that does not displace Jordanian job opportunities whilst supporting the post-conflict Syrian economy; and (2) in rebuilding our host communities by adequately financing the Jordan Response Plans in a manner that helps in maintaining the level of basic services at improved rather than regressing levels."
In order to realise the commitments set out in the Jordan Compact, the minister urged the international community to start delivering on their pledges, especially in support to host communities.
"My hope is that we can avoid retreading familiar grounds and make a concerted effort to move from speeches to actions, creating a fair, reciprocal and, most importantly, realistic aid framework that safeguards the futures of all nations impacted by this crisis and changing the traditional model for middle income countries affected by crises as we have recently seen with the launch of the concessional financing facility by the World Bank, UN and Islamic Development Bank".
Addressing the "Agenda for Humanity" with its five core responsibilities that Jordan is committing itself to, Fakhoury voiced hope that it will help bridge the widening gap between theory and practice.
"And yet, we are still stumbling when it comes to translating our agreements and pledges into real commitments on the ground. We believe that the international community should proceed in parallel between development, diplomacy, security and other essential tracks that ultimately diverge to address a growing humanitarian catastrophe of our time," the minister said.
He raised a set of questions on international commitment.
"Will the London Conference again prove to be too little too late? Or will it be a real paradigm shift to deal with displacement in a sustainable manner? 2) Will pledges become actual commitments and disbursements that fund priorities as opposed to secondary ad hoc projects? 3) Will there be more aid coordination through the coming together of donors to create economies of scale, faster delivery and cost effectiveness? 4) And lastly, will the international community make a collective effort to succeed, or will we fail collectively?"
He urged the international community to reward countries impacted by crises and provide incentives by creating a historic breakthrough in responsibility sharing, providing concessionary financing and blending loans and grants.
In this regard, Fakhoury outlined what the international community should do to help Jordan, including continued assistance to bridge the funding gap of the Jordan Response Plan. He also called on donors to provide preferential concessional terms for accessing and tapping the untapped funds including innovative and conventional funds in addition to the traditional funds.
The minister concluded by emphasising that if the current situation persists, and if funding shortfalls continue, "we are facing the risk of further destabilising an increasingly turbulent region, leaving an entire generation or even generations behind with no access to basic livelihood, education and social protection."
Related Articles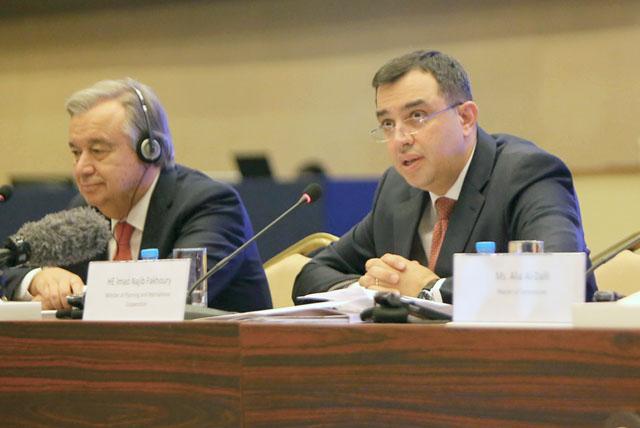 Mar 03,2015
The government has taken the lead in responding to the consequences of the Syrian crisis in order to help the international community coherently and effectively support the Kingdom, Planning Minister Imad Fakhoury said Tuesday.
Jan 12,2017
AMMAN — The government and the international community on Thursday endorsed a $7.6-billion three-year Jordan Response Platform (JRP) for the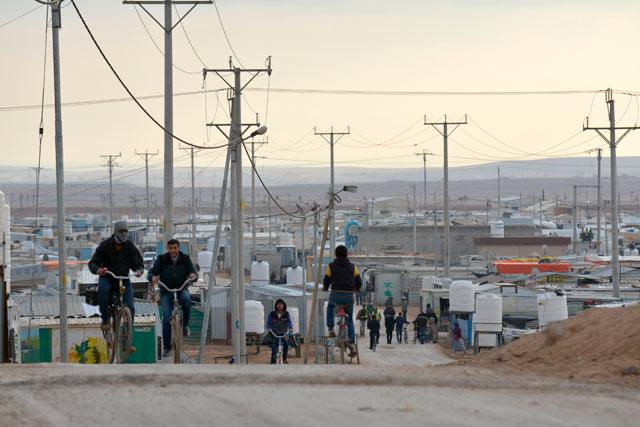 Feb 02,2018
AMMAN — The government of Jordan and the international community on Thursday endorsed the Jordan Response Platform (JRP) for the Syria Crisi
Newsletter
Get top stories and blog posts emailed to you each day.