You are here
Jordan, Egypt reach compromises on outstanding issues
By JT - Aug 09,2016 - Last updated at Aug 09,2016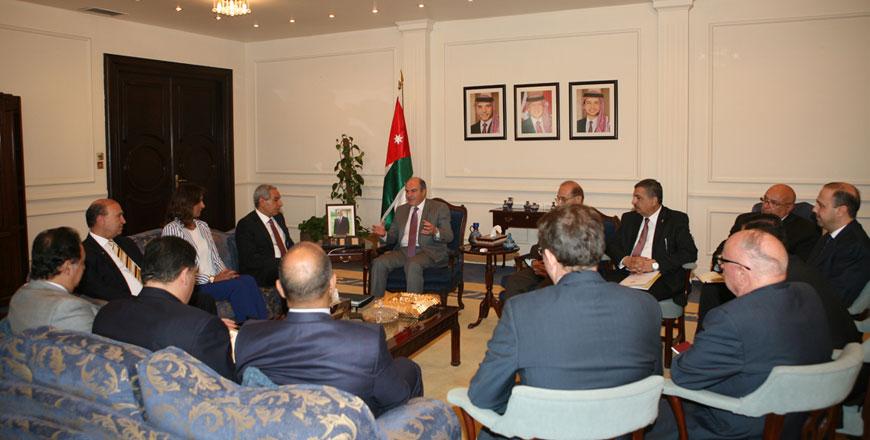 Prime Minister Hani Mulki meets with an Egyptian ministerial delegation in Amman on Tuesday (Petra photo)
AMMAN — Jordan and Egypt on Tuesday discussed ways to strengthen bilateral trade relations and to ease the flow of goods.
At a meeting between Prime Minister Hani Mulki and visiting Egyptian ministerial delegation, the government urged authorities in Cairo to exempt Jordanian companies that export to Egypt from registration requirements and to ease the registration of Jordanian pharmaceuticals in the Egyptian market, according to the Jordan News Agency, Petra.
The Egyptian side said that 12 Jordanian firms out of 15 were registered, while the registration of the remaining three companies will be approved in the coming few days, Petra said, adding that Egyptian officials said that Jordan and Egypt need to sign a special agreement to regulate the entry of Jordanian pharmaceutical products.
During the meeting, attended by a number of ministers from both sides, the Egyptian delegation requested the government to allow the entry of Egyptian agricultural produce to Jordan, but the government said that agricultural cooperation between the two countries should be based on crop calendar and accredited standards.
The two sides also discussed ways to boost tourism between Jordan and Egypt, Petra said.
They also agreed to discuss issues related to transport and transit when the Egyptian transport minister visits Amman later in the week.
Mulki highlighted the importance of holding the meetings of the joint Jordanian-Egyptian Higher Committee, scheduled before the end of August in Cairo, voicing hope the meetings would result in agreements that would enhance bilateral cooperation.
As for Egyptian guest workers, the premier said Egyptians in the Kingdom are treated equally to other nationals, stressing that the Jordanian society doesn't tolerate assaults on any Egyptian citizen, Petra added, in an apparent reference to an attack on an Egyptian security guard in Amman, reportedly by the relatives of a business tycoon.
He said that the government would maintain registered Egyptian workers in Jordan, and that if any worker in the agricultural sector leaves the Kingdom, he would be replaced by another, providing that they do not work in other sectors.
In this regard, Mulki called on the Egyptian embassy in Amman to raise awareness among Egyptians on the importance of having work permits that protect them and guarantee their rights.
Jordanian authorities pledged to grant Egyptian workers without valid work permits a two-month grace period to rectify their status in the Kingdom, instead of 10 days, and to exempt illegal workers who leave Jordan before January 1, 2017, from fines that do not exceed JD500.
Earlier in the day, a Jordanian-Egyptian ministerial committee agreed on several measures to enhance cooperation in the fields of trade, transport, labour and health.
The meeting was attended by Deputy Prime Minister for Economic Affairs and Minister of Industry, Trade and Supply Jawad Anani, and ministers of health Mahmoud Sheyyab, labour Ali Ghezawi, transport Yahya Kisbi, Minister of State for Prime Ministry Affairs Fawaz Irsheidat and Jordan Ambassador to Egypt Bishr Khasawneh.
The Egyptian delegation is headed by Minister of Industry and Foreign Trade Tarek Kabi.
Anani said that the meetings between the concerned ministers and the outcomes of their discussions would contribute to better relations between Jordan and Egypt and enhance economic cooperation.
Anani highlighted that the meeting resolved several obstacles to trade between the two countries, according to Petra.
The industry minister stressed the importance of exempting Jordanian companies from registration for exporting purposes, noting that the pledge of the Egyptian trade minister to accelerate registration is only "a temporary solution", to be followed by a permanent one.
He also underlined other issues that were discussed with his Egyptian counterpart, such as addressing obstacles that delay the entry of Jordanian transit trucks heading to Libya through Egypt, and agreeing to adopt a "clear procedure" to phosphate pricing.
The minister highlighted the need to reconsider the fares of the Arab Maritime Company, in comparison with prices of other companies, so as to contribute to increasing the movement between the two countries.
Jordanian and Egyptian health ministers announced that they agreed on addressing obstacles facing drug registration, drawing joint rules that are based on reciprocal treatment and in line with protocols to be signed in this regard.
In the transport field, Egypt agreed to Jordan's request to lower the tarriffs on grain ships passing through the Suez Canal by 50 per cent, providing that all ships heading to Jordan through the canal.
Related Articles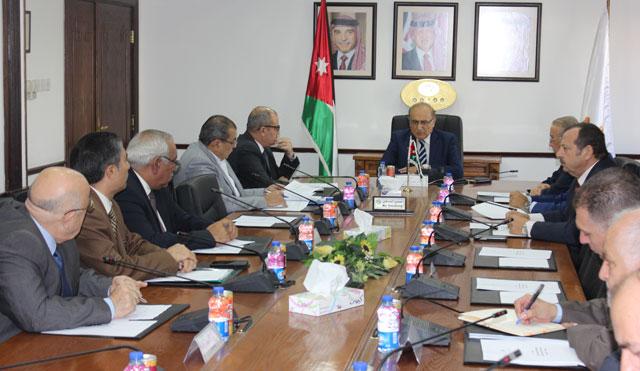 Sep 06,2016
AMMAN — Minister of Industry, Trade and Supply Jawad Anani on Tuesday headed a meeting to follow up on the Joint Jordanian-Egyptian Higher C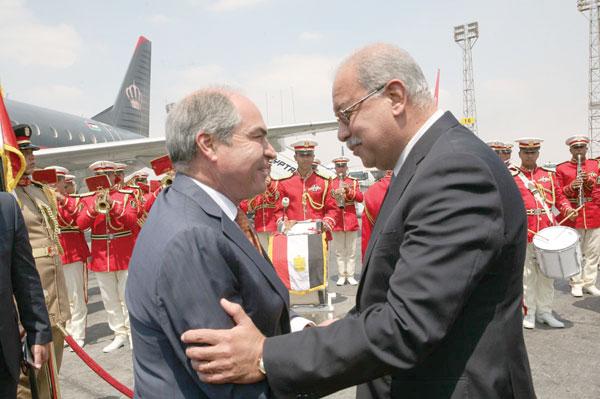 Aug 30,2016
AMMAN — Prime Minister Hani Mulki on Tuesday started an official two-day visit to Cairo, where he was scheduled to co-chair with his Egyptia
Mar 19,2018
AMMAN — Jordanian Ambassador to Egypt Ali Ayed met with Egyptian Prime Minister Sherif Ismail on Monday and conveyed a message from Prime Mi
Newsletter
Get top stories and blog posts emailed to you each day.